Researchers at the influential Institute for Fiscal Studies (IFS) have contrasted cuts to 16-18 funding with "spending shifting towards earlier in youngsters' lives" in the last 25 years.
The IFS today publish a report into education spending and are keen to point out that despite school funding cuts hitting the headlines in recent weeks, in the last 25 years they "have done rather well in terms of funding per pupil" with spending "set to be at least 70% higher in 2020 than it was in 1990."
By contrast, they say the "bigger story" is that 16-18 funding in school sixth forms and colleges has been "continually squeezed" with "spending per pupil set to be no higher at all than it was in 1990."
The report, 'Long-Run Comparisons of Spending per Pupil across Different Stages of Education', was funded by the Nuffield Foundation and the IFS claims it is the first time "consistent data on day-to-day or current spending per pupil on different stages of education in England over a long time period" has been published. The report does not include research on adult further education funding.
Luke Sibieta, one of the report authors and an Associate Director at the IFS said: "The actions – as opposed to the rhetoric – of both Labour and Conservative governments suggest that they agree 16-18 is a low priority area for spending. Why they think that is unclear".
The report concludes that "The overriding challenge for the 16–18 sector concerns the long-run stagnation in the level of resources available. By the end of the current Spending Review period in 2019–20, we expect that spending per student in further education will only be just above the level seen 30 years ago at the end of the 1980s."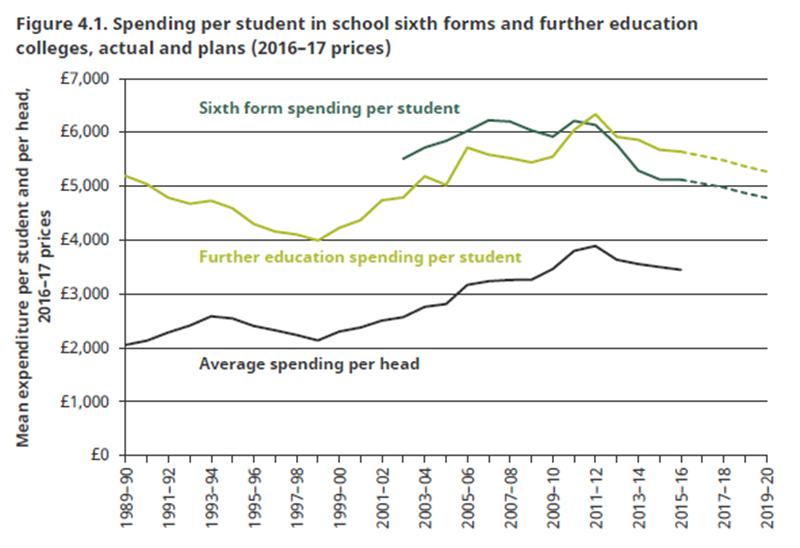 Angela Rayner MP, Shadow Secretary of State for Education, said "cuts to further education especially are leaving behind thousands of young people that want to pursue technical skills and education and the Tories are once again proving themselves to be the party of the few not the many."
A Department for Education spokesperson commented on the IFS findings, saying: "We are transforming post-16 education and investing £7 billion to ensure there is a place in education or training for every 16 to 19-year old who wants one. As a result we have the lowest proportion of young people not in education, employment or training since consistent records began in 1994. This supports future economic growth, by meeting the needs of our economy and helping everyone, regardless of background, get onto the ladder of opportunity so they can fulfil their potential."
The IFS report comes a little over a week before the Spring Budget on 8 March, with the Association of Colleges already calling on the government to increase the 16-18 national base rate as well as shift spending on education and training from 4.3% now towards 5% of GDP to "introduce fair funding for colleges."