The government has for the first time revealed the most popular courses being taken through its "Skills Toolkit" – but questions may again be raised about the data's accuracy.
Figures published by the Education and Skills Funding Agency show 162,320 "registrations" and 30,254 "completions" on the courses offered for free by 12 providers as of January 24.
Sitting at the top of both tables (see below) is the Good Things Foundation's "Learn My Way" programme – a collection of resources to help visitors use the internet, such as "how to use your computer or device" tutorials.
The second most popular is a web page called "Learn For Everyday Life" by Lloyds Bank, which features a series of downloadable videos and PDF resources to help with digital skills, organisation and finance like "improve your CV".
And in third place is a course offered by technology company Cisco which teaches people to learn to code in Python – a programming language used by small companies and tech giants.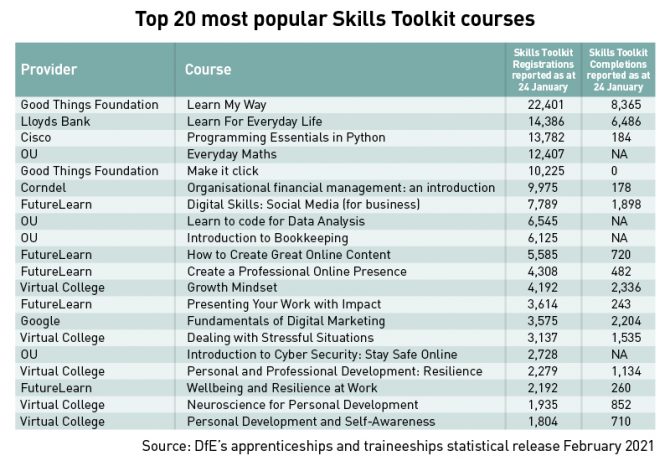 The toolkit's "platform" was launched in April 2020 at a cost of around £1 million and directs visitors to free online content which aims to help build their skills during the coronavirus outbreak.
But as previously reported by FE Week, significant overcounting has already led to revised estimates of "registration" claims in the official statistics which continue to include web hits and could be coming from anywhere in the world.
The "completions" data is brand new and how these are recorded varies by each course. For some, learners need to reach a pass mark, but other courses simply consider the time a learner actively spends on the content.
For example, FE training provider Corndel offers a course called "Organisational Financial Management: An Introduction" – a web page featuring a series of videos and PDFs – which is reported as having had 9,975 registrations and 178 completions.
Corndel told FE Week that a registration is triggered when users click on at least one learning asset and that a completion is recorded when the user spends at least three minutes on a continuing professional develop component of the course.
Elsewhere, the Good Things Foundation's "Learn My Way" course triggers a completion when a learner clicks on either a "next course" or "back to course start page" button when they get to the end of one of the resources.
For other courses, visitors have to register through a portal and submit assessments upon which a decision is made regarding passing and completion.
The Learning Curve Group offers a business and customer awareness course whereby learners sign up to an online platform. A completion is recorded when the learner has submitted their assessments and reached a pass mark of 75 per cent.
FutureLearn, which is part of the Open University, operates a similar system to Learning Curve. On all 23 of the courses it offers through the toolkit, visits must mark over 90 per cent of course steps and attempt all test questions, achieving a score of over 70 per cent.
'The Skills Toolkit further confirms the value of online flexible courses'
The take-up of the free content was welcomed by the course providers.
Hannah Brindle, managing director of the Virtual College, said: "Supporting people to focus on personal growth and development in a time of uncertainty and worry makes a huge difference to mental health and overall wellbeing. Hopefully through this initiative people have been able to feel a sense of control over some aspect of their lives and futures, by keeping their minds optimistic, curious and open to learning new things."
Harminder Matharu, director of government partnerships at FutureLearn, added: "The popularity of our selected digital and workplace skills courses further confirms the value of online flexible courses that are available to anyone, at a time that suits them, enabling people to learn those critical basic and digital skills that employers look for."
Education secretary Gavin Williamson and skills minister Gillian Keegan have often celebrated the impact of the skills toolkit, claiming it has had a "transformational impact" on those looking to retrain during the pandemic despite having no system in place that tracks learner destinations.
The Department for Education also previously refused to release the names of the organisations given funding to develop the toolkit's platform and conduct user research.
But the DfE has reluctantly now told FE Week the names of the firms through a Freedom of Information request. The companies that shared almost £1 million were: Contracts Online Ltd; eSynergy Solutions Limited; Leidos Innovations UK Ltd; Methods Business and Digital Technology Limited.