A massive 80 per cent of providers that only deliver provision funded by advanced learner loans have been rated less than good by Ofsted, FE Week analysis has revealed.
But despite this "shocking" statistic – which covers provision worth millions and affects thousands of learners – the education watchdog was tight-lipped on whether it was upping its monitoring of loans-only providers.
Furthermore, the Department for Education has revealed that not all loans providers are submitting vital performance data – meaning some could be dodging inspection.
Our findings have prompted Robert Halfon, chair of the influential commons select committee, to demand urgent action.
"It is shocking that so many students who are taking the risk of a loan are experiencing substandard training," he told FE Week.
It is shocking that so many students who are taking the risk of a loan are experiencing substandard training
Our investigation "must spur the relevant agencies and Ofsted to take urgent remedial action to ensure that students get the quality training they deserve," he said.
FE Week's analysis is based on a list given to us by Ofsted of the providers whose only source of government funding was advanced learner loans that had had inspection reports published by the end of October, to which we added those that had been published in November.
That gave a total of 20 loans-only providers to have been inspected by Ofsted.
Of those, eight have resulted in an 'inadequate' grade and a further eight were graded 'requires improvement', while just four were rated 'good'. None have received an 'outstanding' rating.
The reports published to date reveal a catalogue of alarming findings – including learners at one provider being duped into taking out a loan.
"Too many" learners at Academy Training Group, which began delivering loans-funded training in 2014/15, "are not aware that they have taken out an advanced learning loan to pay for their course and that they are required to pay this back", inspectors said in a damning grade four report published earlier this month.
Between them the 20 providers had allocations worth more than £12 million in the year of their most recent Ofsted report, and more than 3,100 learners at the time of inspection.

The 16 grade three and four providers were responsible for over 90 per cent of that total: 2,969 learners and £11.2 million allocations.
Given these figures, we asked the education watchdog if it had any plans to introduce early-monitoring visits for loans-only providers, similar to those it carries out at new apprenticeship providers.
It didn't respond directly to our question, and instead said it was "concerned about any skills provider judged to be 'inadequate' or 'requires improvement'".
"We normally inspect new providers within three years – this time frame begins when loans-only funded skills providers actually start to use their loans and educate their learners," the spokesperson said.
As a group, loans-only providers have slipped under the radar as inspection reports typically make little reference to whether the funding source comes from a loan or the adult-education budget.
According to Ofsted 2017 annual report, loans-only providers were only "included in the scope for Ofsted inspections from September 2016 as independent-learning providers, at the start of 2016/17", even though some providers had been delivering since late 2013.
"Limited" evidence from its inspections of loans-only providers over 2016/17 had "highlighted some potential concerns about the quality and effectiveness of distance-learning provision in some providers", the report said.
Education and Skills Funding Agency figures reveal there are 49 providers whose only form of adult-skills funding is loans allocations, worth a combined total of almost £18 million, in 2018/19.
FE Week analysis has found that 16 of those have had allocations since 2014/15 – but only 10 have been inspected.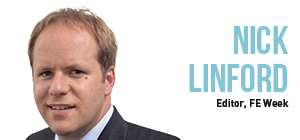 Performance data for some of those six is missing from the published achievement-rate tables, meaning they may not even be on Ofsted's radar.
The DfE has admitted that not all providers submit this data to the ESFA – even though they are required to do so – because they can still get their funding from Student Loans Company without it.
Additionally, it said a number of those without published data may be below the threshold for inclusion, although the DfE could not explain what the threshold was, at the time of going to press.
"We have been working closely with providers to make sure they record their loans delivery and are taking action if providers do not record their loans data on the individualised learner record," a spokesperson said.
Shadow skills minister Gordon Marsden told FE Week he was "concerned" about our findings – particularly in light of the three high-profile collapses of loans-only providers in 2017.
John Frank Training, Edudo Limited and Focus Training and Development Limited all went bust within months of each other, leaving learners in the lurch with huge debts and no training – prompting FE Week's #SaveOurAdultEducation campaign.
---
FE loans policy explained
Advanced learner loans, originally known as 24+ loans, were introduced in 2013/14 for learners studying courses at levels three or four and aged 24 and older.
Eligibility was expanded in 2016/17 to include 19- to 23-year-olds and courses at levels five and six.
The ESFA had previously recognised that it had problems overseeing loans-funded provision, particularly where much of it was subcontracted.
In August 2016 it banned new subcontracting contracts for advanced learner loans, with a complete ban coming into force the following year.
It also introduced caps on the amount of loans cash that could be allocated to a provider, and tightened up the rules for providers that want to start delivering loans-funded provision.
Since 2017/18, providers must have been rated either 'good' or 'outstanding' by Ofsted to request a new loans facility – although this criteria was loosened slightly for certain providers the following year.
"The ESFA will always take into account any underperformance in ongoing monitoring and contract-management arrangements," a spokesperson said.
"Any provider that receives an inadequate Ofsted rating will have its advanced learner loans agreement removed."