England's fastest growing apprenticeship provider is under investigation by the Education and Skills Funding Agency and faces going bust, FE Week can reveal.
Logistics.com (UK) Ltd only became a government-approved apprenticeship provider in March 2020, at which point it swiftly changed ownership. In the following eight months during a pandemic more than 1,100 apprentices, mostly working in nursing homes, were recruited, worth almost £5 million.
FE Week understands the provider was forced to pause starts in November while also having payments suspended as the ESFA launched an inquiry amid concerns at the speed and scale of enrolments.
The agency and the provider have remained tight-lipped about the specifics of the investigation, but it is understood the owner is now looking to sell the business or face going into liquidation following the ESFA's decision to stop releasing funding.
A total of 86 staff would be affected.
The managing director of a brokerage company that sold employer contacts and worked with the provider for a period described how learners have now been left "high and dry" because the owners' "eyes were clearly too big for their belly".
Small freight company until March 2020
Logistics.com (UK), which is rated by five employers as an "excellent" "national" provider on the government's Find Apprenticeship Training website, was incorporated as a small "freight company" in 2014 with no training delivery history and its latest accounts show just £609 of assets, according to Companies House.
Dominic Davies joined as a director in March 2020 shortly after the provider's acceptance to the register of apprenticeship training providers. His then-business partner, Stephen Banks – who, like Davies, previously worked at the well-known but now-liquidated training provider Middleton Murray – played key roles in its operation.
The pair incorporated a number of different businesses over the course of last summer.
FE Week analysis of the government's published statistics shows that Logistics.com (UK) recruited more apprenticeship starts than any other provider in the country in the eight months it was allowed to recruit.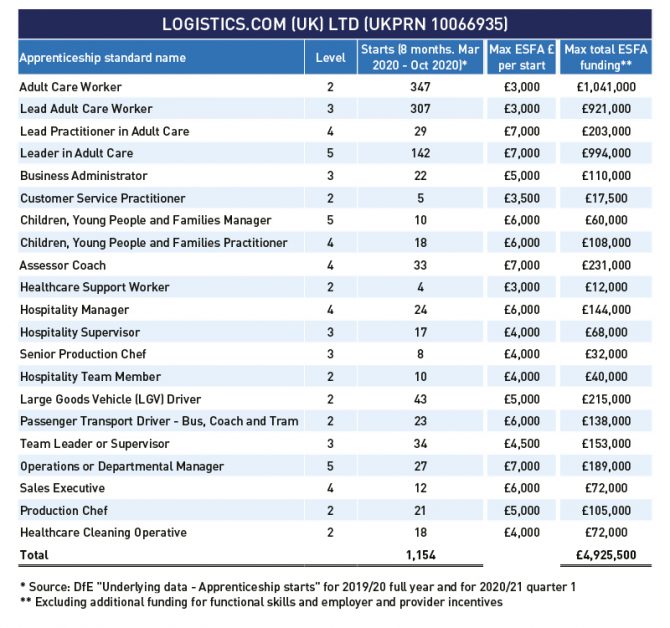 To achieve this huge volume of enrolments the owners purchased sales leads and established partnerships with at least one NHS Trust to offer free apprenticeship training to large and small employers, funded from levy transfers.
Government policy is that large employers, such as councils and NHS Trusts, can share up to 25 per cent of their unspent levy funding each year with training providers to deliver the apprenticeships to small employers – administered via the online apprenticeship system.
The use of transferred funding was key to Logistics.com (UK) being fully funded by the ESFA to deliver free courses, as it meant employers would not need to pay the usual five per cent co-investment fee.
Logistics.com (UK), for example, worked with the Humber, Coast and Vale Health and Care Partnership to encourage GPs to take up a level 3 clinical coder apprenticeship.
An email advert seen by FE Week, sent last November by the partnership to a Hull University Teaching Hospitals NHS Trust mailing list, states that the usual cost is £5,000 but "working in partnership with Logistics UK Training" they would "look to cover the cost of the qualification from levy transfers from other organisations".
Among the councils from whom FE Week is aware that Logistics.com (UK) applied for levy transfer funding include North Yorkshire County Council.
The council and NHS Trust did not respond to requests for comment at the time of going to press.
There is no suggestion of wrongdoing through the use of levy transfers.
Davies explained to FE Week that his strategy since taking over Logistics.com (UK) has been to "support the health and social care sector with apprenticeship training throughout the pandemic by utilising levy transfer funding".
"Our team of 86 employees ensures we have an average caseload of 35 to 40 learners providing good-quality delivery via blended learning allowing us to react to lockdowns," he said.
"This ensured learners would remain on track with their progression. We have and will continue to support our learners and employers ensuring impact on delivery is minimal."
Davies added that his provider does have a number of learners on breaks in learning due to the pandemic and that it has "withdrawn learners as appropriate to ensure no funding overclaims have been made".
FE Week spoke to Stephen Banks briefly and he claimed he had cut ties with Logistics.com (UK) in December despite personally seeking buyers for the provider in recent days. He put the phone down when more questions were asked and has not responded to various follow-up requests.
Companies House shows that Banks became the new owner of a single employee firm called 5 Stars Recruitment Ltd in October 2020 – three months after it was added to the apprenticeship providers register on July 29, 2020.
Lack of Ofsted oversight
Despite the significant number of apprentices, Ofsted has never paid Logistics.com (UK) a visit.
A spokesperson for the inspectorate said: "Since March 2020, due to the coronavirus pandemic, we have been unable to complete our intended new-provider monitoring visit schedule. We will return to conducting new-provider monitoring visits as soon as it is possible to do so. We take serious account of any information received that suggests there is a cause for concern about a provider, and this may give rise to an earlier inspection or monitoring visit."
The ESFA investigation into Logistics.com (UK) comes as the agency looks to tighten up their register of apprenticeship training providers – a key policy in last month's FE white paper.
The white paper said the government will undertake a "full refresh" of the register, commencing in April 2021 and will adopt "more stringent entry criteria for both new and existing providers, to better determine whether providers have the capability and capacity to be able to deliver these higher-quality apprenticeships".
This will be the second time the register has been "refreshed", after it was first launched in March 2017, relaunched in January 2019, only to be closed to most new applications since April 2020.
The Department for Education is left with unanswered questions as to why an earnings limit policy has yet to be implemented for new apprenticeship providers and how, given their lack of relevant or significant trading history, both Logistics.com (UK) and 5 Stars Recruitment Ltd successfully applied as 'main' providers last year.
When asked what the DfE is doing to protect apprentices during the investigation being led by the ESFA counter-fraud team, a spokesperson said: "We do not comment on investigations ongoing or otherwise."