Four more apprenticeship providers have been banned from taking on new starts after facing criticism from Ofsted – bringing the total number barred up to 16.
The latest update to the register of apprenticeship training providers, on Friday, shows the four new providers which will be facing the penalty after being deemed as making 'insufficient progress' during early monitoring visits from the education watchdog.
This means the Education and Skills Funding Agency has temporarily barred all 16 providers who have made poor headway in at least one area in reports that have been published up until October 11.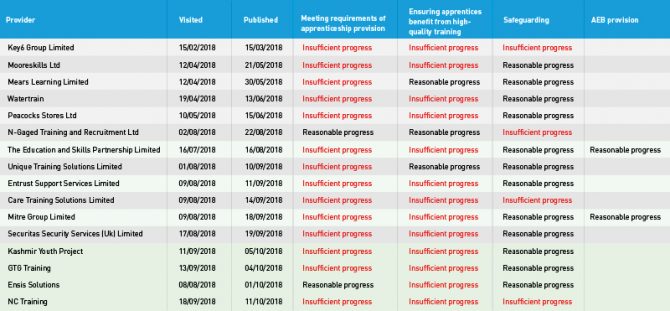 Cumbria-based NC Training has been banned after it was found to be making 'insufficient progress' in every category.
Inspectors warned that leaders and managers "are not complying with the levy-funded apprenticeship requirements" and criticised quality improvement measures, "ineffective" governance, slow progress of apprentices and safeguarding measures which "lack rigour".
NC Training started delivering levy-funded apprenticeships in July 2017, but also held eight subcontracts worth £1.6 million last year.
Lancashire's Ensis Solutions has also been banned after being found to be 'insufficient' in one category – the progress of leaders and managers in ensuing apprentices benefit from high-quality training that leads to positive outcomes.
The report said leaders and managers had made "many recent improvements" to the quality of apprenticeships, but found that "too many weaknesses remain" and progress is "still not rapid enough".
Both GTG Training and Kashmir Youth Project have been temporarily banned after receiving two 'insufficient progress' ratings.
Inspectors said that leaders at GTG Training, based in Wolverhampton, had "failed to recognise key weaknesses in the provision", failed to make sure that trainers plan learning and assessment "sufficiently well" and did not have an "accurate view" of the progress of apprentices.
And Rochdale's Kashmir Youth Project faced criticism for not ensuring "compliance with apprenticeship principles and requirements", not acting quickly enough to eliminate weaknesses and not ensuring that apprentices receive high-quality training.
The banning of these four providers is the third group to be announced, after six providers were banned in September and followed by another six earlier this month.
Since October 11, four more reports have been published which reveal 'insufficient' progress being made by providers, but they are not yet on the ESFA's banned list.
Guidance published by the ESFA in August confirmed that any provider making 'insufficient progress' would be barred from taking on new apprentices, either directly or through subcontracting arrangements.
These restrictions will continue until the provider receives a full inspection and been awarded at least a grade three for its apprenticeship provision. Full inspections should take place within a year of the monitoring visit.
The ESFA can overrule this guidance, but only if it "identifies an exceptional extenuating circumstance".
Ofsted has been given £5.4 million in government funding as it prepares to carry out early monitoring visits of every new apprenticeship provider, which could number as many as 1,200.