Apprenticeship target a 'significant challenge'
The creation of 3m apprenticeships by 2020 is a "significant challenge" that can only be achieved with more funding and employer engagement, sector leaders have said.

The Conservatives made the target acentral plank of their General Electionmanifesto.However, it would require a huge increase on the 2,208,100 apprenticeship starts over the five academic years from 2009/10 to 2013/14.
The most successful academic year during that period was 2011/12 which saw 520,600 starts, but it fell to 510,200 in 2012/13 after a minimum 12-month duration was introduced for apprenticeships in August 2012.
It slumped to 440,400 in 2013/14 and there would have to be a 36 per increase on that figure to achieve the 600,000 starts per year needed by 2020.
Concern also remains over whether there will be sufficient funding, improvements to  schools' careers guidance on apprenticeships,and interest among small and medium-sized enterprises to produce the extra starts.
But the government's tactics for achieving the 3m target will, according to new Business Secretary Sajid Javid in a Sky News interview on Tuesday (May 12), be laid out in an employment and apprenticeships bill set to unveiled in the Queen's Speech.
Martin Doel, chief executive of the Association of Colleges, said the target would be a "significant challenge" that "can be achieved if the government and others can persuade sufficient numbers of employers to recruit an apprentice".
He said: "We will also need to ensure the careers advice, delivered by schools, gives a thorough explanation of the opportunities provided".
Dr Lynne Sedgmore, executive director of the 157 Group, said: "Securing such an increase will rely on gaining much more buy-in from the employer community and that, in turn, is about making sure employers can see the value of engaging with skills training."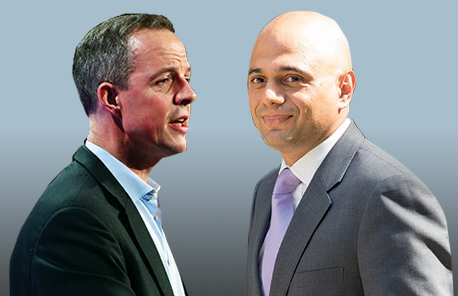 David Hughes, chief executive of the National Institute of Adult Continuing Education, said the 3m target was "an ambitious yet important step". He called for more "incentives for employers to take on apprentices", the "quality bar" to be raised through a new apprentice charter, and traineeships to be given a "shot in the arm".
Stewart Segal, chief executive of the Association of Employment and Learning Providers, said there would need to be "improved careers guidance in schools and for adults, a streamlined system of contracting and funding that gives providers and employers greater certainty over planning, and a more considered approach to apprenticeship reform".
He added: "Above all, it will need increased and sustained investment." The Skills Funding Agency (SFA) confirmed in March that apprenticeship  funding would be protected from 24 per cent sector cuts with apprenticeship allocations "initially set at £770m".
Nevertheless, Bedford College principal Ian Pryce tweeted on Monday (May 11) that the 3m target was still "not achievable" and called on the government to "allow us to use that funding for 19-24 full level three who get job after".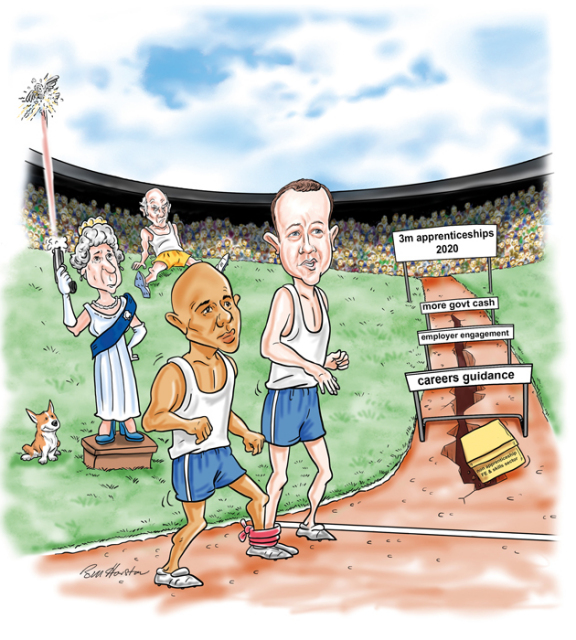 John Allan, national chairman of the Federation of Small Businesses, said the government would need to "improve take-up among the UK's 5.2m small businesses".
"Apprenticeships must be affordable, have standards based on current industry practice, and the quality of training must give confidence to employers that apprenticeships will produce the skills they need," he said.
A CBI spokesperson said: "Employers must have real control over standards and funding if more businesses are to step up and play their part."
The Department for Business, Innovation and Skills told FE Week that Mr Javid and Skills Minister Nick Boles were not available for comment.


Editor's comment
The party political focus on FE and skills during the last Parliament was the greatest it has been in a long time, as that 'parity of esteem' mantra, trotted out to knowing nods and various seals of approval, showed.
And that focus has intensified with Prime Minister David Cameron putting a 3m apprenticeships target front and centre for his new Government.
It's an aim the sector can take pride in being set. It's a tribute, finally, to the economy-boosting powers of FE and skills.
Questions as to whether it's a realistic aim and whether the methods by which it might be achieved would dilute the quality of provision are best left until we know more of the Government's tactics.
But it has already shown commitment to the apprenticeship cause with safeguarded funding for the programme.
However, while this is something to be celebrated, at some point it will be worth reminding Skills Minister Boles that there's more to FE and skills, at least for now, than apprenticeships.
It's a reminder that will hopefully not be necessary for Business Secretary Javid (as himself a product of FE and skills).
Chris Henwood, FE Week editor
chris.henwood@feweek.co.uk