The political career of Tim Farron MP, former education and skills select committee member and until recently president of the Liberal Democrats, didn't get off to the most auspicious start.
His first elected role, as president of Newcastle University student union, culminated in him spending the graduation ball under a table.
"I was very close to signing Duran Duran for the ball, which would have been epic," he says, his face lighting up at the prospect.
"But our students' union was very party political and the treasurer, who was Labour, refused to sign the cheque, because it was me.
"In the end, we had to have half the Bay City Rollers, and they were absolutely terrible.
"I had to hide under one of the tables because people were so angry. It was just shocking."
Despite this, the father-of-four describes the presidency as "the second best job I've ever had" — after his current role as MP for Westmorland and Lonsdale.
Farron, now aged 44, traces his love of music back to his father, Chris.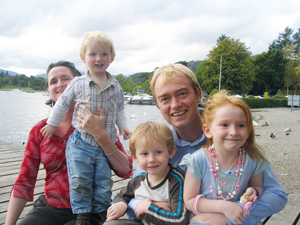 "I'm very proud of my dad for many reasons," he says.
"Not least because, although he worked in a regular 9 to 5 job in the building trade, on a Friday and a Saturday night he was DJ Chris Farron with his Wheels of Steel."
Farron was in a band of his own between the ages of 16 and 24, but refuses to tell me the name on the grounds video evidence has made its way on to YouTube.
"I'm desperate nobody ever sees it," he says. "We were once described as a 'fourth-rate New Order' by the only write-up we ever got, and I'm quite proud of that, as it's pretty accurate."
So while his father's influence was musical, his politics bear the stamp of his mother, Sue, who died from ovarian cancer in 2004.
They separated when Farron was five, and as a single parent to him and his older sister, Jo, she took on part-time jobs as a librarian and a retail assistant before going on to secretarial college and eventually university, to study a business degree.
"She's quite a hero of mine, my mum, and probably her politics rubbed off on me," says Farron. "She was absolutely liberal and tolerant in her outlook.
"I have two women to thank for my politics — my mum and Margaret Thatcher — one was a positive and one was a negative influence."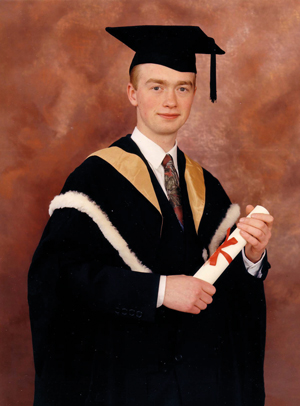 However, Farron is cautious about pinning down an exact moment he developed his own interest in politics.
"When I was 14, I saw a re-run of Cathy Come Home and it made me cry.
"So I spent my £1.50 pocket money, that I had been going to buy a Smiths single with that weekend, on joining Shelter and that did politicise me."
Farron studied A-levels, and opted to take them in FE at Runshaw College rather than the local grammar school's sixth form.
"A lot of my mates didn't do A-levels, they did BTecs and the equivalent of the apprenticeship scheme," he explains.
"And actually from what I can tell it was at least as challenging as what I was doing and actually quite a lot more practical."
This experience left him impatient with academic "snobbery".
"The gap between vocational and academic is a really false one, it holds Britain back, and it's not right," he says. "I don't like the notion that you've got to choose one or the other."
It was a view that Farron took with him in 2005 to the House of Commons Education and Skills Select Committee (which has since become the Education Select Committee).
We had to have half the Bay City Rollers, and they were absolutely terrible

 
"One of the things I remember working on quite a bit was the notion that you would try to make sure that kids of all ability groups have an engagement with the vocational and with the world of work, (a) because that's right, and (b) because it's really important you don't send out a message that only kids at the lower end of achievement levels are directed towards vocational study," he says. "It's an insult to them and it's an insult to the subject, and it's an insult to FE actually, and it's a cop-out."
He adds that "one of the great failings of our education system over the last 30 years has been excessive quantification and assessment".
"Teachers of various kinds and different ages and stages spend their time focusing on the test and not on educating a rounded individual," says Farron, who worked for the Department for Continuing Education, where he met his now-wife Rosie, after university and then had posts at Lancaster University and St Martin's College.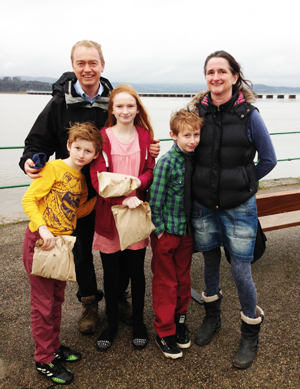 "As somebody in adult education for four years, and later ending up on the education select committee looking at adult education, I've been very keen to try to press government to think that sometimes you just have to trust that it's the right thing to do — not expect some expensive and often pointless process of having to quantify and certificate everything."
Despite falling off the education committee radar, having served just 10 months as a member, Farron is nevertheless very much on the party leadership radar as one of the names tipped to replace Nick Clegg should he step down after the general election.
However, Farron politely but firmly refuses to be drawn on the issue.
"I think in the end, we may never have been more important or more significant — but we have also never been more under threat," he says.
"Anyone giving too much headspace to what happens after May is probably foolish and certainly very selfish.
"Nick is a good leader and a very decent man, and he deserves to have people backing him, not speculating on what happens in any future environment."
But waiting for the right opportunity is nothing new for Farron. He ran for Parliament several times — the first when he was just 22, in the North West Durham constituency, although this, he says, was mostly so the Lib Dems had someone to put on the ballot paper.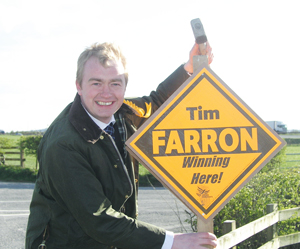 But it wasn't until his fourth time, in 2005, that he won the seat, by 267 votes, which, he says, was "marvellous".
"So I am being paid to do my hobby and it's important to recognise that," he says.
Of course, since 2010, being a Liberal Democrat MP has been anything but plain sailing, but he defends the party's record in Government, pointing to Business Secretary Vince Cable's claims to have defended FE at the expense of higher education during coalition talks.
"There was a lot of moving money from the FE column to the higher education column, so although there have been cuts, it's not the hideous cuts there would have been," he says.
"And when you're up against a whole bunch of civil servants who, bless them, don't 'get' FE, because they are all Oxbridge-educated, and often privately-educated before that, and it was a counter-intuitive and counter-cultural thing for a minister to step in and say, 'What about FE?'
"But it's a real battle, and the thing is, FE is vital and we need to treat it a bit more like it is vital."
It's a personal thing
What is your favourite book, and why?
War of the Worlds by HG Wells. My mother had the prog rock double album of it from the 1970s, which used to terrify the living daylights out of me when I was about eight or nine and eventually I read the book. What I love is the clash between the minute and the personal with the vast and the galactic, and that it's obviously written at the back end of the 19th Century, and it's imagining a technology that we can't even imagine now. And in the end it's all about how human beings react to hideous events
What do you do to switch off from work?
I read books and play my kids on Fifa on the computer. Annoyingly, my eight-year-old is brilliant at it and I can't beat him. I can beat my 11-year-old and the 13-year-old. I walk and I run through the woods above Morecambe Bay in the village I live. I'm a pop music anorak, so I spend some time indulging in that, and I support Blackburn Rovers but I don't really relax doing that
What's your pet hate?
Insincerity — I dislike it intensely. You see a lot of transparent fakery in the media and in politics, and, and because I'm sure I'm tempted by it as well, I definitely know it when I see it. It just makes me nauseous. I think authenticity is really important
If you could invite anyone to a dinner party, living or dead, who would it be?
I would have Paddy McAloon [from 80s pop group Prefab Sprout] who I consider to be the greatest living English language poet on the planet. But he wouldn't want to be invited to my house for dinner because it would be sickening, as I would just ask him all sorts of pathetic, fawning questions. I'd also have [author] CS Lewis there. I think he's just a fascinating character. And Johnny Rotten
What did you want to be when you grew up?
I would have liked to be a footballer, and then I wanted to be in a band