Concerns the FE sector is heading for "financial meltdown" are set to be investigated by the Public Accounts Committee (PAC).
The committee will next week "challenge government" as it picks up on the findings of the National Audit Office (NAO), which in July reported that the financial health of the FE college sector had been in decline with 110 colleges recording an operating deficit in 2013/14, up from 52 in 2010/11.
The NAO report, entitled Overseeing financial sustainability in the FE sector, further said that in the same period, the number of colleges assessed by the Skills Funding Agency (SFA) to have 'inadequate' financial health rose from 12 (5 per cent of colleges) to 29 (12 per cent).
The SFA, it said in the NAO report, had been too slow to spot problems with colleges' finances because of failures to check the "realism" of their "over-optimistic" forecasts, and that the SFA's formal interventions, once it finds a college's financial health is 'inadequate', "has often lacked sufficient impact".
The findings drew a stark warning from PAC committee chair Meg Hillier, who said at the time: "I do not believe it is any exaggeration to say the future sustainability of the FE sector is at risk of financial meltdown."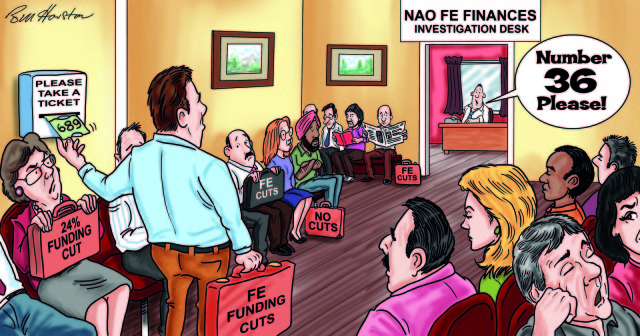 And her committee will be looking further into the issues raised by the NAO report with its own inquiry, taking evidence from a number of high-ranking sector figures (see gallery below) including Department for Business, Innovation and Skills (BIS) permanent secretary Martin Donnelly, Department for Education permanent secretary Chris Wormald and SFA and Education Funding Agency chief executive Peter Lauener.
A PAC spokesperson said: "This inquiry will challenge government on whether it is taking responsibility for protecting the taxpayers' money invested in the sector; examine whether the balance between 'prevention' and 'intervention' is correct when responding to financial sustainability issues; and obtain assurances that government has robust plans in place for creating a sustainable college infrastructure for the future."
They added: "The SFA anticipates that the number of colleges it assesses as having inadequate financial health will continue to grow. On current trends, it could be around 70 colleges by the end of 2015/16.
"The financial support that the SFA offers to struggling colleges has increased significantly since 2010, but most has not yet been repaid. The outstanding balance, including new advances, stood at £45m by February 2015, relating to 13 colleges."
The PAC's first evidence session takes place on Monday, October 19, at 4pm. In addition to those already listed, committee members will hear evidence from Sarah Wright, principal of Central Sussex College, Stuart Laverick, principal of Heart of Worcestershire College, and Ian Ashman, principal of Hackney Community College.
[slideshow_deploy id='40297′]
Main image, top: PA