No college would consider it had done a good job if it allowed students to complete their studies without learning how to research information online. But this is the reality in prisons across the country. Cath Murray finds out about the challenges of running an education department on the inside.
Sarah Aumeer doesn't understand why more FE tutors don't want to work in prisons.
"It's much calmer than a college," says the 37-year-old education director at HMP Oldingley.
"Behaviour's a lot better.
"Prison education is also a lot slower, so staff can build up a rapport with students and really focus on the subject at hand.
"A lot of people think it must be exactly like you see on TV, but actually, it's exactly the same as in FE. You just can't rely on things being there at the drop of a hat."
This could be something of an understatement. Aumeer, who has met us the prison entrance and is now guiding us through a series of locked metal gates on the way to the education block, has just spent the morning failing to submit an electronic purchase order for some printer paper.
Even when things are running smoothly, if a tutor at the prison wants to prepare lesson resources – let's say pictures of haircuts for barbering students – there's a complex protocol just to get the images into the classroom.
First, they will have to look them up on a computer that's connected to the internet and email them to Aumeer.
When she receives the email on her secure computer, she will take out her bunch of keys, unlock the key box to retrieve a code for the safe and remove the USB memory stick, which she will use to transfer the images from the secure computer in her office to the computer on the adjacent desk, which is networked to the prison's secure intranet, known as the virtual campus (VC).
"That just shows how much you have to forward-think when you're teaching in prison," she says.
"And how much the prisoners rely on us for their access to information."
Aumeer and her team of 16 tutors and staff are employed by Somerset's Weston College – 120 miles away from the Surrey prison – which is one of four providers of prison education nationwide.
On a day-to-day basis, the team functions pretty autonomously, which has its benefits but also its downsides.
"The tutors are all part of the FE community, but they don't always feel like they are," she says.
Before taking over at Coldingley in January, Aumeer was head of special educational needs for eight years at Nescot College, Surrey, and before that, worked for the council in alternative and community education.
Much of her own education came through FE.
"I didn't achieve any qualifications at school. All my education was as an adult – evening and distance learning."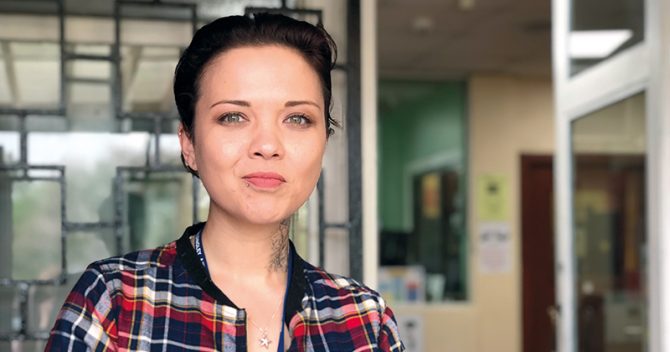 She's now on a scholarship at Middlesex University, doing a part-time masters in inclusive education.
If she could change only one thing at Coldingley, it would be to broaden the range of courses.
Even teaching prisoners to cook for themselves could make the difference between getting by and getting into debt once they leave.
More classes to support prisoner wellbeing would also be welcome.
"Anything to help them cope with the stress of being locked up for years.  Many of them have lost a lot – lost relationships and so on. Their mental wellbeing is important. I wish there was more that we could do to support that part of it."
Education not linked to employability was one of the recommendations from Dame Sally Coates' 2016 government-commissioned report into prison education, Unlocking Potential.
Better ICT access was another.
When Alan, who is turning 51 on the day we meet, was awarded his 2:1 in criminology and psychology from the Open University, his probation officer, who had done the same degree, couldn't understand how he'd managed without online resources.
"I used to spend a lot of time on the phone to my sister," he tells me as we sit in a classroom in the education block.
"A £5 phone call saying 'Can you google this?'. Then I'd say, 'Read me that article' and she'd go 'It's 127 pages' so I'd say 'Right, print me that out' and she'd send it – which is a cost of printing and postage – and I get it and say 'That's not what I want'."
The OU has about 1,800 students in 150 prisons and secure hospitals across the UK, to whom it sends printed study materials.
It also recently introduced a postgraduate library scheme where students can request additional resources linked to their degree. 
But the simple steps of googling for terminology or reading around a subject that most students take for granted is off-limits – and while tutors are on-hand for subjects such as functional skills, those studying at a higher level must depend on occasional phone calls or visits with a specialist tutor.
"A lot of guys fall at the early hurdles because they are just overwhelmed by the barriers that are in their way," says Mark, a former King's College London law student who was convicted in 2010 for the murder of his father, but maintains his innocence.
"It's not difficult to have monitored, restricted internet access. We have all the technology available to do that. All it needs it someone with proactivity and the right attitude," says the 31-year-old.
"Education has to take second place to security."
Mark completed an undergraduate law degree in prison and is now studying for a masters.
"You've got to give people responsibility if they're to develop into fully functioning human beings – that's surely what prison is there to achieve. It's not there to infantilise you, which is inevitably what it does.
"What do you expect that end product to be, when he finally walks out the door, if he hasn't been able to do basic things like accessing educational material?"
Prisoners currently have six hours a week to type up assignments or access the VC, which hosts resources such as the OU's virtual learning environment.
Sir Simon Hughes, the former Liberal Democrat MP, has been working with Ruth McFarlane, the OU's senior manager of students in secure environments, to lobby for in-cell laptops connected to this secure network.
"Imagine how much more work we could do," Alan says, who is now doing a masters in development management.
"The last four nights we've been banged up at 5 o'clock every night [over the Easter weekend]. We could be studying, working, writing up assignments, whatever."
Coldingley is a category C working prison, which means that for many of the men – all of whom have long sentences – it's the penultimate rung on the rehabilitation ladder. The next placement is a category D open prison, or, for a few, straight to release.
The prisoners all have full-time jobs in the on-site workshops – such as making disposable earphones for airlines – for which they're paid less than £20 a week. If they opt for the six weekly hours of education, their pay is docked to reflect this.
"There's a disincentive to take up education," Alan says, who spends most of the £17.89 that he earns in the graphic design studio on phone calls to family.
"You just can't rely on things being there at the drop of a hat."
A few prisons are specifically devoted to training, but location can be an issue.
Coldingley's nearest town, Woking, is half an hour from central London on the train.
"I'm here because my family's ten minutes down the road. I wouldn't give that up for anything," Alan says.
"I think a lot of guys are here because of the London location – yes, they'd like to do a lot more education, but they're here because of their families."
Education can be interrupted when prisoners are moved to another site.
"I've been lucky; I've been to three prisons in nine years," Mark says.
"Others have been through three prisons in nine months. It's very unsettling – and if you're moved to a new prison it may not have your course."
Security concerns can also be a disruptor.
Cordingley's horticulture polytunnel, for example, is in a part of the prison with no overhead netting, which means it's more vulnerable to "throwovers".
If banned goods are found to have been smuggled in this way, and it's not possible to work out who is responsible, every student might be "sacked" from the horticulture course, Aumeer says.
"Education has to take second place to security."
Yet education is positively correlated with reintegration into society. The Prisoners' Education Trust (PET) found that ex-prisoners who had completed one of their courses – which could be anything from book-keeping or an OU access module to a level 2 gym instructing qualification – were 25 per cent less likely to reoffend, and 26 per cent more likely to be in employment, one year after release.
The Coates report contained recommendations around improving internet access, encouraging progression to higher levels and generally making prison governors accountable for creating a "culture of education".
Three justice secretaries, one referendum and one general election later, has any progress been made?
"We're hopeful that the culture is starting to shift," says Rod Clark, the chief executive of PET.
"And we're gearing up for the expectation that prisons will soon become digital. At present, we are leaving many prisoners woefully unprepared for the modern world – without giving them the chance to use technology to access education, find information, apply for jobs or secure housing."