A further three post-16 education area reviews were announced late last month by the government, taking the number of colleges undergoing the process to 72.
Twenty one general FE colleges and 13 sixth form colleges (SFCs) across the Tees Valley, Sussex Coast and Solent regions, were added to the 22 general FE colleges and 16 SFCs whose futures were already being assessed in reviews in Birmingham and Solihull, Greater Manchester, and Sheffield city.
The government has said the reviews were "designed to achieve a transition towards fewer, larger, more resilient and efficient providers, and more effective collaboration across institution types".
A number of principals from colleges in the latest three reviews spoke to FE Week.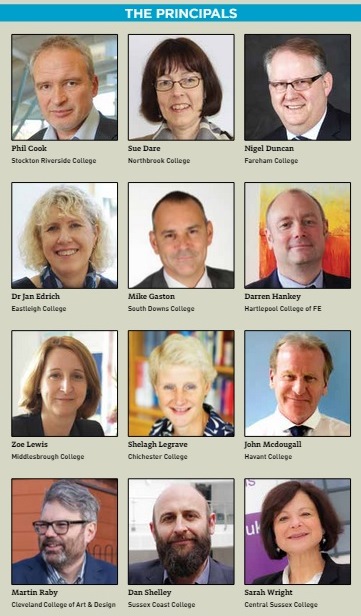 Solent
Nigel Duncan, principal of Fareham College, said: "We are working in partnership with other colleges and stakeholder organisations in the Solent area to collectively review our collaborative arrangements to reflect the ever-changing FE landscape."
Dr Jan Edrich, principal of Eastleigh College, said: "We are hopeful that this review will help to secure long term stability for our learners and that what will emerge is the best kind of provision in meeting local area needs."
Mike Gaston, principal of South Downs College, said: "We wish to ensure we engage as a strategic partner with employers and other providers, responding to the needs of business and continuing to contribute to our economic and cultural community.
"We note that this will rely on considerable additional investment of time, but believe that there could be many synergies between the objectives of the review and our own vision, to ensure we continue as leading provider for professional and technical excellence."
John Mcdougall, principal at Havant College said: "We are really pleased about the area reviews and it is good to be involved in shaping the agenda.
"However our main concern is the exclusion of provision in the secondary school sector. It means that there is not a level playing field and it should be."
Declined to comment: Barton Peveril College
Did not respond: Brockenhurst College, Highbury College, Isle of Wight College, Itchen College, Portsmouth College, Richard Taunton's Sixth Form College, Southampton City College, and St Vincent College
Sussex coast
Sue Dare, chair of FE Sussex and principal of Northbrook College Sussex, said: "We are already involved in delivering shared services and are in discussions about working more closely together.
"The area review will have much to build on and, speaking on behalf of Northbrook College, I look forward to taking part in shaping the future direction of FE."
Mike Hopkins, principal of Sussex Downs College, said: "We are the largest provider ofpost-16 education and training in East Sussex and will work in partnership with its sister colleges within FE Sussex, local authorities and schools in order to ensure a positive engagement with the area review.
"As a sovereign organisation, the board is determined that Sussex Downs will be guided, first and foremost, by what it sees as being in the best interest of students and employers."
Nick Juba, chief executive of City College Brighton and Hove, said: "I hope that the area review process will generate sensible and realistic ideas for future ways of working, given the very challenging public funding environment facing the whole of the sector."
Shelagh Legrave, principal of Chichester College, said: "We are supportive of the area to work closely with the review team, local partner colleges and our membership group FE Sussex alongside our local enterprise partnership and local authority."
Jill Sawyer, vice principal for students and learning of Varndean College, said: "Any review of post-16 provision needs to include all the providers funded by government including school and academy sixth forms and private providers.
"Although it's of course important to know what the business needs of a region are, that is not the sole purpose of education post-16 and many of our young people go on to contribute to the national economy.
"Young people and their parents should also be involved in a consultation about changes to their future opportunities for education and training in Brighton and Hove."
Dan Shelley, vice principal of Sussex Coast College Hastings, said: "We are positively engaging fully with the process and plan to work closely with the review team, local partner colleges and our membership group FE Sussex alongside our local enterprise partnership and local authority."
Chris Thomson, principal of Brighton Hove and Sussex Sixth Form College, said: "It is regrettable that sixth forms are not fully involved in the area review as this means that it is not a complete review that covers all sixth forms and colleges. On the other hand school data will be looked at and that will be helpful.
"In regards to the upcoming review, I feel that the college is currently well placed, in terms of FE conditions. I am interested to see what happens with the review as our mission is to develop the learning needs of the students and the outcomes should be beneficial."
Sarah Wright, principal of Central Sussex College, said: "We hope that the outcome of the review of post 16 education enables the FE sector to continue to provide a varied and balanced local education in order to meet the needs of local industry.
"It will be very important that all post-16 education providers are considered simultaneously rather than just colleges."
Declined to comment: Plumpton College
Did not respond: Bexhill College and Worthing College
Tees Valley
Phil Cook, principal and chief executive Stockton Riverside College, said: "Our focus throughout this review, and beyond it, will be to ensure the continuous provision of high quality education and training for all our students, businesses and partners."
Darren Hankey, Hartlepool College of FE principal, said: "We're happy to play a full and pro-active role in the area review, but would echo some of the concerns already made about the process about the providers that are involved.
"I've done some analysis of funding agency allocations to the colleges involved in the Tees Valley review and we account for 60 per cent of allocation, but other providers in the area, not involved in the review, account for the remaining 40 per cent."
Zoe Lewis, principal of Middlesbrough College, said: "This is not unexpected given the scale of government cuts exacerbated locally by a sharp decline in demographics coupled with an increase in the number of providers.
"The college's governing body and leadership team have been successfully implementing a strategy in anticipation of the many challenges confronting the FE sector; having determined to realign our offer to the needs of our community, the skills requirements of employers and key local economic priorities."
Martin Raby, principal of Cleveland College of Art & Design, said: "We are happy to play our part in the process, but share the Association of Colleges' concern that not all post-16 providers are included in the review."
Declined to comment: Stockton Sixth Form College
Did not respond: Darlington College, Hartlepool Sixth Form College, Prior Pursglove College, Queen Elizabeth Sixth Form College, and Redcar and Cleveland College