A principal who lodged a formal complaint with Ofsted after the education watchdog branded his college inadequate has stepped down, along with his deputy.
West Cheshire College told FE Week today that Nigel Davies and his former deputy principal Adrian Humphreys had left.
The statement said the pair had both moved on "in order to explore new career and other professional opportunities", but gave no further explanation for their departure.
Helen Nellist, who was already a member of the college's leadership team, has been appointed acting principal "to ensure continuity and leadership and support".
It comes after FE Week reported six months ago that Mr Davies had hit back at Ofsted — after the college was branded inadequate overall and across four headline fields, including effectiveness of leadership and management, following inspection in September.
Inspectors found that teachers did not expect enough of learners, and that the college's financial future was unsustainable, among a host of other issues.
But Mr Davies argued that the inspection did not "accurately reflect our achievements to date and our current position today", and said he had lodged a formal complaint with Ofsted which included an invitation to re-inspect the college.
However, a subsequent monitoring visit by Ofsted in February found the college was making insufficient progress in almost all areas identified.
The college has also been subject to intervention by the FE Commissioner, Dr David Collins, since September 2014 — after the college was also rated inadequate for financial health by the Skills Funding Agency.
Dr Collins' report said that the college should "complete a viability review, working with the funding agencies, into consolidating its estates onto a single campus by the end of October 2014".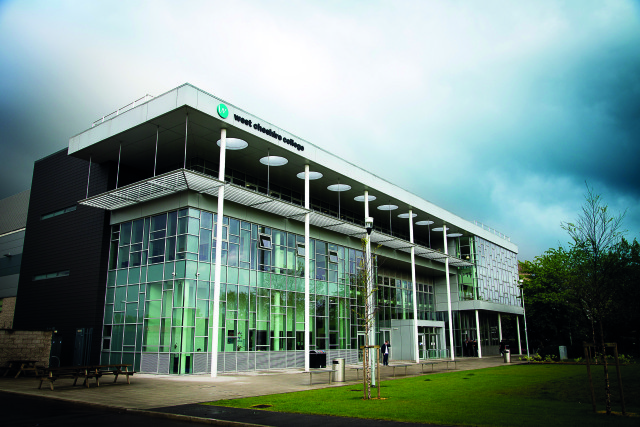 It recommended a major rationalisation programme of the college's estate, stating: "Subject to the outcome of this review confirming that alternative provision at Ellesmere Port would not significantly disadvantage learners, the Handbridge site should be closed and mainstream provision moved to the Ellesmere Port site."
Mr Davies' LinkedIn profile lists his current position, as of May, as chief executive of FE Skills Academy, a consultancy firm.
When asked by FE Week why he had left the college, Mr Davies said: "I found my time as principal at West Cheshire College very enjoyable and I will take with me many happy memories and recollections from my three years at the college.
"It was a pleasure working with a group of professional and committed individuals and I definitely feel the staff and students are a credit to the college.
"Undoubtedly, college achievements and successes are well documented from during my time at West Cheshire College.
"You will also note that the corporation thanked me for my leadership, commitment and support.
He added: "I decided to leave the college and explore new career opportunities; these are not exhaustive in their undertaking and will include many different possibilities.
"There is no particular other reason why I decided to leave West Cheshire College nor is it connected to any recent event – it was purely a professional matter."
FE Week was unable to contact Mr Humphreys ahead of publication.
Pictured above: former West Cheshire College principal Nigel Davies