High-earners with fat pension pots will benefit from a multi-billion-pound tax giveaway from this week's budget, as calls for cash to tackle FE teacher shortages were ignored.
Jeremy Hunt, the chancellor of the exchequer, delivered the blow on Wednesday in his first Spring budget. It is also the first since FE and sixth form colleges were reclassified as part of the public sector.
David Hughes, chief executive of the Association of Colleges, said: "Once again college leaders will be rightly dismayed that the sector has been overlooked by the chancellor and are wondering why Jeremy Hunt continues to ignore the central role colleges play in delivering the enterprising, highly skilled, high-growth country he wants to see."
Hunt told the House of Commons that his economic growth plan would tackle labour shortages. However apart from small boosts to promote bootcamps and work academies to lure the over-50s back to employment, he provided no extra funding for skills budgets.
Other enticements for older people included scrapping the lifetime allowance which, from April 2024, will mean people with pension pots worth over £1 million will no longer be heavily taxed on what they draw down on retirement. Labour pledged to reverse the move if it wins the next election and said the "massive tax break" will only benefit the top 1 per cent of pension savers. Among them will be highly paid and long-serving principals, heads and chief executives.
Hunt wants 80,000 more sector-based work academies (SWAPs) across 2023/24 and 2024/25 and an extra 64,000 skills bootcamp places from 2024/25. About £40 million has been allocated to SWAPs over those two years and an extra £40 million will be spent on bootcamps per year.
Extra places on skills programmes are expected to be badged under the government's "returnerships" scheme (see page 6).
Stephen Evans, chief executive of the Learning and Work Institute, said that the latest inflation forecasts from the Office for Budget Responsibility (OBR) show that even though inflation is coming down, government spending on skills in England will still be £1 billion lower by 2025 than in 2010.
"Higher inflation than expected at the 2021 spending review wipes out £200 million of planned [spending] rises in real terms," he said.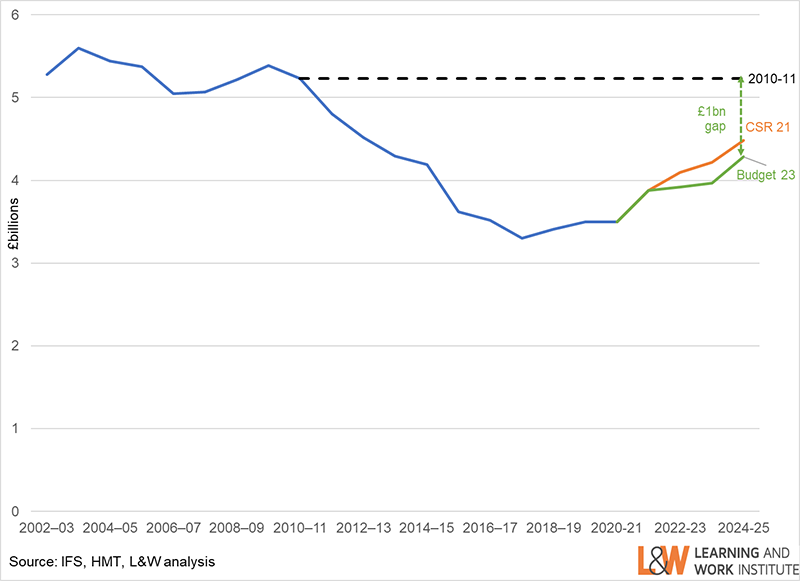 Jane Hickie, chief executive of the Association of Employment and Learning Providers, said: "Additional funding for SWAPs and expanding supported internships are welcome, although relatively modest. While we're pleased to see investment in extra skills bootcamps, it's disappointing that this does not start for another 18 months.
"Ultimately, we're disappointed at the lack of detailed plan to meet the chancellor's aim to get more people back into work and achieve the stated aim of skills being the catalyst for economic growth."
Investment zones cash can be spent on skills
Rather than invest in skills through increasing funding rates directly, Hunt's plan is to allocate funding for local areas to spend in un-ringfenced pots, such as through the new single budgets for West Midlands and Greater Manchester (see page 7) and 12 new "investment zones".
Dubbed "potential Canary Wharfs", these zones will have access to "flexible grant funding" worth £80 million over five years to "support skills and incentivise apprenticeships, provide specialist business support and improve local infrastructure, dependent on local requirements".
The 12 zones are: the proposed East Midlands Mayoral Combined County Authority, Greater Manchester Mayoral Combined Authority, Liverpool City Region Mayoral Combined Authority, the proposed North East Mayoral Combined Authority, South Yorkshire Mayoral Combined Authority, Tees Valley Mayoral Combined Authority, West Midlands Mayoral Combined Authority, and West Yorkshire Mayoral Combined Authority.
Intensive English language courses for Ukrainians
In an extension of the support for Ukrainians fleeing the war who have arrived in the UK under the Ukraine visa schemes, the government is providing £11.5 million for "intensive English language courses and employment support" for up to 10,000 people.
Further details, including additional groups who may be eligible for this support, will be published "in due course".
Universal credit training flexibility extended again
The government's "train and progress" policy, originally announced as a six-month pilot in March 2021, increases the amount of time universal credit claimants can study full-time, work-focused courses while still receiving benefits from eight to 12 weeks.
This is extended to 16 weeks in certain subject areas which have skills bootcamps.
The flexibility has been extended again to April 2025.
Additional £3m for supported internships
Hunt also announced that the Department for Education will invest an additional £3 million over the next two years to pilot an expansion of the supported internships programme to young people entitled to SEND support who do not have an EHCP.