Di Layzelle is shocked to realise that she's worked at Croydon College for a quarter of a century.
"Is it really?" she says, wide-eyed.
"It doesn't feel like it — well, time flies when you're having fun."
Layzelle arrived at the college in 1989 as a PE teacher, before she developed an attraction to the pastoral and citizenship side of teaching.
Now head of student life, 62-year-old Layzelle's efforts to get Croydon's young people engaged in their community has earned the college the Queen's Award for Volunteering after more than 1,500 students volunteered for 18,000 hours last year alone.
Layzelle says she's "overwhelmed" by the award.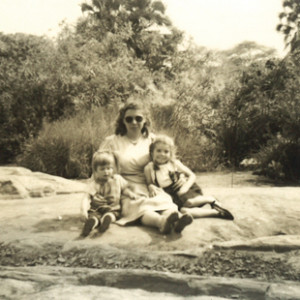 "It's great we're being recognised for the fact that students can do this… because it isn't just about support and volunteer opportunities, it's about the learning," she says.
"They need to understand and learn about their communities and themselves and about what does wind them up or worry them.
"I don't care what anyone says, there isn't one person that hasn't got something they're passionate about, but if they haven't had that opportunity to unearth it — because sometimes it's buried deep — then you can't fulfil what is in you to achieve, and that's what is really important."
Working in Croydon has its challenges, but Layzelle finds many students emerge unafraid to tackle serious social issues.
"I was working with engineering students, talking about child trafficking — that was quite a big ask, but… they began to realise it was quite serious," she says.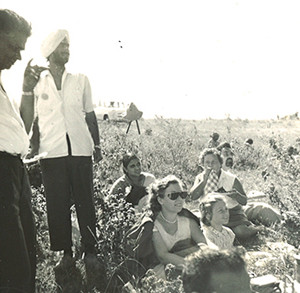 Part of the success of the programme has been around encouraging young people to understand that they do have a voice, and allowing them to choose something they care about to volunteer or campaign on.
"We call it Adopt a Cause," says Layzelle.
"So they adopt it and they do something that has impact — it doesn't matter how big or how small, you change something.
"And there's nothing more exhilarating than being with young people who suddenly realise they did that."
She adds: "I have the analogy that I'm on a small boat on a tidal wave and the students are steering it.
"I don't know if we're going to capsize on the way but they are going to take me on this journey, and it's absolutely why I love my work.
"I don't know where I'm going, where it's going to end up, what they're going to do — how exciting is that?"
Perhaps Layzelle's adventurous spirit comes from her upbringing — she was born in Nairobi, Kenya, in 1951.
"I believe it formulated the person I am today, because unlike Kenya now, where it's all game parks and everything is very commercial, it was literally an open space and my dad would pile me and my younger sister Sibell into the back of a van and trek us across what he called the bundu [wilderness] and we would camp out, and sleep in the back of the van," she explains.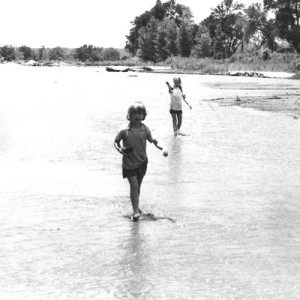 "It was the most amazing life, extraordinary really, I was up mountains from aged three, and I just lived this life where my senses and every part of me, was formed with colour and smell and vibrancy."
Layzelle's father, George, was "quite a character" — he served in West Africa during the Second World War having joined up at just 15. After the war he returned to Africa with Layzelle's mother, Anne.
"They literally started with nothing, no job, and gradually built up," says Layzelle.
Anne worked for the British High Commission, while George found work on the Kenyan railway.
Layzelle says she was "lucky" as her parents rejected the exclusive lifestyle of the white colonial ruling class, and unlike many of their contemporaries, socialised with their black and Asian colleagues.
"My parents were very cosmopolitan themselves and I was brought up with Asian children, African children, and I spoke Kikuyu and Swahili fluently," she says.
"That was wonderful for me — it was natural and normal."
However, beneath the idyllic surface, Kenya was growing restless for independence — when Layzelle was very small, she says, her parents became so scared by the anti-colonial Mau Mau uprisings that they hid her in fear the house would be raided.
When Layzelle was 11, her parents decided it would be safer to move the family back to England, an experience which she says left her "shell shocked".
"Everything was very grey here and very restricted, and I had never lived without mountains and the air wasn't fresh, and it was always cold," she says.
"I found the adjustment phenomenally hard, but I feel that also made me much stronger.
"I have always been a 'glass half full person', but I think at that point I probably thought it was three quarters full, and it brought me down to ground a bit."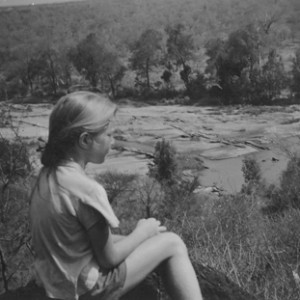 But, she says, she would never go back.
"I believe as a child you have a view of something… I would rather remember those 11 formative years as it was than go back and see the changes," she says.
What got her "through the horrible years" of transition, she tells me, was school — and particularly sport.
"I think because I had been up mountains and trekking — my dad didn't do two-mile walks, it was 10-mile walks — and it was at his pace," she says.
"I just loved activity — I would be at school until 6pm every night doing athletics, I ran for the borough, got into the county level for javelin and running."
The love of activity is obvious talking to Layzelle — even sitting down she seems to be constantly on the move, illustrating what she's saying with her hands.
Following A-levels, Layzelle applied for a PE teacher training course at Liverpool University.
"But when I went to the interview they kept asking me about teaching… 'waffle, waffle'… I can remember thinking, 'Why are they on about teaching? I just want to do sport'," she says.
"But the brilliant thing out of it, having done that course, I realised I absolutely loved teaching and I have never looked back."
The post-university job search brought her to Croydon, where she worked in several schools before encountering the "difficult beast" that is FE.
Once at Croydon College, Layzelle began teaching sports programmes which included elements of pastoral care, such as encouraging healthy eating and a healthy lifestyle, and setting-up volunteering programmes at the local gym, which brought her to a "crossroads".
"I had to make a conscious decision — I was trying to do both sport and health and the tutorial side, but you can't do justice to both, so I focussed on the citizenship learning," she says.
"I do love what I do and I do believe in the power of young people, because I've lived it – and I feel extremely fortunate.
"We do get a lot of damaged young people, and they do come with their foibles, and they are still growing, but they are just wonderful young people to work with."
She adds: "I'll never stop — I think life's for living.
"I don't know what's around the corner next year and I like that — that uncertainty is exciting."
——————————————————————————————————
It's a personal thing
What's your favourite book?
The Map of Love by Ahdaf Soueif
What's your pet hate?
Prejudice and stereotyping, particularly with young people, and the assumption that young people don't care and they're really a waste of space, and they need to do better — and it's such a false assumption
What do you do to switch off from work?
I love walking and being outside — it clears your head and gets you out. And cooking — I am a pig I do love my food, but I actually find cooking very therapeutic, cooking
If you could invite anyone, living or dead, to a dinner party who would it be?
Archbishop Desmond Tutu. He came to the college based on some work that the students had done with the Tutu foundation, and he was just the most charismatic, amazing man — he's just so infectious, and his laugh was something to behold. And Barack Obama, but he's let me down a bit, so I would probably have him to dinner to ask him why he hasn't fulfilled what I and probably lots of people thought he would achieve
What did you want to be when you were growing up?
A dancer