It all started with coffee for globe-trotting college tutor Dr Richard Spencer, whose acclaimed classroom approach has seen him meet Pope Francis and former US President Bill Clinton.
The Middlesbrough College head of science has been to The Vatican, in Rome, and Dubai having been listed as the only European teacher named in February's 10-strong shortlist for the $1m (£636k) Varkey Foundation Global Teacher Prize, widely considered the Nobel Prize for teaching.
The father-of-three lost out to American-based English teacher Nancie Atwell, who was named overall winner, but his biology-related dances, poems and music have already earned plenty of acclaim.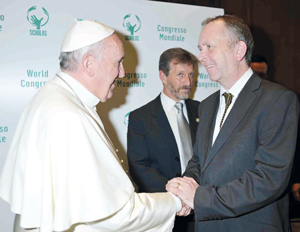 Bede College, a sixth form college in his home town of Billingham, County Durham, won an excellence in teaching biology Beacon Award during his 22-year spell there.
And 51-year-old Spencer, who plays piano and violin, has won a number of other awards, including two national STAR awards (FE teacher of the year and outstanding subject learning coach).
He was also awarded an MBE in 2010 for services to science communication and has involved his students with projects which have been presented at conferences and festivals across Europe.
But it all started with coffee back at Bede not long after he started.
"For most of my time there, my principal was Miriam Stanton, who was just brilliant at nurturing the staff," explains Spencer, who started at Bede having completed a PGCE at Durham University.
Some students can be a bit shy at first with the dances, but they usually come round pretty quickly and 99 times out of 100 will get involved
 "She encouraged me and all the other teachers to try different things out.
"I taught chemistry and biology A-level at first but switched 100 per cent to biology in 1997 and that's when I really started to get into creative teaching.
"The one that started it off is something called the Mitosis Mamba —a dance that explains what chromosomes do in cell division.
"I remember I taught a very bright lad called Ben, but after trying to explain mitosis to him through practical work, a video and simulation using pipe-cleaners, he still told me 'I don't get it'.
"I started explaining how cells divide using my hands and fingers and told him: 'It's a bit like a dance'. Then I thought: 'It could be a dance'.
"I remembered a Maxwell House coffee advert from when I was a child that featured a woman shaking a fist of coffee beans. It matched my actions well, so I found an old 1920s song called 'There's an awful lot of coffee in Brazil', to do the dance to.
"I still do it with students today and you can see them shuffling around in exams remembering how it goes."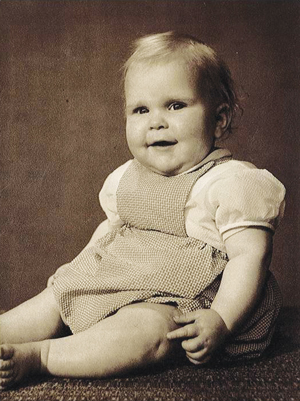 Spencer, known by his learners as Doc, has since created include the DNA Boogie, to the Jackson Five song Blame it on the Boogie, and The Heart Song, which explains the structure of the heart to the tune of Heads, Shoulders, Knees and Toes.
He has also developed the Gram Stain Rap, which explains staining techniques to distinguish between different bacteria, the Meiosis Square Dance, which explains how sex cells are produced, and an animated pantomime video that loosely uses the story of Jack and the Beanstalk to explain different modes of nutrition.
"Some students can be a bit shy at first with the dances, but they usually come round pretty quickly and 99 times out of 100 will get involved," says Spencer.
"Traditional teaching methods are still very important, but I find that it helps to think of other ways of helping students to learn.
"I bump into students 12 or 13 years down the line who can recall all the words and actions, which is nice, including my dentist."
Spencer's own interest in science is rooted in the same personal style of connection he adopts with his learners.
It came from his great uncle Eddie, who "lived around the corner" during his childhood and he "loved nature".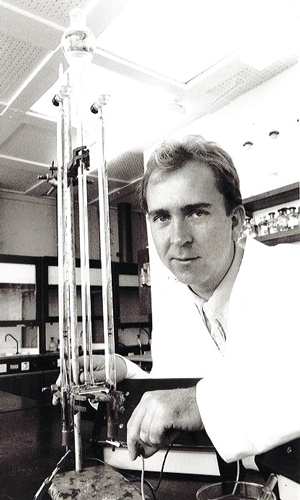 "He used to take me out to a place called Saltburn [in North Yorkshire], which was a beach by a wood where you would see all sorts of animals," recalls Spencer affectionately.
"He also bought me a book called 'Animals of East Africa' which fired my imagination.
"I got really into animals and nature and was lucky that my parents let me keep my own pets, mostly tortoises and budgies. I also bred butterflies and moths in a cage at my dad's allotment — I think I was a bit strange."
He moved briefly to Cardiff to study applied biology at the University of Wales Institute of Science and Technology after his Billingham school days
"I had an offer to do a DPhil at Oxford University after graduating, but I don't think I realised how prestigious it was, so turned it down," he says.
"It's crazy looking back, but I decided instead to do my PhD at the North East Biotechnology Centre instead, which was part of Sunderland Polytechnic."
He lived in Sunderland in the late 1980s and early 1990s, but returned to Billingham in 1994 after marrying Elaine, now aged 52.
"We went to St Michael's Roman Catholic Comprehensive School, in Billingham, but didn't know each other very well as children. We got married within six weeks of properly meeting each other," says Spencer.
He progressed from the PhD to post-doctoral research in Salmonella genetics at Sunderland University, where he was given the chance to lecture for the first time.
"That was how I got into teaching, because I realised that I enjoyed teaching more than research," he says.
More than two decades at Bede followed before Spencer moved to Middlesbrough College in 2014, the same year he was named as one of the UK's Leading 100 Practising Scientists.
Spencer learned in February that he had been shortlisted for the Varkey Foundation Global Teacher Prize and was particularly excited to meet Pope Francis as a result.
He said: "It was an amazing experience, as I am religious. To me it comes down to a simple question of whether you believe or not. Religion can co-exist with science, as in my view you can never prove or disprove that God exists."
Spencer was interviewed ahead of the award ceremony in Dubai on the BBC Breakfast television show, Good Morning Britain, Saturday Live on radio four and radio Five Live.
"I'm pleased if that helped generate some recognition for the FE sector, as I don't think it gets the credit it deserves," he said.
"Winning these awards has been great, but the most important thing to me has always been teaching and inspiring young people," he added. "I didn't think up the songs and dances for public recognition — the priority behind them all was always to find new ways of explaining complicated processes and making learning fun."
————————————————————————————————————————————–
It's a personal thing
What's your favourite book?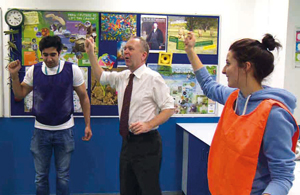 The Go-Between by LP Hartley
What do you do to switch off from work?
Research my family history
What's your pet hate?
Discourtesy
If you could invite anyone, living or dead, to a dinner party who would it be?
Sir Anthony Carlisle, my distant cousin who was possibly the inspiration behind Mary Shelley's Frankenstein
What did you want to be when you were growing up?
A farmer