Above, pictured from left: Professional cricketer Tom Poynton, Castus apprentice Laura Martin, aged 23, cricketer Wayne Madsen, Baroness Kennedy, Castus apprentice Alex Bellis, 21, Gary Hides, Castus senior manager, professional footballer Shaun Barker, and 3aaa owners Peter Marples and Di McEvoy-Robinson
An independent learning provider rated as outstanding by Oftsed impressed high achieving apprentices and employers by holding its annual awards ceremony in grand surroundings at Westminster.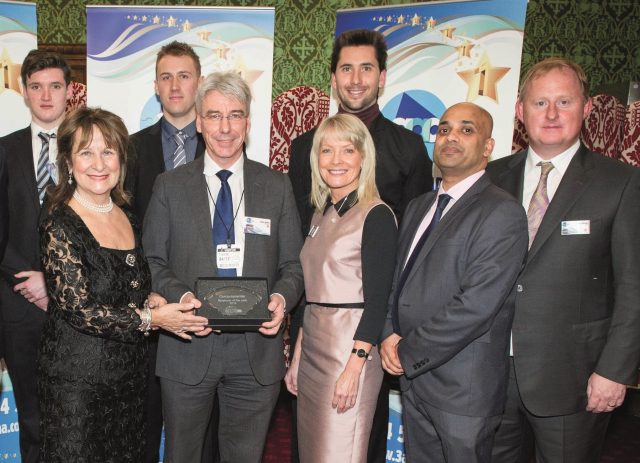 Aspire, Achieve, Advance (3aaa), given its grade one rating across all headline fields last month, held its annual awards ceremony in the Cholmondeley Room at The House Of Lords on Thursday (December 4).
Company owners Peter Marples and Di McEvoy-Robinson hosted the event and awards were handed out by Baroness Kennedy, chair of the Helena Kennedy Foundation, Shaun Barker, club captain of Derby County Football Club, and Wayne Madsen and Tom Poynton, first team players from Derbyshire County Cricket Club.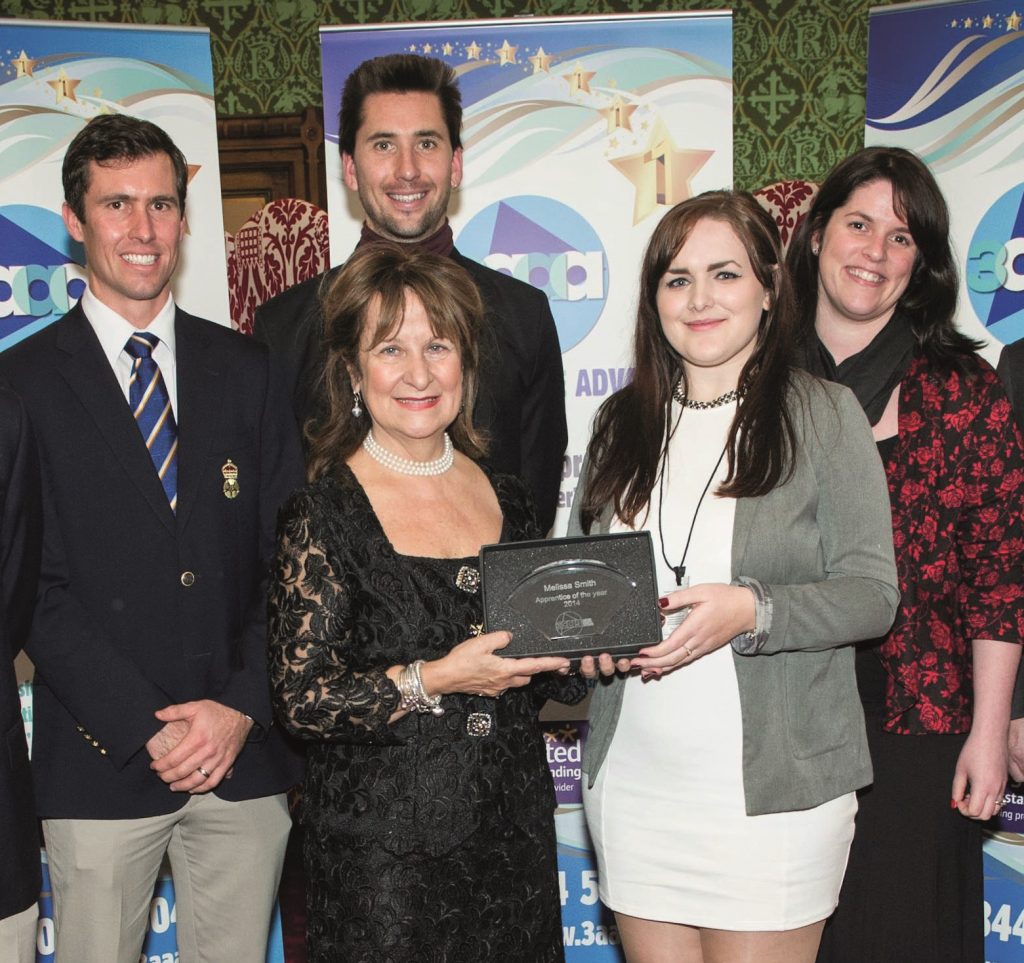 The provider's eight top apprentices (see below) and a number of firms that employ 3aaa apprentices, including London-based IT infrastructure services firm Computacentre, Derbyshire-based Darley Dale Medical Centre, Sheffield-based website design company Castus.
Ms McEvoy-Robinson told guests at the ceremony: "We are very proud today to be celebrating success today. One of the key reasons for our outstanding [Ofsted] grade is our fantastic employers and apprentices. We have more than 2,000 apprentices and couldn't bring them all along today, but are proud to recognise our top achievers."
3aaa winners
Mariam Suleman, aged 18
Employer: Bay Accountancy
Training centre: Birmingham Academy
Apprenticeship: Level three accountancy
Paige Nolan, 18
Employer: B & M Stores
Training centre: Liverpool Academy
Apprenticeship: Level three accountancy
Lisa Jarvis, 20
Employer: CSC
Training centre: Manchester Academy
Apprenticeship: Level three IT
Luke Sanders, 19
Employer: Aldi Stores
Training centre: Tamworth Academy
Apprenticeship: Level three IT
Richard Morris, 18
Employer: ASD Solutions
Training centre: Derby Academy
Apprenticeship: Level three IT
Ryan Scales, 21
Employer: Ocado
Training centre: Watford Academy
Apprenticeship: Level three IT
Melissa Smith, 20
Employer: Darley Dale Medical Centre
Training centre: Nottingham Academy
Apprenticeship: Level three digital marketing & social media
Amy Allsobrook, 21
Employer: 3aaa
Training centre: Derby Academy
Apprenticeship: Level three digital marketing & social media
'Relentless' drive to improve standards
Co-owner of 3aaa Di McEvoy-Robinson speaks to FE Week reporter Paul Offord about the grade one achievement and other FE and skills issues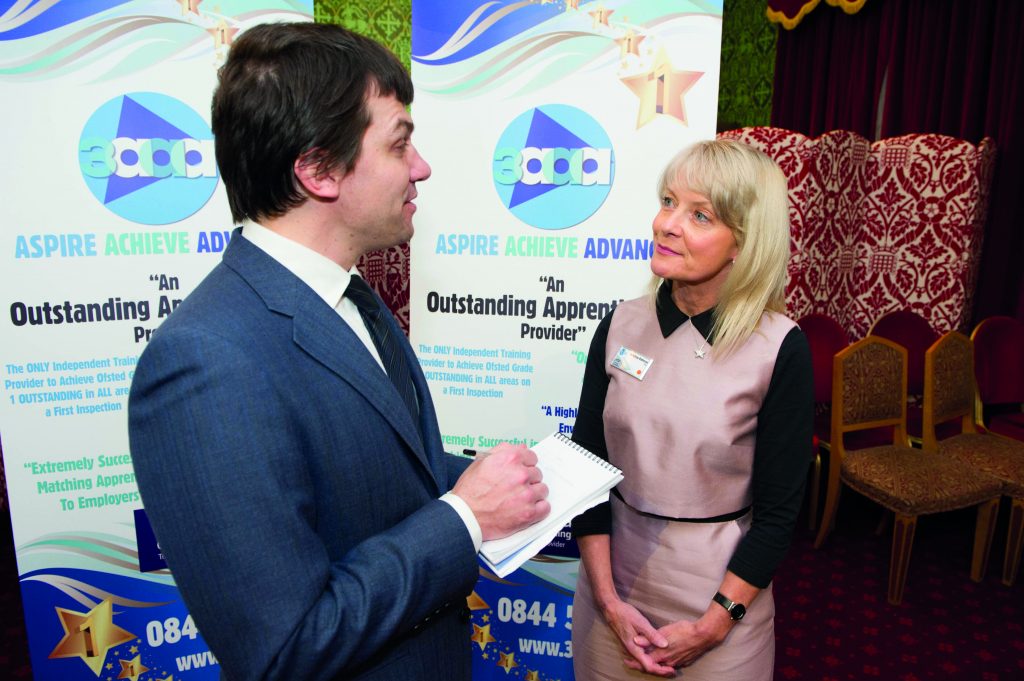 How did 3aaa prepare for the Ofsted inspection?
We didn't know the inspection was coming, as you only get two days' notice. But we knew one was due, so made sure all the checks and balances were in place to maintain our high standards.
We have a formal board. I lead a subgroup of that board for quality and standards which I chair every month and the key people in the business have to be accountable for improvements. We are relentless.
We also track the performance and support needed by our apprentices closely and have always observed our trainers and assessors and given immediate feedback.
If they are observed by our internal quality team and they achieve a grade one rating for the learning they provide, they are rewarded with a £300 payment.
We also celebrate that with a little story about them in our weekly newsletter. In addition to that, we bring in external inspectors to check what we are doing. We don't just assume our internal processes are good enough.
What grade did you get in self-assessment before the Ofsted visit?
We [recently] self-graded a level one in all of the key areas. However, only a year ago, we had self-assessed at a level two and everybody in the organisation had a little part to play in thinking about how we could improve.
How can you improve further?
I think to improve further we need to look down the track and say what is going to be important in teaching, learning and assessment? How, for example, is social media and technology going to have an impact?
One of the key things is bringing in young people — so that's, for example, 18 to 19-year-olds coming in and delivering technology training. It is so exciting what is happening with technology and they understand it best.
Would the result have been the same if your subcontracted work had been taken into account in Ofsted grading?
We don't subcontract our own training, but we work as a subcontractor to other colleges where we run training academies and the standards are exactly the same as for the rest of the business. We, for example, work with Bedford College which funds our Milton Keynes Academy and was inspected by Ofsted as part of the overall grade one inspection.
What management fees does 3aaa charge?
As I said, we don't subcontract ourselves, but no-one who we do subcontracting work for charges us more than 15 per cent. A 40 per cent management fee would be extortionate.
What are your views on the government's planned apprentice funding reforms and potentially routing funding through employers?
The voice of small and medium-sized enterprises who deliver more than 65 per cent of new apprenticeship starts appears to have been lost in the debate and they certainly do not want the additional bureaucracy involved in the planned reforms.
We believe that employer contributions should be increased through a measured and incremental increase in apprenticeship wages.
Should Ofsted take greater account of providers' financial situation when it inspects?
Ofsted should undoubtedly take account of the financial state of organisations it inspects. The FE Commissioner's recent report highlighted key issues that need to be in place to provide all-round assurance to the funding bodies and more importantly to the tax payer, that Ofsted grades reflect strong and sustainable organisations.