London South East Colleges has hosted the highest echelons of Ofsted after the inspectorate's chair chose its Bromley Campus for his landmark lecture. 
Amanda Spielman, the education watchdog's chief inspector, and chair of its board Professor Julius Weinberg were given a tour of the college before Professor Weinberg gave a speech reflecting on his first year at the helm.
FE Week took the opportunity to sit down with Ms Spielman to talk about the some of the biggest issues currently facing FE.
As the introduction of T-levels looms ever nearer on the horizon, with the first pathways due to be introduced in 2020, the chief inspector admitted that the inspectorate is still unsure how performance of the new qualification will be measured.
"First of all, the government has got to get clear on what T-levels are really going to be, and get them to the point of being ready for teaching. It will be a bit later in the process that we really start to think about what it is that we will be able to look at and how," she said.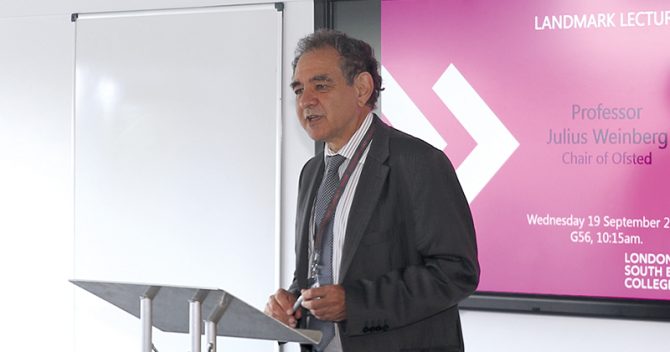 "Essentially, T-levels themselves – their shape and form and implementation – has to be clear before we can design how we inspect."
She also didn't rule out that Ofsted's role in ensuring quality T-levels could include directly inspecting workplaces, but said it was "too early to say". 
At a time of squeezed budgets, Ms Spielman also defended the inspectorate's increased focus and spend on research, and said one of the regulator's main reasons for conducting so much research was to "look at the validity and reliability of its own processes" and to draw together "insights that we get from our birds eye view" from inspecting thousands of providers every year. 
"It makes people grumpy and we're criticised if we don't draw together the insight from that and put it out in a form that's useful for the sector," she said. 
"What we've done over the last year and a half is really just to reinstate some of the capacity that we used to have that had been stripped out over the last few years, to get us back to a sensible level of research team of a scale that fits the operation we have." 
Professor Weinberg insisted that a "small proportion of the budget" was spent on research, and denied
suggestions of a board disagreement over the matter. Board minutes from last November showed questions being raised about "what, if anything, regional directors would need to stop doing" in order to carry out the research programme and how much such a programme would cost over two years.
Professor Weinberg said: "One of our roles as a board is challenge and scrutiny. So when Amanda [Spielman] proposes a spend, because we are not flush with money, every spend has an opportunity cost. So if we spend on one thing, it does mean we have less to spend elsewhere, although we've been extraordinarily good at maintaining our level of activity and finding ways of saving money.
"The board did exactly what it should do. It's in the minutes because we scrutinised and we challenged and we were convinced. We absolutely support the research money."
The Ofsted bosses appearance at a college came in the same week that a damning report from the Institute of Fiscal Studies warned that FE has been hit the hardest in the education sector by cuts to government funding.
The IFS report found that spending per student had fallen eight per cent in real terms since 2010-11, and Ms Spielman acknowledged that a "decline in quality" in FE "may" be linked to the lower funding.
"We've seen and acknowledged previously that funding for FE has declined a lot relative to schools, and
it's got a tough job to do with all the technical and vocational education. And we've also seen a decline in quality in the sector. They may be related.
"What I can't do is definitively attribute, because the work we do doesn't investigate to the point of being
able to say 'this is because of that', but we have seen a decline in quality in the sector in recent years which is a concern to us."
When asked whether a possible link between a drop in quality in FE and lower funding should be investigated, Ms Spielman suggested this was not a job for Ofsted.
"The ESFA is the funding agency which has the direct line into what colleges are spending money on,"she said. "Pulling together the information in the system to get a clear picture is generally good news."
She also said it was too early to say whether college mergers were successful in raising quality, as there have only been three inspections of institutions after "area review driven mergers" so far.
"I don't think you can draw very much from that small an evidence base," Ms Spielman said. "I think in the
coming years we'll start to see a little more coming through. 
 "The profile of inspection outcomes will shed some light on it, but one of the difficult things about mergers is it takes quite some time after them happening before you know if they've worked or not."