Fewer level two and three apprenticeships are in development by proportion compared to higher and degree apprenticeships, which could have a "detrimental impact" on recruitment for 16- to 18-year-olds, Ofsted has warned.
The education watchdog raised the concern in its annual report, which was published this week.
"Most apprenticeships being delivered in 2016/17 were at levels two and three, yet over a third of the standards ready for delivery were at level four and above," it said.
"If this trend continues, there will not be enough approved standards at levels two and three.
"This could have a detrimental impact on the recruitment of 16- to 18-year-olds into apprenticeships."
Speaking to FE Week following the launch, Ofsted's deputy director for FE and skills expanded on these concerns.
Paul Joyce [pictured above] admitted the watchdog was "worried" about the large number of higher-level standards being approved as "older apprentices are likely to start those programmes".
"We have seen a reduction in the number of apprenticeship starts, a reduction in the number of 16- to 18-year-old starts, and clearly we would want to see some level two and three standards approved, and for those numbers at level two and three and for 16 to 18s grow," he said.
The Institute for Apprenticeships, which is responsible for approving new standards, defended its approach – which it said was led by employer groups.
"High-quality apprenticeships can help improve social mobility. It is important that apprenticeships provide opportunities for development for learners of all ages," a spokesperson said.
But FE Week has discovered alarming figures that contradict the IfA's claims – and confirm Ofsted's fears.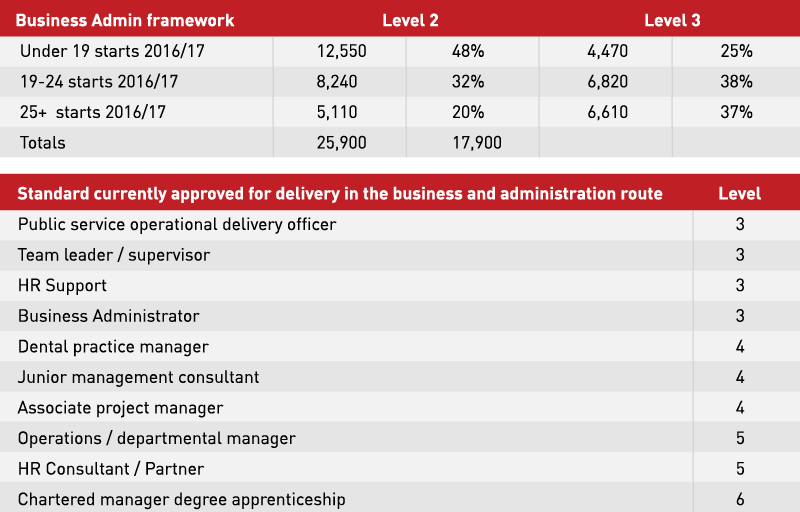 Business administration was one of the most popular frameworks in 2016/17, with 43,800 starts at level two and three.
But although a replacement level three standard was approved for delivery in September, there are no plans for a level two standard – and in fact, a standard proposed at that level was rejected by the Department for Education.
This is particularly concerning as almost half of the framework starts at level two in 2016/17 – 12,550 out of 25,900 – were by 16- to 18-year-olds, while at level three that proportion dropped to just 25 per cent of starts.
Tom Pearce, a talent services executive at Grant Thornton, led the development of the level three business administrator standard.
He told FE Week that the majority of the employers in the trailblazer group had wanted the level three standard as they needed apprentices who were "able to act autonomously", meaning that "level two wasn't appropriate".
The group had also received "a steer" from the DfE, that "a prospective apprentice looking at doing level two could do level three, they could jump that level".
A number of NHS trusts which had been involved with the development of the level three standard, backed by Skills for Health, expressed an interest in developing a level two assistant business administration standard in 2016.
But that proposal was rejected by the DfE.
"While we recognise that business administration roles exist at that level, the training needed for full competence is not sufficient enough to justify an apprenticeship based on a standard at the lower level," it said.
Skills CFA, the issuing authority for the business administration framework, confirmed that no date has been set for the framework switch-off at level two or three.
The IfA refused to comment directly on the lack of a level two standard in business administration, and reiterated that it would be up to employer groups to submit proposals at the level they think is most appropriate.