No college inspection report to have been published by the education watchdog since the beginning of the year has resulted in a higher grade.
It's part of a general downward trend across the general FE, independent learning provider and adult and community learning sectors at the start of 2017.
Ten of the 15 Ofsted reports published between January 1 and 13, based on inspections carried out late 2016, have handed out a lower rating – with only one provider going up (see table below for full details)
Safeguarding concerns were central to Epping Forest College's drop from grade three to four, while issues with English and maths were among the reasons cited for South Staffordshire College, Preston College and East Berkshire College all falling from grade two to three.
Independent learning provider Expedient Training Services Ltd was handed graded fours across the board, down from its previous grade three.
The Jarrow-based provider was slammed as having "no strengths" in a damning report published January 5.
It was one of three ILPs to have dropped a grade, with the other two going from grade two to three.
A further three adult and community learning services went down from a grade two to a grade three.
Meanwhile, Midlands-based Aspiration Training was the only FE and skills provider to have gone up a grade.
It received grade twos across the board, up from its previous grade three, in a report published today (January 13).
Leaders and managers were praised for "significant improvements" at the training provider since its previous inspection in January 2015.
And four providers – one college, two ILPs and one ACL – held on to their previous grades.
Interestingly three of these were grade twos, but still underwent a full inspection.
Meanwhile, five providers underwent a short inspection, meaning that they were previously good and remain good.
No sixth form college, employer provider or other FE and skills sector reports have been published since January 1.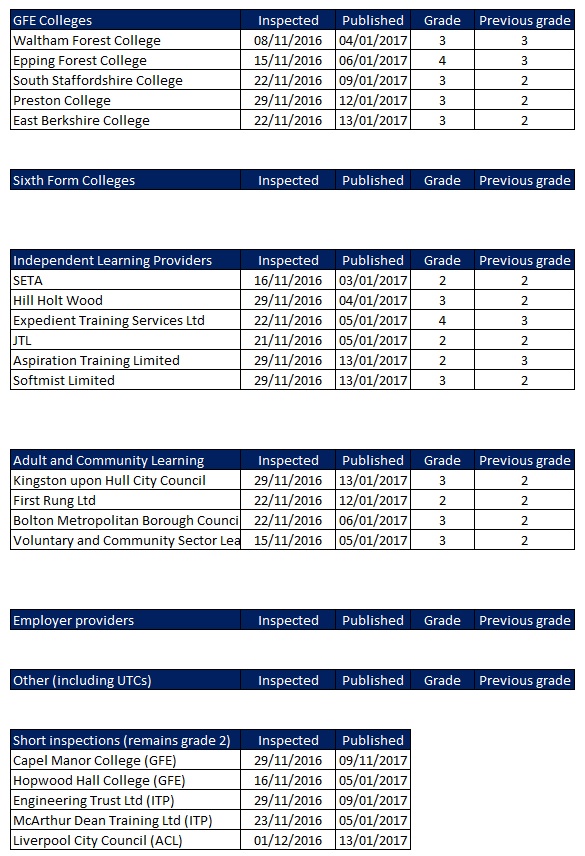 This is the first of a new weekly FE Week feature, in which we will be summarising the trends in Ofsted reports published over the previous week.