Two Trip Adviser-style tools for rating providers during inspections which cost Ofsted just over £90,000 to develop receive responses from just two per cent of learners on average, FE Week analysis reveals.
Learner View was launched in 2012 and cost £65,000 to create. It was designed to draw together the opinions of students about their courses to help steer provider ratings.
But FE Week has uncovered a shockingly low completion rate.
Of the 10 most recent inspections for colleges (as at June 29), less than two per cent of learners on average completed it. And for four of those 10, the completion rate was under one per cent.
Ofsted also launched Employer View in 2014. This tool cost around £26,000 to develop but this time, as the name suggests, its aim was to collate views from employers about the college they work with.
But its take-up has been just as abysmal as the learner survey.
Half of the 10 most recent college inspections had less than five employer respondents.
David Corke, director of education and skills policy for the Association of Colleges, said the surveys could be "abandoned" as a result of the poor response.
"AoC is working with Ofsted to look at this, including whether these surveys can be abandoned in favour of colleges own surveys, as they provide a much more representative sample compared to any satisfaction survey," he said.
The Ofsted handbook makes it clear that the colleges should be sharing the surveys to both Learner View and Employer View to gain as high a completion rate as possible.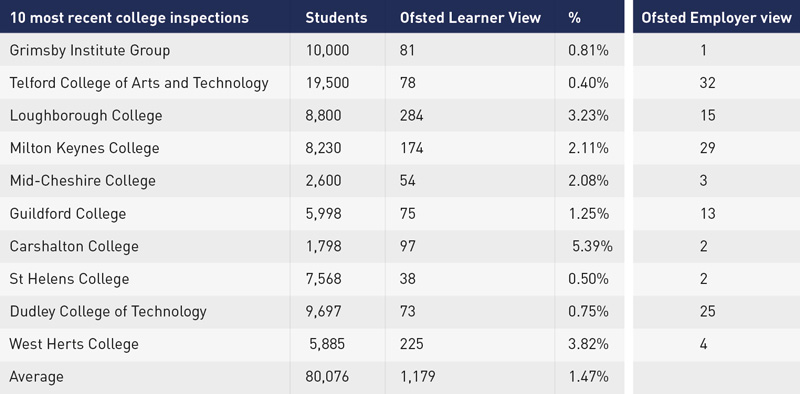 "During the initial telephone call, the lead inspector will ensure that the provider alerts all learners, employers, parents and carers about the inspection and that they may give their views by means of Learner View, Employer View and the parent/carer questionnaire," the handbook says.
But at Telford College of Arts and Technology, for example, just 78 of its 19,500 learners used the tool – 0.4 per cent of its student population.
The highest completion rate for the learner survey was found at Carshalton College, where 97 (five per cent) of its 1,798 students took the survey.
The highest response for Employer View of the 10 most recent inspections was found at Telford College, where 32 employers filled out the survey.
But at Grimsby Institute Group, only one employer used the tool, while just two employers used it at Carshalton and St Helens College.
A spokesperson for the watchdog didn't directly say whether Ofsted planned to continue using the tools, but did admit that the response rates to
Learner View and Employer View "have not yet reached the levels we had hoped for".
She told FE Week that the watchdog has worked with organisations such as the National Union of Students and the Confederation of British Industry to promote the surveys, "for instance through Twitter and at their conferences and events".
However, she said the inspectorate had "recently been reviewing how we can increase engagement with the sites", adding that it "would be grateful if
FE Week could help us promote them, in the interests of learners and employers".
Both surveys have outlived Ofsted's FE and skills data dashboard, which closed last year just two years after it was launched.
The dashboard was designed to help governors and members of the public keep a check on the performance of providers.