New skills minister Anne Milton left many delegates quietly impressed – when she committed in her first major speech to the sector, at the Association of Employment and Learning Providers' annual conference, to listen to feedback and concentrate on fixing problems rather than creating new ones. Here's what she said in full: 
"I'm delighted to be here today, and I'm very grateful – thanks for inviting me. I'm about 10 days into the job, I think. It's fabulous to have an opportunity to hear from you how things are going. It's, as I say, one of my first appearances as a minister in the Department for Education, and it's been an interesting few weeks.
"I thought I would say a little bit about myself, so that you have some idea of what my approach might be towards this role. 
"I was educated at grammar school, in Sussex, and am old enough to remember the raising of the school leaving age. I don't think I did particularly well at school. I had excellent teachers but I was a somewhat reluctant learner. I think enjoyed the social side of school a little bit too much. 
"But anyway, I went into nurse training. My father told me I would always get a job as a nurse, which he was indeed right about. And at that time, student nurses were in the workforce in the NHS. We had four week periods in school and over a three-year training you probably had about six of those. So although I wasn't aware of it at the time, I was an apprentice. 
"I'll leave out the next few years and the story of why I ended up in politics is a long one – for another time, maybe. But I worked in the NHS for 25 years. I have four children, aged between 20 and 32. Three went to university, my youngest is still at university. And interestingly, probably the brightest of my four children decided not to go to university, sorted herself out at apprenticeship and has done very well through that route.
"I know I'm with a group of people who are passionate about skills and delivering high quality education, and I've long been a champion of apprenticeships and vocational training – not just in my constituency, where there are some very good examples, but more generally. 
"During the general election, we had a hustings at the university, Surrey University, which is in my patch, and when I pointed out to an audience of academics and university students that we're always talking about 50 per cent that go to university but rarely give as much attention to the 50 per cent that don't, it didn't necessarily go down terribly well. But it is genuinely what I believe. 
We need to work together, it's absolutely critical that we work together. 
"I'm going through a form of introduction to the apprenticeship system and I'm starting to learn what all of this means. It's one of the major themes of this year's conference. In our manifesto we restated our promise to deliver 3 million high quality apprenticeships by 2020. 
"For me, the word high quality is particularly important. And it's a good time to reflect on some of the changes that have been made to English apprenticeships to help make this happen and the the impact that they're having.
"We need to work together, it's absolutely critical that we work together. So I'm keen to listen to your views and I will take some questions, but actually more importantly for me as a new minister it's important for me to hear about your experiences as well.  
"I also want to set out some of the next steps we'll be taking on the reforms – particularly to help shape the future apprenticeship provider market.
"I know that there has been some uncertainty in recent months, including around the pause in the recent procurement for provision to those employers who do not pay the apprenticeship levy, and that for many of you this has been a bruising period.
"Government can be very frustrating at times, for me as well as for you, actually – trust me!
"But I'm here to listen and to learn, and I hope also to offer some clarity about the way forward.
"But first maybe some reflections on the apprenticeship reforms so far. 
"A huge amount has been achieved in a short space of time. We launched the levy in April and introduced the new funding system in May. 
"The apprenticeship service set up to support funding reforms has been successfully rolled out and is now up and running, and I understand many providers have offered valuable help in designing and testing the service. I feel that that is very important – provider input is critical. 
"We introduced a new register of apprenticeship training providers, and over 2,000 providers have successfully applied – meaning employers have a genuine choice of high quality training provision for their apprentices. 
"We've now started working on the details of the further enhancements of the service, including how levy paying employers can transfer up to 10 per cent of their funds to other employers, and how we ultimately move all employers on to the apprenticeship service so they are in control of the training they buy.
"The Institute for Apprenticeships is now up and running, already working with employers to get these high quality new apprenticeships developed and approved. 
"And from next year it will also be responsible for technical education, giving young people a clear route to technical and professional jobs and careers, with the right training and experience to back that up. It is important that for young people those routes are quite clear. 
"I hope you'll be pleased – and do tell me if you're not – to hear that today we've published the guidance setting out in more detail what the requirements for apprenticeship to have 20 per cent off the job training means in practice, as part of a broader programme of work to improve the quality of apprenticeships. 
"I would like to thank AELP for working with us on this and putting forward some great examples of best practice from your members.
"There's no doubt about just how much has already been achieved. It feel as if we've laid a solid foundation for the future but the question we continue to face is how to cement this, ensuring the stability and critically confidence in the market during this great period of change.
"As I mentioned earlier, I hope it will be helpful for me to say a little bit more about how we are taking the funding reforms forward so you can understand what this means for you. I want to set out a clear timeline for what happens between now and the point at which all employers are fully moved onto the apprenticeship system.
"You will know that we recently paused the procurement competition as it was substantially oversubscribed.
"To be completely honest, we were not confident that it could deliver the diverse market we were looking for whilst giving the sector as a whole enough stability in the short term, so we extended the contracts until September and in the mean time we have been working hard to agree a revised approach. 
"And remember, this approach is just for the transitional period until all employers are on the apprenticeship service.
"I understand that while this decision to pause was broadly welcomed, it has also caused considerable uncertainty, both to some existing providers who argued that demand is exceeding available funding and for new providers who have not yet been able to enter the non-levy market.
"So as the next steps, we will be taking on the funding arrangements for non-levy paying employers. I will set out to give you all certainty, and I hope that will help you plan.
"I will be responding within the next week to providers who have made business cases to adjust the amount of funding they were awarded in the contract extensions.
"Where credible evidence has been presented, and I understand there is credible evidence, we will look to adjust the allocations.
"We will be contacting individual providers next week to let them know the outcome of this. 
"Secondly, I can also confirm that we plan to bring forward the first performance management point from August to July, so that we can review current delivery and consider whether additional funding can be made available where there is clear evidence of unmet need from demand from employers.
"The Education and Skills Funding Agency will give you more details on the timing of this shortly.
"I hesitate to use the words 'I have been given' but I do hope that this news will be welcomed by many.
"Thirdly, I want to let you know how we are taking forward the procurement.
"In light of the unprecedented demand for the non-levy apprenticeship contracts we have looked again at whether the current procurement can give the diverse market we are looking for, while giving the sector, as a whole, enough stability as we move to a fully employer-led system.
"We have concluded that it does not, therefore we will be launching a new procurement at the end of July and cancelling the current procurement.
"We intend that the new procurement contracts will cover the period from January 2018 to April 2019, the date by which we aim to bring all employers onto the apprenticeship service.
"While the new procurement is open we will not be reopening the Register of Apprenticeship Training Providers for new applications. 
"We have already opened the register twice for applications so far, and think that this has given providers a good opportunity to apply and show us the quality of their provision, whilst also delivering a sufficient number of providers to bid for the invitation to tender.
"More details on the procurement process and deadlines will be finalised and online shortly before the procurement is formally launched.
"I hope these moves will give you all more certainty, in the approach we are taking to apprenticeships and wider adult education funding in the months ahead.
"Nothing is perfect, but from what I've heard there has been some excellent work done to put in place the apprenticeship reforms.
"No change is easy, I know well, that well-intentioned ministers and officials often step into the bear trap of unintended consequences and if there are any I'm sure you will let me know.
"However, it is now up to me and to you along with our officials to work together to make sure that we give people the very best training opportunities and a real choice for employers and apprentices themselves."
Subsequent panel discussion:
Mark Dawe, chief executive of the Association of Employment and Learning Providers: I think that is very positive news, thank you minister.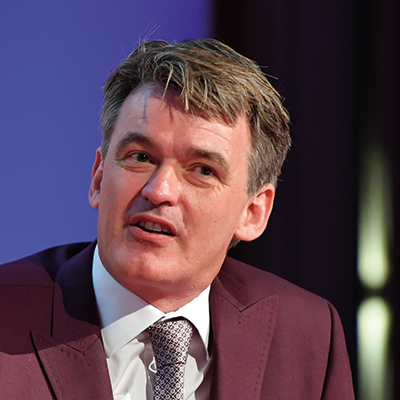 It's a real reflection of where we are at, which is good to see, an understanding of what's going on and we're all behind three million high-quality apprenticeships – 75 per cent of apprenticeships are delivered by independent training providers, and 82 per cent of them are good or better by Ofsted's standards, so that's really good.
I heard 'work together' over and over and that's in a way all we want, we want to be able to feed in explain our concerns and at least have an understanding even if we don't always agree so that's really good. 
The 20 per cent off-the-job – 200 of our members fed into the survey of what is good off-the-job, and again it will be good to see that, I think that's just come our publicly so that's great to see.
With procurement – we are where we are, we didn't like it but I think what you have announced is the best way forward given where we are.
I'm sure there are plenty of people in the room who will be groaning because they've got to go through the exercise again, but given where we were it's worth doing and I think all we would ask it to make sure it reflects the current capacity and quality of those who are currently delivering, and that's where the stability will come in during this period of enormous change. 
To hear that all employers will then get onto the apprenticeship service again that's fantastic – a clear understanding of the contract period and then everyone will be on the service and I think that's really good news.
But just to reiterate, the work together, that's what we're all very keen to do during this period, thank you very much. 
Anne Milton: Just to reflect on two things. The 20 per cent off-the-job training is absolutely critical. We don't just want 3 million apprenticeships, we want high-quality apprenticeships. And for the reputation of their brand it's got to have that 20 per cent. 
I know when I was given the speech – which I've altered quite substantially – I was aware that we are where we are and there would be anger and frustration that we are where we are, but we need to make sure that we don't get to a similar place again, so it's really important and frustrating though it is let's get through this process and make sure that we get it right. 
It is working together, it is absolutely working together. I was previously a minister in the department of health and for a minister.
You have officials in one ear and you have the sector – whatever sector it is – in the the other, and it's really important that I hear what you feel. And it makes sure the officials are really, really dedicated to making sure it is reflected in the work that they do. 
Paul Offord, deputy editor, FE Week: Mark said last week at the Festival of Skills that members are concerned that apprenticeship starts in May fell to around a quarter of what they were before the reforms kicked in – how much of a concern is that to you and can we start turning that around? Are you going to listen and turn that around?
Anne Milton:  I am certainly going to listen and I'm going to take notice of what I hear, which I think is the important bit.
You're right, there has been a fall and I would like to see that changed quite dramatically and quite quickly.
Government – irrespective of under whose political banner they sit – is often too sluggish. My feeling, ten days into the job, is that officials are determined, absolutely determined, and I am somebody who has absolutely no patience at all. I want everything done yesterday and I will only forgive not doing it yesterday if it's in an attempt to get it right.
Chris Jefferey, non-executive director, Skills Group: Very often when minister and civil servants talk about high quality that you've emphasised, what they really are talking about is high level. And everybody in this room know that young people particularly need a level two and a level three to start their apprenticeship journey and their career. Can we be assured that when you use those words high quality that you are talking about every level?
Anne Milton: It's a really important point, and for me this is a personal view. It's not about high level, it's about high quality. It's why I got into trouble at my university hustings, to be honest. There are young people who will do quite well, and they will achieve high levels. What's really critical is that we address what is sometimes a hard-to-reach group. And they need more help and more assistance because they are hard to reach – and for a variety of reasons haven't had such a good start. So for me it is about quality, it's not about high level. 
Paul Eeles, chair, Federation of Awarding Bodies: It's good to hear you talk about high quality, and everybody in this room would support that. Before you arrived, we heard comments around end point assessment, and there's some real significant and challenges in EPA and quality of an apprenticeship is wrapped up in that, and I think we have – as two membership organisations representing key parts of the sector – have some real challenging concerns around EPA and we'd be really interested in working with you and understanding your thoughts on that.
Anne Milton: Yes, thank you Paul. And I think of all of it that is one of the most challenging things – end point assessment. It's got to be good and it's got to have a consistency about it, so that there's an assurance around it. So yes, and as I say, I think of all the things I have heard about since coming to this role that's probably the most difficult but I am with you 100 per cent.  
Mark Dawe: I think the levels point is really important. The social mobility is so important. We've heard, as I mentioned earlier, the Secretary of State talking about the importance of social mobility and her journey. We've heard what you talked about, and your journey.  
Our main concern, around the non-levy world, was that it was actually going to damage social mobility if we didn't do something about it, so it's really welcome what you said and I hope we can continue to have that conversation, almost monthly to make sure that we are getting things back on track to support those small providers and employers that do that in the locality.
My intention is not to come in with any new bright ideas, my intention is to make it work, so for me this is a job of delivery
Anne Milton: And yes, because they do that in the locality, it can work. That's the point. And social mobility is a word you often hear – it's become a little bit of a slogan. It's got to mean something. It's got to be real. We've got to actually see people moving through the social structure and actually achieving, and to do that – this is a group of young people that's often hard to reach. It's really important that we dig in and reach them. And although it's obvious isn't it – hard to reach groups are hard to reach, that's why they're called hard to reach, but I think we sometimes forget that. And it's very easy to go after the low hanging fruit and the easy ones, and the hard-to-reach groups are the harder ones – they are. But we absolutely have got to have a focus on that. You need to pick people who can reach them, and smaller employers.
Reeta Chakrabarti, conference host: We've got a question at the back. How long have you got? About five minutes?
Anne Milton: How long do you want me?
Alex Ford, chief executive, CT Skills: You are about our third minister in 12 months and we have new ministers coming in with these new reforms, new ideas, but we end up feeling like we're not especially important in the grand hierarchy of things.
We've seen in the general election how passionate people are about health, education, welfare – and that's what we do as a sector, but we also give you productivity. 
What I want to ask you is what you are you going to do to raise our profile within the Department for Education, where we are seen as second class to colleges, to universities, and what you are going to do to raise our profile with government in general to make sure the government is really really focused on making sure that we can deliver high quality apprenticeships and have got the freedom and stability to do that?
Anne Milton: It is frustrating and it's actually been quite unusual over the last seven years to have so many changes of ministers and for that I can only apologise, because certainly my intention is not to come in with any new bright ideas, my intention is to make it work, so for me this is a job of delivery. 
You mentioned health, education and welfare. It's quite interesting, I was talking with a public health minister – as I say I spent all of my working life before going into politics in the NHS – and there is good evidence out there that suggests that you won't need the public health interventions because better educated people have better health, so education is arguably at the core of it all. 
You must contact me, if you feel you that are being excluded or left behind or not given enough priority then let me know.
I hope what I've said today will assure you that your profile will remain high, certainly as far as I'm concerned, within the department. 
I can only give you that reassurance, you will have to judge me in six months time and also knock at my door and say you're not giving me a high enough profile in the work that we're doing, so that's an invitation to you. 
Laura-Jane Rawlings, chief executive, Youth Employment UK: Will the careers strategy be a priority?
Anne Milton: Absolutely. I was at school a very long time ago and careers wasn't good thing, and I think it still isn't that good. The opportunities that are out there are given to students in a very biased way in my view, because the schools want high GCSE grades, they want A-level grades, their parents want children to get high GCSE grades and A-level grades and go to university, and often that is the only option that is put forward. 
You're absolutely right that young people need to have a table on which they pick the right route for them. You will have to drive against the stream,  because as I say, parents will want their children to go to university and it's not always the right thought, and for children possibly who wouldn't have even thought of university it's a mixed, confusing world that they live in, without any clear routes where they can find out all the information that they need. So it is absolutely a priority for me, because in a way it leads everything else.