Ofsted's chief inspector has poured cold water on Labour plans to introduce a new annual review of safeguarding, saying it would be "much more expensive and complicated".
Addressing the Festival of Education at Wellington College in Surrey on Thursday, Amanda Spielman said the government would "have to make something four times the size" of Ofsted's current inspection operation to roll out the proposals.
She was not commenting explicitly on Labour plans, but was asked if safeguarding should be removed from the Ofsted inspection framework and undertaken as a separate "indicator".
In March, Labour outlined plans for yearly school and college safeguarding reviews at the annual conference of the Association of School and College Leaders.
Shadow education secretary Bridget Phillipson said the safety of children and young people was "too important" to be left to infrequent inspections.
Safeguarding would remain within the remit of Ofsted and the two inspections would "complement one another".
"You'd actually make safeguarding a bigger thing, relative to everything else," Spielman added. "It would take a very big commitment of energy."
Ofsted dealt with Ruth Perry case 'humanely'
Last month, Ofsted announced changes to the inspection system following pushback in the wake of the death of headteacher Ruth Perry.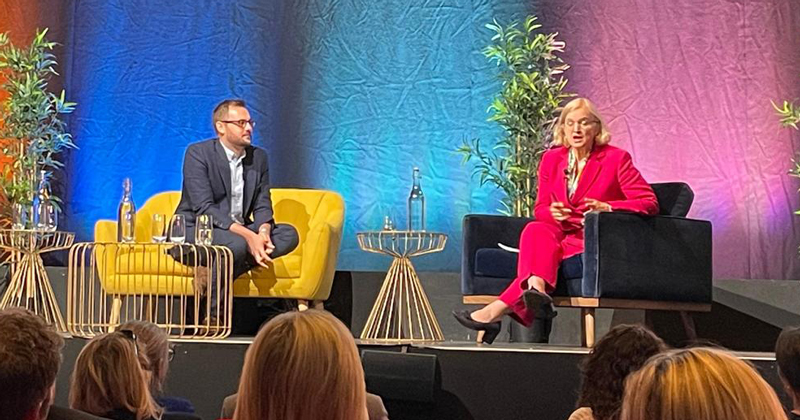 It included a commitment to reinspect schools which are graded 'inadequate' overall due to ineffective safeguarding faster.
Perry's family said she took her own life after her school was rated 'inadequate' by Ofsted as a result of safeguarding failures at Caversham Primary School. An inquest into her death has yet to be held.
On Thursday, Spielman described the case as "very, very sad" and added that her sympathies "remain with Ruth's family and colleagues".
Asked if she would have responded to the situation any differently in hindsight, given criticism from the sector, the Ofsted chief appeared to suggest she would not.
"I'm confident that my team were professional, fair, sensitive and humane," she said. "There's a very distressed family, every body has to be very sensitive and careful around that."
Spielman 'happy' with legacy
Spielman will step down as His Majesty's Chief Inspector (HMCI) at the end of the year after seven years at the helm.
It is understood her successor will be announced before the end of this month.
Reflecting on her overall tenure in the top job, Spielman said: "Broadly I'm happy with how I've approached the job."
She added that she did "a lot of listening" to the sector before starting and would encourage the next HMCI to do the same.
As in previous interviews, she defended single-word judgments, which have been a source of controversy in recent months.
"Parents do value the simplicity and clarity," she said.
Asked which single word she'd used to describe her tenure, however, she retorted: "I'm not playing that game".