Ofsted's chief inspector has insisted the watchdog cannot "soft-pedal" on inspections, amid growing criticism that the impact of Covid-19 is not being considered by inspectors.
Amanda Spielman also told FE Week's Annual Apprenticeship Conference that overuse of online learning and self-study can be a "toxic combination", an issue that has grown since the pandemic.
FE Week has reported in recent months on a growing number of provider complaints that Ofsted is ignoring the impact of Covid-19 and associated lockdowns when it comes to training, particularly in the health, care and hospitality sectors. Some have tried and failed to challenge 'inadequate' grades and subsequent contract termination legally.
Spielman said that alleging that inspectors forget the context of the pandemic, disrupted employment market and economic uncertainty is "an easy one for people to reach for" when poor quality judgements are dealt.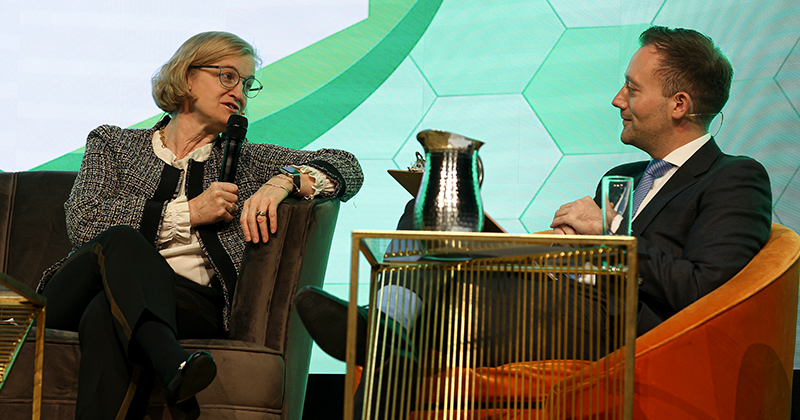 She told AAC delegates today: "We do have concerns about some parts of the sector. We know the current environment is tough but it is our role to report on the quality of provision as we find it.
"We will always acknowledge the context, but we can't soft-pedal on inspection. That wouldn't be fair to you or to the apprentices you train."
She added that by reporting "accurately", Ofsted can "then make a case for systemic change when it is needed".
During an interview with FE Week after her speech, Spielman said that Ofsted does "always take into account and tries to understand and give some weight, to context", but added: "At the end of the day, we have to say what is there for the young people, is it good enough, and report honestly if it isn't.
"We do understand why, given the consequences that are hung on inspection, [context] is something that people reach for, but we put a huge amount of effort into trying to get the balance right."
'It's hard to start feeling like an adult from skanky bedrooms'
Spielman also expressed concerns about the educational experiences for apprentices post-Covid.
She said online learning and self-study can be part of an apprenticeship, but warned this can be a "toxic combination when overused or used too soon".
"I know many of you balance these factors well but failing to do so can damage apprentices' motivation and enthusiasm," she told conference. "If an apprentice spends most of their first three months studying at home on their own, we can hardly be surprised if they drop out.
"It can be appropriate when it improves the apprentices' experiences or prepares them for work in their chosen sector. But it shouldn't be for your convenience or to save money."
Spielman told FE Week the issue had become more prevalent since the pandemic when the switch to online learning was made, adding that the watchdog has found providers to be "reluctant" to move away from this method due to convenience.
"I've spoken about the socialisation of apprenticeships. Part of what you're getting is that experience with your peers. It operates and acts more profoundly when you go through it with your peers, really shifting from childhood to adulthood in a work sense.
"I've talked about skanky teenagers and skanky back bedrooms before. It's very hard to start feeling like an adult from a back bedroom."