Ofsted boss Sir Michael Wilshaw has said the GCSE English and maths resit policy is not working as the government hoped.
He raised the issue in his fifth and final annual report as Ofsted chief inspector, published this morning.
"While the policy's intention to improve literacy and numeracy levels is well intentioned, the implementation of the policy is not having the desired impact in practice," he wrote.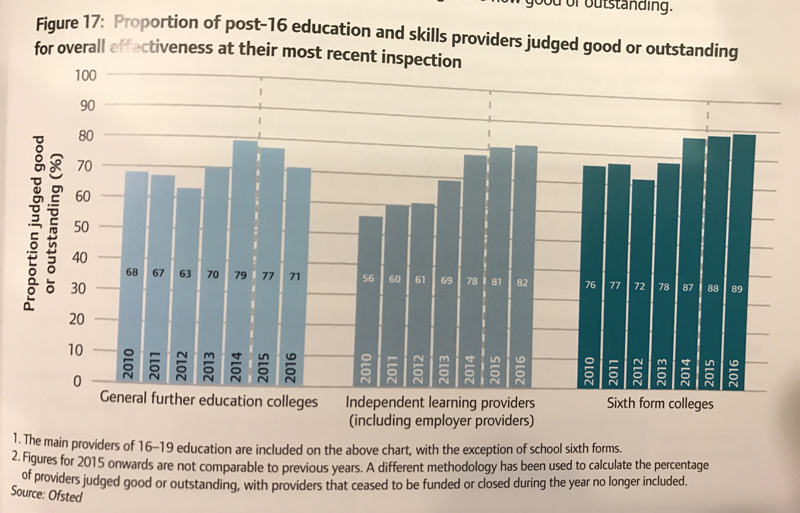 Since 2013 all 16 to 18-year-old students who do not already have a grade C in GCSE English and maths have had to continue studying these subjects – and in 2015, this was further tightened to require those with a grade D to only study GCSE rather than an alternative.
Sir Michael said that while the policy change was a "significant challenge" for all providers, it was "particularly so for general FE colleges, where the majority of students without a GCSE grade C in English or mathematics study and where there have been the biggest increase in numbers studying qualifications in English and maths at level 2".
He pointed out that many students – "just over a quarter" – were still not getting at least a grade C by the age of 19.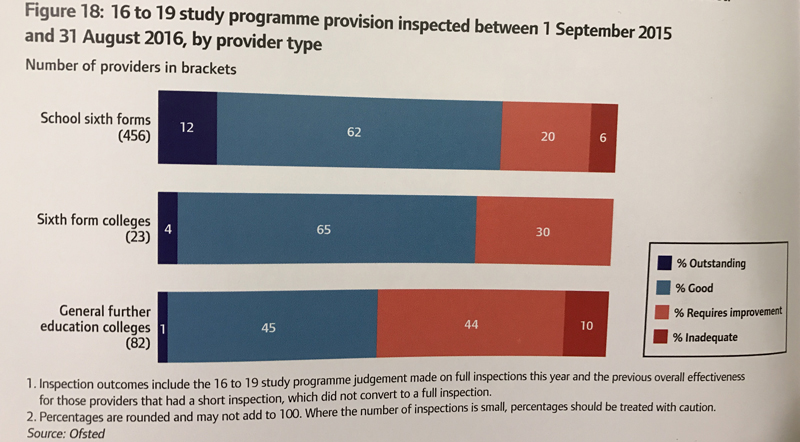 He said: "Inspection evidence shows that, for some students, having to retake their GCSE can be demotivating and that attendance at these lessons is lower."
Sir Michael said that it "remains unclear" whether GCSE is the "best way of ensuring that students have the English and mathematical skills needed for their intended career".
He concluded: "For many students, an alternative level 2 qualification may be a more appropriate means of improving their English and mathematics and ensuring that they are ready for work."
Other key findings of the report include a drop in the proportion of FE colleges rated good or outstanding, from 77 per cent last year to 71 per cent.
It also noted that "schools and colleges show continued weakness in providing a technical and vocational curriculum appropriate to meet the needs of the economy".
But the report found that there were some signs of improvement in the quality of apprenticeships.
"This year 63 per cent of apprenticeships were found to be good or outstanding, an increase of 12 percentage point compared with last year," it noted.

David Hughes, chief executive of the Association of Colleges, said: "Her Majesty's Chief Inspector rightly emphasises the importance of the FE sector in equipping young people and adults for successful careers but he also points to shortfalls amongst a minority of colleges.
"The report helpfully highlights the huge burden that colleges have been handed by schools failing to support young people to achieve good GCSEs in English and maths.
"Over 70 per cent start college without these qualifications. This is an enormous challenge, given the huge numbers of resits, the lack of a credible alternative qualification and the inappropriateness of GCSE in preparing people for further learning and work."
He added: "Ofsted's annual report is challenging for colleges but it also shows how the majority of colleges are innovative, creative and resilient. Colleges are facing up to the challenges and they are making great strides to improve quality."
James Kewin, deputy chief executive of the Sixth Form Colleges' Association, said: "Ofsted's annual report highlights the continued improvement of sixth form colleges – 89 per cent are now good or outstanding. 
"We were also pleased to see Ofsted join SFCA in drawing attention to the underperformance of small school sixth forms.
"This again calls into question the government's policy of rationalising large, high performing, sixth form providers through the area review process, while encouraging the growth of small – often poorly performing – sixth forms in the schools sector."