Lucy Knight is hoping she proved to be a cut above her hairdressing competitors on day one of EuroSkills 2016, as the day-to-day experience of owning her own salon paid off.
The 21-year-old (pictured above), who opened Hair by Knight in Bristol two years ago after completing an apprenticeship at City of Bristol College, spent the opening day of the competition completing two cuts that were two and half hours long each.
And she is confident that the experience of running her own salon put her in good stead for a medal.
Speaking to FE Week at the end of day one, she said: "The first competition was ladies long hair down where we had to colour cut and style a lady ready for a night out, sort of a fashion look.
"The second one was a men's classic style. It used to be a sculpted look but they've changed it to be a modern classic.
"I was really happy with what I produced but it is hard to tell how you are doing so early on.
"I think by running my own salon it has put me at an advantage because it has helped massively with my confidence because what I am doing here is what I do on a daily basis.
"It is better for me as opposed to others who might turn up and not really know what they're doing to start with."
Tomorrow Lucy will complete two further tasks involving a perm and then a men's fashion cut, before taking on a final challenge on Saturday where she'll do a cut and design for a bride, plus a "ladies cut down".
Meanwhile over at the cookery station, Team UK's Ruth Hansom was carefully pulling a duck apart only to stitch it back up again.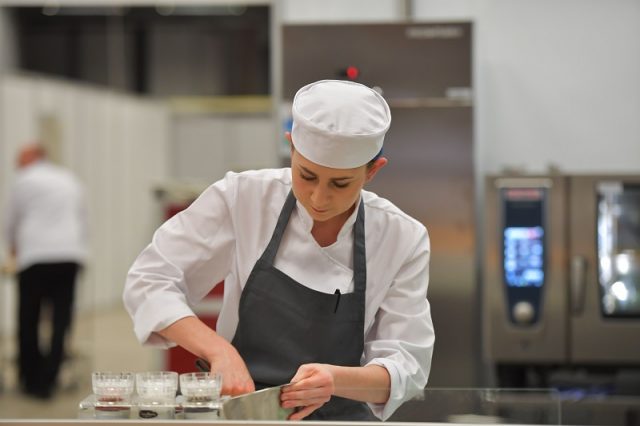 The 21-year-old from Westminster Kingsway College, who also works at The Ritz Hotel, spent day one preparing for her three-course meal, to be made tomorrow.
And her menu will include a duck galantine.
"The first day was mainly prep work, so I prepped for a duck galantine, a dessert for tomorrow and then the main course of cod," she said.
"For the galantine I had to take a whole duck and keep the skin on and everything inside and intact but take all of the bones out.
"I then filled it with an insert, which was pork, so I made a pork mousse and then the liver is running through the middle and you have to stitch it back up so it kind of looks like a whole duck again.
"Hopefully when it comes to cooking it will come out nice and when you slice it hopefully I'll have that clean through effect."
Cooking competitors are marked by a number of judges who walk around and check on different elements such as hygiene, and then three tasters sit in a separate room and judge the food on its taste and presentation.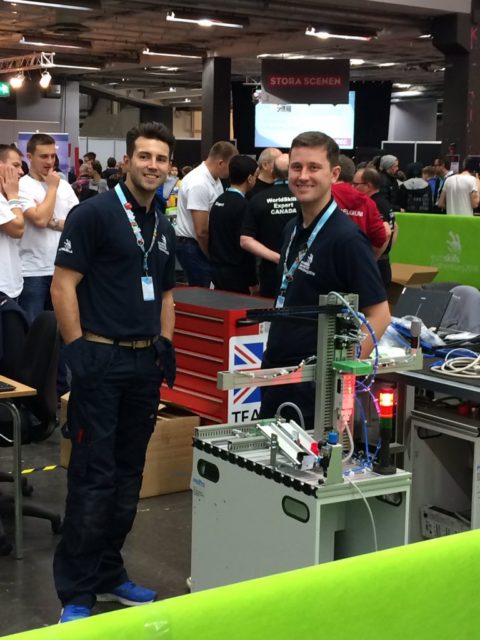 Ruth says she hopes all of her hard work in training for the competitions has "paid off".
Mechatronics duo Sam Hillier, 20, and Thomas Revell, 23, who both train and work for Toyota Manufacturing UK, were also happy with their progress.
"It has been fantastic to compete on the first day, it was a known day, we knew the station and everything went to plan," Sam said.
Tom added: "The first day has gone really well to be honest, as Sam said we had a known station, all of the other teams seem to have gone really well so it is a good competition.
"The atmosphere has been incredible. Being at the opening ceremony last night with all of the other countries having a great time and that reflects on today as well. All of the countries are friendly and the atmosphere is just great."
Sam said it was "fantastic" to finally be here at EuroSkills, and Tom added they feel they can go all the way: "We're going for gold".