Ofqual's app is a step in the right direction. It's a prototype, though, and several more steps will be needed to navigate the qualifications landscape, writes Gemma Gathercole
When Ofqual tweeted from their 'Shaping the qualifications landscape' event, you'd be forgiven for rolling your eyes at another statement of how complicated the qualifications system is, but this time Ofqual were using the analogy to introduce a new app they have produced to help users to explore the system.  So, what is this new app, who is it for and, more importantly, does it provide any clarity?
It's important to establish at this point that the data they have used is not new, it's already published in other places and other formats.  But what is new is the way that this data is published and its intent to be more dynamic and allow users to navigate it in new ways.  For someone who is quite used to and happy with manipulating spreadsheets this information doesn't do what I'd like, but I suspect I'm not the intended audience.
The new app shows the volume of certifications in the past 12 months sorted by sector subject areas (SSA) and then by awarding organisations: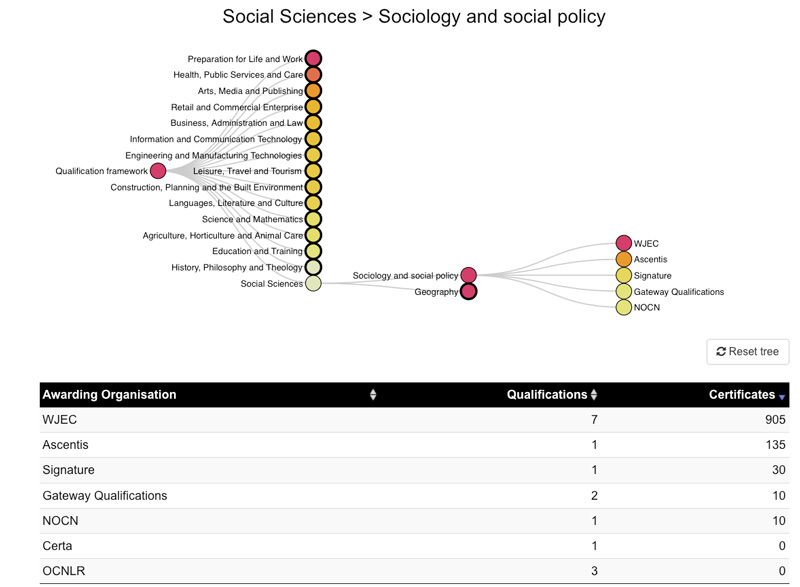 Where the SSAs and AOs are a limited number this is still easy to read, however, it can be more challenging for more popular SSAs: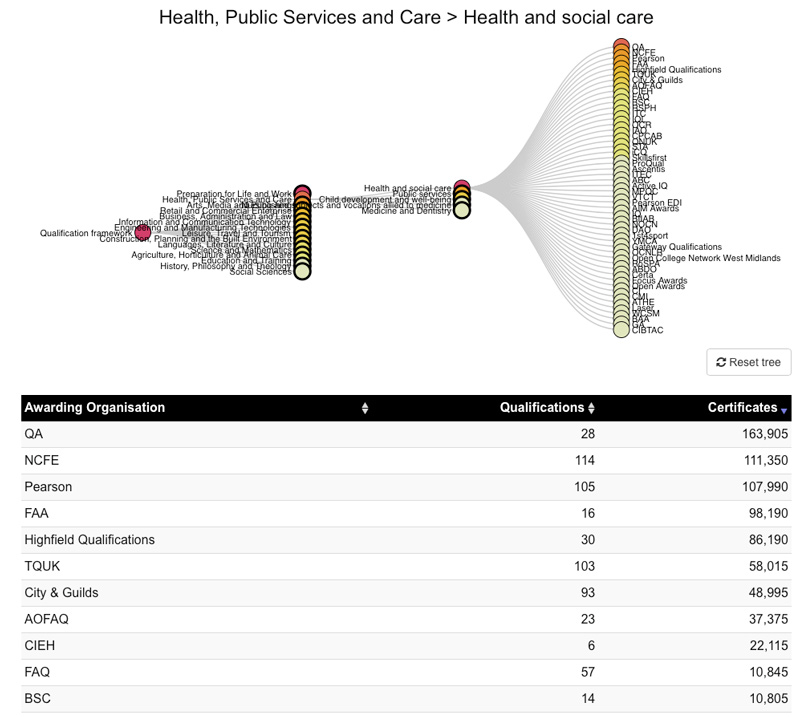 But I suspect a more fundamental question is, if a user is relatively inexperienced in the taxonomy of qualifications, will they know where to look?  For example, if I were an employer and wanted to see the volume of plumbing qualifications, to pick on an example the has been used by others in the past, this visualisation wouldn't help. 
First of all, I'd need to know that plumbing belongs to the Construction, Planning and the Built Environment SSA and the Building and Construction sub-sector.  Perhaps not too intuitive.  But we've also stumbled on the next problem, in order to see the volume of plumbing qualifications, you'd need to know which AOs offered them and then look at their qualification lists:
In the broadest sense, the app does present the information in a way that is, perhaps, easier to explore, but I remain uncertain as to whether this will help employers or other users to navigate the qualifications system.
So, what's missing or how could the information be better presented? Perhaps this is the $64,000 question. 
There is a lot of data already available, if you want to navigate a series of different spreadsheets and reports and the answer to what information is needed has as many answers as there are potential users, so Ofqual's job here is difficult.  Adding to this complexity is the fact that the app makes use of existing data and this itself provides a limitation. 
What I would like to see is an app that requires no previous knowledge by the user
I asked Ofqual why they used the SSA system instead of, say the Skills Plan 15 technical routes.  The answer of course is simple.  The technical routes do not cover the whole of the qualifications system, so wouldn't be fit for purpose.  But also, qualifications are not yet mapped to those 15 sectors and, as mentioned before, this data is not new.  Mapping to the 15 routes isn't straightforward.  But you might argue going forward that simplifying the labels attached to the qualifications system would be a step in the right direction of making it easier to explain.
What I would like to see is an app that requires no previous knowledge by the user about how qualifications are classified. Say if I wanted to know who offered Plumbing qualifications and how popular each awarding organisation was in terms of certifications at the moment I'd have to go to a number of datasets. 
A quick search on Ofqual's Register of Regulated qualifications will tell me there are 35 plumbing qualifications currently available, but not what the certifications for those 35 were.  Bringing together some of the more disparate aspects of the data Ofqual holds may help get closer to that ambition of helping users to navigate the qualifications system.
Now for the good news, this app is a prototype and Ofqual are looking for feedback on whether it is useful and whether they've presented the data in a way that is useful.  So, if you've tried analysing Ofqual data in the past, I urge you to feedback to Ofqual on this app.  It will only be through understanding what people are looking for that Ofqual will know how to develop this system in future.
Gemma Gathercole is head of funding and assessment at Lsect