Stroud MP Neil Carmichael knew a thing or two about the world of FE and skills before he was elected as chair of the Education Select Committee in June.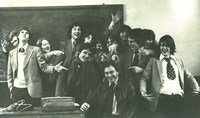 He did not study in the sector himself, attending St Peter's independent school in York and then taking a politics degree at the University of Nottingham.
But his initial involvement with FE came in 1989, when at the age of 28 he was appointed a governor of Kirkley Hall College of Agriculture, in Northumberland. He held the role until 1993.
Carmichael was a county councillor at the time and colleges were under the control of local authorities. "Local authorities had a direct interest in what happened and often chose councillors as governors, and that was the reason I became a governor," he says.
He adds that among his responsibilities was "dealing with issues that were cropping up at the college — there were one or two irregularities in terms of finance which had to be overcome".
He says he felt that the governors didn't have enough collective power to deal with the issues they faced at the time. "I think that it's very important governors ask the right questions and do not fear to get themselves involved if they see something wrong.
"Organisations do well if they are properly accountable, if they are well-led, and a combination of a strong leader plus a decent governing body is the way forward. I learnt that in those days and I've never forgotten it."
Engaging with local colleges will be even more important for Carmichael's work in the coming year, as his constituency falls into the 'West England' region that will be assessed as part of the second wave of area reviews – the first meeting of the local steering group is this month.
South Gloucestershire and Stroud College, where Carmichael was previously a governor for ten years from 2001, is one provider that will be under scrutiny.
Reflecting on his work at the college, he is proud of the changes that were made with the team there.
"The college was in dire straits — lots needed to be done, and the governing team rallied around," he says.
"We did three things — one was we built a new college, secondly we really addressed the issue of leadership of the college, and we also merged with the Filton College, so it was a strategic objective as well."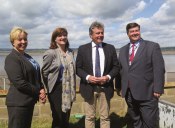 Things are now much improved, he says, and the college was rated 'good' with 'outstanding' features by Ofsted in 2014.
"We have a college with a big footprint, with the ability to deliver a wide range of very capably taught courses; a college which is engaging in the community, and investing in the future through developing the old Berkeley Power Station site.
"We've got a training centre coming along for renewable energy, nuclear power and so on, and also on the back of that, a UTC [University Technical College – the SGS Berkley Green UTC will open in September 2017]."
Carmichael is raring to go for 2016 after a busy festive holiday period.
The Conservative MP has been out and about in his constituency, checking in with a local school, doing charity trips and visiting the Post Office to thank workers for tackling the seasonal mountain of cards and presents. Outside of professional duties, home life has also been eventful during the festive season, though he did manage to fit in a trip to see Star Wars at the Science Museum's IMAX cinema.
Carmichael drove up to Northumberland, his home county, with his mother to help her negotiate flooding in the area, and managed to spent time some quality time with his three children — James, 19, and twin girls Alicia and Rebecca, 17.
I think that it's very important governors ask the right questions and do not fear to get themselves involved if they see something wrong
Now that the holidays are over, top of Carmichael's list for the New Year, alongside losing a few extra Christmas pounds, is seeing the Education Select Committee come up with new ideas to challenge assumptions about education.
The committee should be "at the cutting edge of making sure that we have an education system which puts Britain into a very strong position, both within the EU and globally," he says.
He also wants to see people lifted out of "dead-end jobs" and into more rewarding career paths, reflecting an interest in vocational education and skills that he is keen to share. "I think apprenticeships are one big part of the story," he says.
In Stroud, Carmichael established the Festival of Manufacturing and Engineering, which he says aims to ensure young people can find out more about manufacturing and engineering. It has been running for three years and was opened by the Prince of Wales in 2014.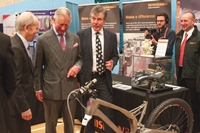 "One of the things we're going to do next is promote apprenticeships because we think it's really critical.
"I've presented awards to successful apprentices, I've talked to them all and I really value first of all the opportunities that firms give, and the way in which the students seize them and develop them."
He says it is time to consider "a proper National Apprenticeship Award", to raise the profile of the qualification and address "the issue of parity between vocational, technical and academic".
Commenting on the government's target for 3m new apprenticeships by 2020, he adds: "I think that having 3m more is absolutely excellent — but they've got to be quality apprenticeships; they've got to be apprenticeships which people recognise as worthy. They've got to be ones which do lead to sustainable, rewarding careers."
That focus on apprenticeships reflects the fact that Carmichael's work has recently taken an important turn towards FE and skills.
He is now co-chair of the sub-Committee on Education, Skills and the Economy, newly formed through the coming together of a selection of members the Education Committee and the Business Innovation and Skills (BIS) Select Committee.
The new committee held its first meeting in December and so far, Carmichael says, the collaboration with BIS Select Committee chair Ian Wright is "going really well".
"He and I, although we come from different political parties, agree absolutely on the importance of dealing with productivity," he says. "If we are not a productive economy, then we can't actually start increasing wages and salaries — and that's what we want to do.
"Productivity is not just an economic challenge, it's a social challenge as well, and we have to address it – and one of the key tools is obviously making sure people have the skills, the training, to get the jobs," he adds.
Careers education is another focus for the joint committee, which launched an inquiry looking at careers advice, information and guidance in early December. It will look at issues such as the quality of current careers advice and its effectiveness in supporting people into apprenticeships.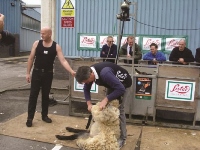 "It's really important that young people have work experience and get the right sort of knowledge about the opportunities that are before them," Carmichael says.
"One of the reasons why the FE sector has to be more innovative and more responsive is because people do have different careers and want to retrain."
He says that that he "welcomes the attention that the FE sector is currently attracting", but adds that more is still needed.
"We've got to look very closely at the post-16 area in terms of funding, in terms of provision," he says.
In his constituency, Carmichael says he thinks that South Gloucestershire and Stroud College is "well-placed"for the upcoming area review and he wants to see similar practice replicated "all over".
He feels optimistic about the progress of the FE and skills sector overall and the opportunities that the coming year could hold.
"I went to the AoC conference in Birmingham this last year, and I was impressed with the principals that I met — they clearly had thought about where they needed to be, and they had an appetite for making the kind of decisions which would put their colleges into good positions. That was encouraging," he says.
He adds that the spending review was also "surprisingly good for the sector".
"I think there are some good reasons for that. One is obviously the post-16 sector is the one you need to work hardest at to have the most rapid response to the skills crises that we've actually got in terms of recruitment.
"And the second one is, of course, we're looking at the changing area of post-16 anyway with the area reviews, and also with the very wise decision to have sixth form colleges, for example, become academies — I think that's a really good step in the right direction."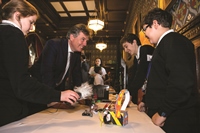 Carmichael would like to see this change in particular open the door for multi-academy trusts (MATs) to offer a full range of academic choices to pupils.
"You could have a secondary school and a UTC and a sixth form college, all within the same MAT, which will really be pretty good … that would be a really good structure for a strong, capable FE college to interface with."
It's a personal thing
What is your favourite book and why?
It's going to have to be A Town Like Alice by Nevil Shute. It was one of the first books I ever read at school, and it's a great read because it combines romance with economics.
What do you do to switch off from work?
I find the easiest way is to go to a decent pub and have a few pints of beer with some friends. I think that's a good way of switching off, and that's probably what I'd do. I do like watching films. I was busy watching A Streetcar Named Desire at Christmas, the Marlon Brando version.
What's your pet hate?
I cannot stand it when people don't treat other people properly, I just don't like that.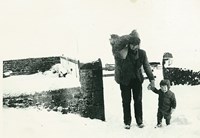 If you could invite anyone to a dinner party, living or dead, who would it be?
Charlemagne, the great creator of the European Union.
What did you want to be when you were growing up?
I always wanted to go into politics. My father didn't want me to but I was always very interested. He discovered that Ted Heath was coming to Morpeth – in Northumberland, where we lived – and he said did I want to go, and I said, "I certainly do!" So off we went. And I met Ted when I was just 16.