Ofqual's replacement for the Qualifications Credit Framework (QCF) will give awarding organisations more freedom to review and develop their qualifications, the watchdog's vocational qualifications boss has said.
The new Regulated Qualifications Framework (RQF), which comes into force on October 1, will take away the rules and structure of the QCF and instead focus on outcomes.
Speaking at the Skills and Employability Summit in London, on Thursday (September 17), executive director for vocational qualifications at Ofqual Jeremy Benson said: "A valid qualification must assess skills and knowledge sufficiently well.
"It enables assessment results to be interpreted and used appropriately, and allowing people to be confident that those results can be relied upon.
"Having a detailed set of rules specific to vocational qualifications is not the best way of securing validity," he added.
Mr Benson said that the change is part of Ofqual's aim to improve people's confidence in vocational qualifications, and comes after a review and consultation over the QCF, carried out over the past year.
First introduced in 2008, the QCF was intended to take a "building block" approach to learning, he added.
Each student could put together their own learning pathway, made up of different building blocks, or units, each worth a certain number of credits.
However, Mr Benson said that this approach did not work as well as it could have done.
"To achieve the QCF's ambition, the rules placed much focus on consistency of structure, but did not focus enough on validity — or put another way, it didn't consider whether the qualifications might actually be any good."
As part of the recent review, Ofqual looked at the impact of the rules and regulations of the QCF on those who work in the vocational sector, including colleges and training providers.
What they found was that "the rules too often get in the way of – rather than support and enable – good qualifications."
"Even if these rules made life easier for awarding organisations, many of them told us that the rules were in fact stopping them from innovating, or even from taking the approaches to assessment that most suited the topic being taught," Mr Benson said.
He also said that they would not be replacing one set of prescriptive rules with another.
The new RQF is intended to act as a tool to help people understand the different qualifications regulated by Ofqual, not to be a rule or process, he said.
He described the new RQF as a library and said: "There's a range of books on offer, and as libraries do, we're stacking the books in an order. Our shelves are arranged to fit books from entry level one up to level eight."
Mr Benson said that these levels are generally well understood, both in terms of existing qualifications and how they relate to levels in other frameworks.
The books on the shelves would be arranged in size order, he added, with the shorter reads on the left and the bigger books – "War and Peace, for example" – on the right.
The size of the books represents qualification sizes, he said, which will be described in terms of total qualification time (TQT).
This is defined as an estimate of the number of hours that would be required for a learner to reach, and demonstrate, the level of attainment needed for a particular qualification.
Part of the TQT will be made up of guided learning hours, Mr Benson said, as they are helpful to people planning curricula and timetables.
He added that the TQT will also recognise the amount of time a learner can expect to spend in any form of study or training — but not under the immediate supervision of a tutor or any other education or training provider.
Continuing the analogy, Mr Benson described Ofqual's role within the RQF as a librarian.
"Now, a librarian doesn't decide what should be in a book, or the number of chapters it should have — though they may take a closer interest in some more than others, as we do," he said.
"Rather, a librarian helps people to understand the different books available and to find what they're looking for."
As well as providing a catalogue of registered qualifications, Ofqual's role will be to carry out a range of regulatory activities, he said.
These will include audits, to test how far awarding organisations can show they meet the new requirements, he added.
He said that it will also be encouraging and reporting on good practice, to ensure that awarding organisations do more than just meet the bare minimum requirements, and had written to all awarding organisations about
the changes.
Apprenticeship target is 'once in a generation' opportunity
Skills Funding Agency (SFA) and Education Funding Agency (EFA) boss Peter Lauener told delegates that the government's 3m apprenticeship target amounted to a once-in-a-generation opportunity.
The SFA and EFA chief executive said at the Skills and Employability Summit that hitting the figure by 2020 would be difficult.
But he said that it was "not quite as big a challenge as it would have been had we not laid the foundations as a country in the last parliament".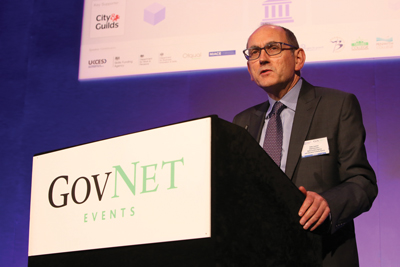 Mr Lauener added the special emphasis that will be placed on the vocational qualifications over the next five years presented a "once in a generation opportunity to embed apprenticeships in a new way in the structure of society, as a high quality and structured route to jobs and careers".
Apprenticeships make a strong contribution to the economy, Mr Lauener said, offering a return on investment per pound of between £18 and £28.
"That's a return to employers, it's a return to wages for young people. They are, in short, a good investment."
Mr Lauener said there was significant scope for more apprenticeships in some sectors, including construction, information communication technologies, and engineering and manufacturing technologies.
He acknowledged that there was work to be done to encourage more employers to take on apprentices and suggested that employer-to-employer communication was the best way for employers to learn about the benefits of apprenticeships.