The National Audit Office has said it will "look into" the issue of lead providers skimming outrageous management fees from subcontractors, FE Week has been told.
The Public Accounts Committee chair, Meg Hillier (pictured) had vowed last December to raise the issue with the NAO following FE Week's ongoing investigation into topslicing, which found evidence of providers keeping 40 per cent of government funding before dishing out contracts.
Ms Hillier told FE Week on Wednesday that she had received a letter from the NAO, which said: "We propose to look into this issue further to determine the facts.
"We intend firstly to review the Skills Funding Agency (SFA)'s recent compliance work, which aimed to make providers more transparent about their management fees.
"Once we have a fuller picture I will take a view on whether a full investigation would be justified."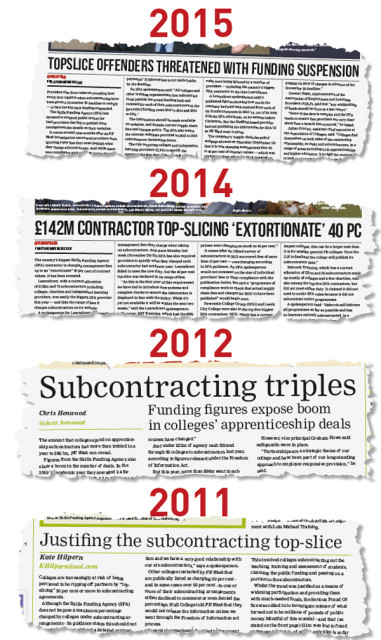 Topslicing has been the focus of an FE Week campaign since its launch in 2011 (see right), and was the subject of "recent compliance work" by the SFA.
The practice involves lead providers retaining government funding – usually called management fees – before finding a subcontractor to do the training for the remaining sum.
In one case, as reported by FE Week in November, Learndirect retained more than a third of its total government funding in management fees, pocketing nearly £50m.
And this week, FE Week uncovered evidence that one college was grading its potential subcontractors by the size of management fee they were willing to accept – the higher the fee, the higher the score.
Cambridge Regional College issued a tender document on December 16 inviting subcontractors to bid for four lots – 16-18 apprenticeships, 19+ apprenticeships, 24+ learning loans and adult skills budget.
The criteria on which all bids would be judged, included in the document, gave the proposed management fee offered by the subcontractor a massive 35 per cent weighting.
It then outlined the scoring methodology that the college would use to grade bids.
"Management fees retained by the college are a pass/fail criteria and the fee passed on must be a minimum of 20 per cent, which will be scored as a 3," it said.
Anything lower than 20 per cent "will be marked as a fail", it said, while bids of 22 per cent "score 4" and 24 per cent "score 5".
When asked about its methodology, Paul Skitt, assistant principal employer engagement at Cambridge Regional College, said its higher management fees were the result of stringent contract management controls required by the SFA.
"The weighting we give to management fees reflects the increasing costs of administration associated with sub-contracting – the closer involvement and the increased demand on resources – required by all colleges with sub-contracted provision.
"Our sub-contracting processes and procurement have been approved by the SFA," he added.
The SFA declined to comment on the college's tendering process.
"As independent corporations they are responsible for their own business models, modes of operation and financial health," it said.
A spokesperson for the NAO confirmed it had sent a letter to Ms Hillier, but declined to comment further.