More than 50 Labour MPs have urged skills minister Robert Halfon to reverse apprenticeships funding cuts exposed by FE Week.
The group led by David Lammy, former minister for higher education and MP for Tottenham, have all signed a letter to apprenticeships and skills minister Robert Halfon describing the potential cuts as "devastating" for apprentices in deprived areas.
This follows publication of FE Week research last month, which exclusively revealed that proposed funding changes could mean a fall of around 30 per cent in funding to providers for 16 to 18 year-old apprentices, and over 50 per cent for those in the poorest areas of central London.
It called on Mr Halfon "in the strongest terms to think again and reverse them".
Mr Lammy's letter — which was co-signed by 53 other Labour MPs — said the cuts would "hugely undermine the government's pledge to create 3m apprenticeships by 2020".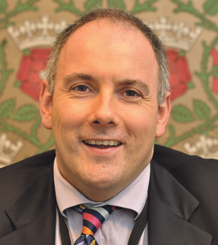 It added the move would "entirely contradict the prime minister's promise to 'help anybody, whatever your background, go as far as your talents will take you', in order to create a country and an economy that 'works not for a privileged few, but for every one of us'".
The written plea to Mr Halfon echoed Mr Lammy's comments in an interview with FE Week on August 23, when he said: "I have one question for the government in response to these cuts: why are you shafting working class kids?"
The proposed funding rates for apprenticeships were published by the Skills Funding Agency on Friday August 12, 2016.
FE Week's analysis showed that, as an example, the two most popular apprenticeships measured by total 16-18 year old starts – level two apprenticeships in business administration and in construction – would face cuts of between 27 per cent and 52 per cent, dependent on location.
Mr Lammy's letter raised special concerns over the removal of the 'disadvantage uplift' — which is additional funding provided for apprentices living in deprived areas.
He commented that this move was a "stark contrast" to the fact that the changes would mean funding for older apprentices who live in wealthier areas and work at larger employers would be increased in many cases.
He wrote: "We fear that the impact of these funding cuts will be devastating in deprived areas, where unemployment rates are already well above the national average, especially amongst young people.
"Taken in combination with the recent scrapping of maintenance grants to support young people from low income backgrounds who hope to go onto higher education, we are acutely worried that these cuts will do real damage to the life chances of many of our constituents."
The point is of particular significance to Mr Lammy as his constituency, Tottenham, would be one of the hardest hit by the new funding rates.
The letter acknowledged other comments from FE Week's reporting, in which Mark Dawe, chief executive of the Association of Employment and Learning Providers, warned that many providers are likely to cut back or "withdraw provision altogether" if the proposed rates are implemented.
Mr Lammy supported Mr Dawe's remarks, adding: "Cuts of this nature will mean that apprenticeships will simply no longer be viable in terms of basic delivery, and providers will certainly not be able to offer the high quality programmes that our apprentices need."
It comes just days after similar concern was raised by shadow skills minister Gordon Marsden.
He wrote to Mr Halfon earlier this week to say he was "extremely concerned at the potential adverse effects for social mobility stemming from the proposed new apprenticeship funding methods".
Apprenticeships and Skills Minister Robert Halfon said: "This government is doubling investment in apprenticeships because we know they create a ladder of opportunity for our young people. Through the new levy £2.5 billion will be invested in apprenticeships by 2019-20 – twice what was spent in 2010-11. That means more money going in to the system and more money on average per apprenticeship.
"We want to encourage employers to take on young people. That's why they won't have to pay more to give a 16 –to 18-year-old their first step on the career ladder and why we're proposing to give employers an extra £1,000 for every young apprentice they take on. This will help to ensure every young person, regardless of background or ability, has the chance to take their first step into work."
 
The full list of signatories can be found below:
 
David Lammy MP
Rushanara Ali MP
Dave Anderson MP
Jonathan Ashworth MP
Ian Austin MP
Tom Blenkinsop MP
Paul Blomfield MP
Ben Bradshaw MP
Karen Buck MP
Liam Byrne MP
Ruth Cadbury MP
Ronald Campbell MP
Sarah Champion MP
Rosie Cooper MP
Jim Cunningham MP
Nic Dakin MP
Thangam Debbonaire MP
Jack Dromey MP
Gill Furniss MP
Mary Glindon MP
Roger Godsiff MP
Lilian Greenwood MP
Helen Hayes MP
Mark Hendrick MP
Sharon Hodgson MP
Kate Hoey MP
Kate Hollern MP
George Howarth MP
Imran Hussain MP
Helen Jones MP
Peter Kyle MP
Holly Lynch MP
John Mann MP
Madeleine Moon MP
Siobhain McDonagh
Jim McMahon MP
Lisa Nandy MP
Kate Osamor MP
Jess Phillips MP
Steve Reed MP
Emma Reynolds MP
Marie Rimmer MP
Joan Ryan MP
Steve Rotheram MP
Yasmin Qureshi MP
Virendra Sharma MP
Ruth Smeeth MP
Wes Streeting MP
Gareth Thomas MP
Stephen Timms MP
Karl Turner MP
Stephen Twigg MP
Catherine West MP
Daniel Zeichner MP