> Up to 20 per cent full level 2 and 3 to lose entitlement status
> SFA initially deny knowledge of awarding body concerns
The Skills Funding Agency (SFA) has been criticised over a consultation on the future of hundreds of qualifications, after five of the 14 working days it was open fell over half-term.
The consultation, which ran from February 10 to 29, was on plans to end full funding for up to 524 (20 per cent) full level two and level three qualifications offered by 56 awarding organisations (AOs) for 19 to 23-year-olds.
The short time period, made more challenging for respondents because five of the working days fell during half-term from February 15 to 19, provoked scathing criticism from the Federation of Awarding Bodies (FAB), which complained directly to the SFA.
A letter leaked to FE Week, sent on February 24 by NCFE chief executive David Grailey to SFA boss Peter Lauener, was also highly critical of the consultation process.
Mr Grailey wrote: "We feel it is unrealistic to expect awarding organisations to gather the required evidence in such a short period of time," adding "this is particularly poorly planned as the period covers the half-term, during which a large percentage of the institutions listed above will be closed".
Andrew Gladstone-Heighton, NCFE policy leader, then told FE Week on March 1: "We don't think this short timescale was sufficient for a consultation of this nature.
"A longer timescale would have allowed for a more meaningful conversation and a quality response, which would have been significantly more beneficial for centres and, ultimately, learners."
He added: "It is concerning as centres have either already completed their curriculum planning, or are about to sign their plans off, for the 2016 to 2017 funding year.
"This will cause more turbulence in a sector that has experienced year-on-year changes to the curriculum offer — we need some stability to avoid further negative impact on learners."
The 56 awarding organisations affected had to supply evidence for each qualification to the SFA in the hope it might be saved under the new 'legal entitlement' alignment programme with the Department for Education.
Although the SFA published a list of the 80 per cent of full level two and three qualifications that were safe, they did not say how many were at risk or publish an easily accessible list of the remaining 20 per cent at risk.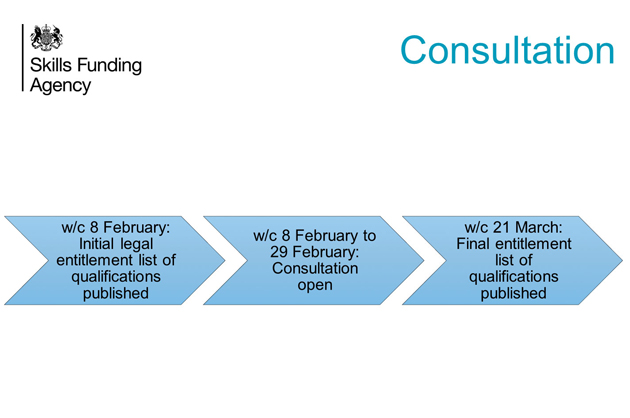 It provoked further concern that a number of stakeholders did not realise the significance of the consultation.
This new approach comes around a year after awarding organisations had to supply evidence for all their qualifications based on SFA 'business rules'.
An SFA spokesperson said: "The timetable for the consultation was designed to enable the SFA to publish, before the end of March, a final list of entitlement qualifications. This is aligned to the publication of our funding rules, and is intended to allow sufficient time for colleges and training providers to finalise their 2016/17 offer.
"This consultation itself is narrow in scope, as it relates solely to the qualifications available under the legal entitlements for 19 to 23 year olds. Many of the qualifications affected will continue to be funded in the rest of the adult education budget or via loans."
She first said "we did indicate that awarding organisations for whom the deadline posed significant issues should contact us to discuss", but "received no such requests".
But when FE Week asked about Mr Grailey's letter, she admitted: "We have received a letter from NCFE and we are in the process of responding."
FAB chief executive Stephen Wright also said the SFA had been made "well aware of our position".
FE Week has also learned that delegates at an SFA briefing for awarding organisations held at BIS Conference Centre in Westminster on February 18 were shown a slide stating that the consultation would only run until 29.
The SFA presenter said there would be no extension, when asked if this would be possible.
Federation complain to the SFA
Speaking to FE Week, Federation of Awarding Bodies (FAB) chief executive Stephen Wright said FAB had complained about the consultation process in its "original feedback to the draft document" and "raised it with" the SFA subsequently.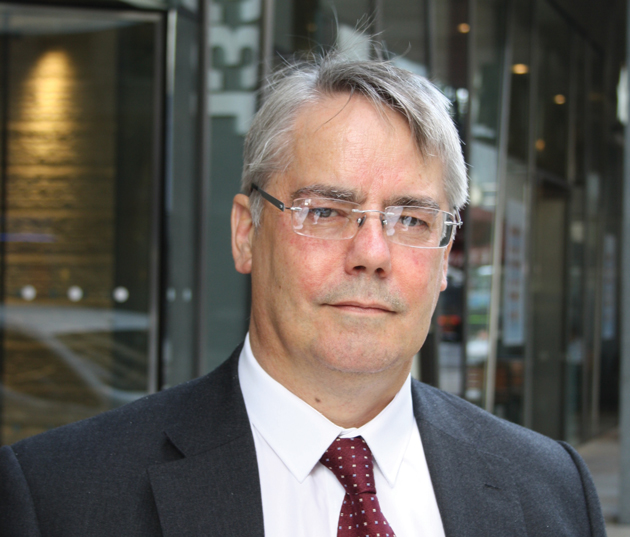 He added: "I don't even think they consider a 14 day deadline sufficient for this exercise, especially considering the period covered the half term break.
"For each qualification to be included in the legal entitlement, awarding organisations have not only been asked to gather letters that support the expected learner demand from colleges, but also either endorsement from a professional body or a reference in a local skills strategy.
"Getting the requests out, back in (with exactly the correct wording), collated and returned to SFA for all qualifications is unrealistic.
"The result is that important qualifications will fail to be included not because they don't provide value to learners but because, for example, a letter from a college wasn't received in time.
He added: "Awarding organisations are very aware of the impact the uncertainty and short timescales has on the ability of colleges and training providers to plan their provision.
"It is very frustrating to receive reasonable requests from colleges for information that awarding organisations just don't have."
> Click here for spreadsheet list of 524 qualifications produced by FE Week.
> Click here for awarding body qualification count