From getting her start with a Saturday job at a salon to competing in hairdressing at WorldSkills Kazan, Phoebe McLavy is an exemplar of the dedication it takes to get to the top of your game.
The 20-year-old spoke to FE Week while training for this month's competition in Russia at Reds Hair Company in Gloucestershire, under the watchful eyes of training manager Linzi Weare and training team member Robert Rousseau.
"I've always wanted to be a hairdresser since I was a little girl," she said. "My aunties both have long hair, so when I was younger, I would always be playing with it."
Seeing the whole experience, everyone together, the crowds made me think 'yeah, I want this'
Her career started when she got a Saturday job at Morgan Edward salon in Carmarthen, and completed an apprenticeship at Coleg Sir Gar.
Phoebe was put forward as a hopeful for Team UK after her boss, a former WorldSkills judge, and the college tutor recommended her.
Asked what qualities made her their pick, Phoebe said: "I was quite determined when I was in college.
"I liked to be the one who would do all the stuff and I like to help the others when they are struggling.
"I think that's the main thing – I put myself forward when it came to the skills side."
The training has been "good", despite the sheer amount of it she has had to do: 85 days, including her time at Reds and at international competitions in locations as diverse as Thailand and Canada, not to mention popping to Kazan to view the venue as well.
The training has kept Phoebe away from her family in Wales, and put her social life "on hold", both of which were "a little bit difficult".
But she believes, since being part of WorldSkills, she has become more confident as a person and her skillset has completely changed.
"Last year, I was nowhere near ready and I wondered if I ever would be, but now I know enough."
And whereas before she was quite quiet and did not like to be recognised, she is more comfortable in front of the cameras; which will serve her well in the glare of the world's media at the competition.
"I'm more confident, definitely, and more open to speak to new people whereas before I would never."
There will be plenty of new people to meet when she goes up against nearly 40 other competing hairdressers from other countries for a chance at a bronze, silver, or gold medal.
None of them will know what will be their exact tests, covering methods as varied as bridal hair and wet shaves; though they know they will be practising on live models as well as mannequins.
The tests are designed to reflect real-life scenarios where someone will come in wanting a specific cut, says Rob, hence the use of live models.
There is also a focus on the health and safety elements of the job: wearing a mask for certain hairdressing tasks, which is not common practice in the UK, sweeping hair up off of the floor, and cleaning brushes which fall on the floor rather than just carrying on using them on someone's hair.
"She's just got to get into the habit of little things like that, apart from doing all the technical stuff."
Competitors cannot afford to lose medal points by falling behind what Rob calls the measurement mark.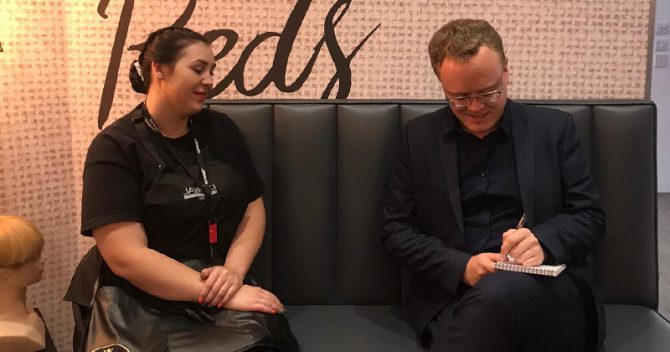 Aside from training up their skills though, Team UK members have also been training up their bodies, with the help of a bootcamp at Loughborough University led by a former Olympic athlete.
As part of the physical training, the competitors have been taught sleeping techniques, how to diet properly and each morning they are in Kazan, they have to be up at 6.30 for yoga.
The bootcamp shook Phoebe's confidence, but she rallied and started a strict regimen of healthy eating, early starts, and exercise – little things she said were "really helping".
Visiting EuroSkills in Budapest last year was a real turning point for her as "seeing the whole experience, everyone together, the crowds" made her think "yeah, I want this".
Now she says she is ready for Kazan, and is looking forward to seeing her family again at the closing ceremony.
Backing Phoebe up is Linzi, who helps run Reds Hair Company and was herself a competitor at the Calgary tournament in 2009, where she picked up a medallion for excellence.
She describes the difference between competing and managing as: "Being a competitor, you have just to think about yourself. But as a training manager, you are doing everything for the competitor – you've got to try and control their moods."
But she is looking forward to the event, which she says since she competed has gotten better at identifying who is the best hairdresser, rather than who has practised the hairstyle the most or who has the best equipment.
Phoebe, meanwhile is looking forward to the closing ceremony where she can celebrate with her family, adding: "It will be nice to say I've made it here."