There can't be many places better than the House of Lords to hold an interview.
Lady Sharp and I talk beneath paintings of seminal battles and her knowledge of our surroundings shows she is an academic through-and-through.
A Cambridge economics graduate, who has penned papers in science and technology and is fluent in French, the Liberal Democrat has a passion for many things.
Our conversation sweeps from Keynesian economics to the lack of political action on global warming, but the 74-year-old is also a champion for FE.
"Remarkably few people know anything about FE in the House of Lords," says the life peer, who worked closely with former Tory skills John Hayes from 2010 on remodelling FE colleges' relationship with their local communities.
"I became very aware of Britain's skills deficit but the problem was the curriculum we served-up which put many off education.
"I think the school curriculum, adapted basically from the grammar school curriculum, is really only suitable for 50 per cent,  but in FE colleges, learners suddenly discovered there were things they could do well and got pleasure from doing. I will always champion that."
As the leader of a policy group which produced the paper Quality, Diversity and Choice, she was widely attributed as masterminding the Liberal Democrats' rejection of top-up fees for universities. This has since become party policy and contributed to the party's success in taking a number of university seats at the 2005 general election.
Few people know anything about FE in the House of Lords"
But she admits her ideas have "not got anywhere".
As well as campaigning against top-up fees, she tried to introduce a graduate tax, but says: "I failed to convince even my own party on the matter."
Nevertheless, her resolve to push for state-funded education continues.
She says she feels most passionately about trying to maintain the adult skills' budget and getting rid of 24-plus advanced learning loans, introduced in April.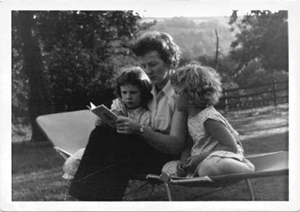 "I think FE loans will be a disaster, especially for access courses," says Lady Sharp, who lives in Guildford.
"We need to encourage, not discourage, older people to reskill and upgrade."
She admits even during her schooldays she could see how different types of education affected those around her.
Her family finally settled in Tonbridge, Kent, in the 1950s, after years on the move due to her father's war-time posting in the Royal Air Force. What left its imprint on her was a judgemental society.
"With four children, there was no question of going to private school," says Lady Sharp, who attended Tonbridge Grammar School.
"If you'd gone to the public school, you were socially accepted in Tonbridge and if you hadn't, you weren't to some extent. It was this atmosphere of social divisiveness I didn't like.
"I was very proud of the schools I'd gone to and I had much more sympathy with the Labour Party."
She carried that feeling to Newnham College, at Cambridge University, where she had a place as one of 1,000 women among 10,000 men.
"I took everyone by surprise getting into Cambridge and remember feeling very worried it would be full of vastly superior public school people, but actually there were many people just like me," she says.
"This was 1957 and I was in an all-women's college. There was a curfew, but it was great fun and one was much sought after as a woman. The social opportunities were endless, but it could be awkward climbing through windows if you arrived after the curfew."
It was during these years that she first joined the Labour Party, but admits she was "rather intimidated" by the socialism of the club.
After graduating, she completed her civil service exams and worked on the board of trade dealing with overseas territories and it was here she met her husband of 60 years, Tom.
When the couple returned from America, where Tom was posted as a diplomat, and she took a guest fellowship researching state education at the Brookings Institution think tank in Washington, she decided to change tack and joined the Social Democrat Party (SDP).
"When I came back home [in the late 1970s] Britain was in economic trouble and the Labour Party had gone loony left in my mind," recalls the economist, who years earlier had become a lecturer in the subject at the London School of Economics, after the birth of her daughters, Helen and Elizabeth.
"I found the party ran their meetings late in the evening and told members how they would vote. It was Bolshevik-style politics and everyone wanted to nationalise absolutely everything. What I was looking for was what Germany had  a social democratic party – so I joined the SDP."
It was those years across the pond, carrying out the duties of a diplomat's wife, that she first discovered she could influence people.
"I did a lot of entertaining — dinner parties with between 10 and 35 guests every week," she says.
"Tom's job was to get to know the Americans, sorting out issues such as getting rights for Concorde to fly.
"I soon learned I could inspire people and ended up as chair of a sixth form council. They were quite happy with me, a temporary alien in their society."
When she returned home, she was selected to stand in Guildford by the SDP in the 1983 general election and fought three further elections.
She was the first woman the party had ever selected.
When I ask what they saw in her, she answers quite frankly: "Let's face it; I'd lectured; I'd run voluntary organisations; written papers for cabinet ministers. I was prepared to put in the leg work — I was a very good candidate."
But it wasn't long before she decided the party was "all chiefs and no Indians, with no-one willing to go out on the doorsteps", so she moved to the Liberal Democrats, gradually squeezing a 20,000 majority down to 4,500, preparing the way for Liberal Democrat Sue Doughty's victory in 2001.
On the national scene, with her new party, she played an active part in policy making, and for several years was vice-chair to Paddy Ashdown on the party's main policy committee.
Since the early 1980s, Lady Sharp has also worked with the Science Policy Research Unit at the University of Sussex, helping with the early development of biotechnology and encouraging investment in science, work she says she is most proud of.
Being made a life peer in 1998 was something she says she relishes, but "never expected".
"I think the Lords makes a good contribution," she says.
"In the Commons, very few amendments get through because the whips are so strong. Because there's no controls in the Lords, the procedures are more democratic."
You can see how Lady Sharp engaged her first audiences around those dinner party tables in America all those years ago.
She takes me on my own whistle-stop tour around the Lords, stopping at the Royal Gallery and Robing Room, talking through the history of every feature.
She even invites me back for scones and tea.
It's a personal thing
What's your favourite book?
The Unbound Prometheus, by David Landes
What did you want to be when you were younger?
A farmer
If you could invite anyone to a dinner party, living or dead, who would it be?
Tony Judd [philosopher and writer], Barack and Michelle Obama
What do you do to switch off from work?
I love to potter around the house, cooking and gardening
What is your pet hate?
Incompetence, especially on huge issues such as climate change, where the world has known about it for such a long time and done absolutely nothing