After an hour with Jacqui Henderson CBE, the former London regional director for the Learning and Skills Council, I feel I have barely scratched the surface.
The energetic Henderson is certainly busy — aside from being managing director of Creative Leadership and Skills Ltd consultancy, she is vice chair of Newcastle University, chair of governors at Northumberland College and chair of the Northumberland Clinical Commissioning Group.
She also sits on the Labour Party skills taskforce.
At 63, her outlook on life seems to be inherently forward-looking.
"I think in a way, my pet hate is whingeing," she says.
"I always feel 'oh why don't you just get on and do something about it?' —it's about sitting down and thinking 'what have we got to do to make this work'?"
This attitude seems to be both influenced by and in contrast to the outlook of her father, Jack Harrison.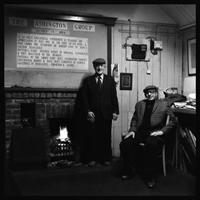 He was a miner and a member of the critically-acclaimed Ashington Pitmen Painters group, and she describes him as "an avid reader and a very intelligent man".
Jack passed his scholarship as a boy, but, says Henderson, he wasn't given the opportunity to progress further.
His response was to channel his creativity into his painting and develop a mantra of being content with your lot and "knowing your place".
"I've come to think 'know your place' in a different context to my father's interpretation," she explains.
"I think it's good if you can to know where you are and why you're there and where you want to be."
But while Jack had a big impact on Henderson, it took until her late twenties for her to realise how influential her mother, Dolly, had been.
"My mother was poorly educated, but wanted to me very much to be something different and have a different life to the one she had," says Henderson.
"I was never ever at home allowed to speak Geordie or Pitmatic [Northumberland mining dialect] so on reflection I feel she probably had an equal if not more important role."
However, she says her parents still deemed educating a girl to be "a bit of a waste of time," and she left school with no qualifications.
When I went to the college it had a history of what one could describe as poor governance "
"As far as my parents were concerned, as a young woman, my place was getting a job in the colliery office, which was the ultimate success," she says.
But Henderson had other ideas, working in shops, offices and finally the civil
service instead.
"I'd wanted to be a teacher from the day I started school," she explains.
"I liked the concept of working with people, but I knew there wasn't an opportunity to go to college because that wasn't in my family's horizons.
She adds with a smile: "I realised I probably was just a rather stubborn young woman."
Henderson had met husband Arthur at 18 while she was working at a local pharmacy and he was an apprentice builder working on an extension to the shop.
They were married three years later and had two children, Susan and Stephen.
At 25, Henderson read a newspaper article that would change her life.
"It was about a woman who sounded just like me, who was married and had small children and who was going to college to learn to be a teacher," she explains.
"I'd never thought you could do that — I thought if you'd missed your chance as a young person, that was it."
She applied for teacher training, but first attended her local FE college full time for a year, where she was "a bit of an oddity".
The experience inspired her interest in FE, although initially she taught in junior schools, before taking on part-time youth work.
"It was exciting doing things with older young people, 16 to 19, even though I had a very difficult client group — I ran the youth club that the young people who were banned from the nice youth club went to," says Henderson.
She moved into FE, which she "loved from day one," eventually becoming senior lecturer in courses for the unemployed at South Shields Marine and Technical College (now South Tyneside College).
She taught for 16 years before going on to hold a range of positions within the sector, including chief executive of the Training and Enterprise Councils' National Council and chief executive of UK Skills.
In April last year, she became chair of the "failing" Northumberland College.
"When I went to the college it had a history of what one could describe as poor governance and a long, turbulent management history," she says.
The college had huge financial difficulties, and before Henderson's arrival had decided to merge with Newcastle College.
However, the relationship soured and at the last minute the merger was called off, triggering the resignation of the chair and half the governors at Northumberland College.
"There were more people who were new than had been there before so it was a challenging situation," explains Henderson.
"As we were beginning to get back on an even financial keel, we recruited a new principal, but unfortunately for sincere personal reasons, she decided the week before she was due to start that she could not come.
"The local press headline, I think, was 'rudderless college' — so my first job was to speak to the staff to say it's not that… we're here to support you, you're doing a good job and you need to keep doing that.
"It was a very hard time."
However, an Ofsted inspection in January this year resulted in an overall grade of good.
"It isn't just us who think this is a good college now," she says. "The inspection made other people view us differently."
Henderson speaks with obvious pride and enthusiasm about plans for the college's future.
"One of the new land-based initiatives is to do with outdoor pursuits, and they have a zipwire so I went down there which was pretty exciting.
"I like to try new things. I've done a bit of abseiling and rock climbing, and I'd really love to go up in a glider."
Her plans for her own future include setting up a group to help people like herself and her mother.
"I want to form a grouping of women in senior positions to mentor young women and boys," explains Henderson.
"For young people in the most deprived areas of Northumberland, it's not lack of aspiration, it's lack of expectation, you know 'people like us don't do X and Y', so I'd like to do something that helps them."
It's a personal thing
What's your favourite book?
Sophie's Choice by William Styron
What's your pet hate?
Whingeing
If you could invite anyone to a dinner party, living or dead, who would it be?
I'd rather like to have afternoon tea with Elizabeth I and Clementine Churchill [wife of Winston Churchill]
What did you want to be when you grew up?
A teacher
What do you do to switch off from work?
At weekends my husband and I like to explore the lovely coastline and cultural heritage of Northumberland, read, listen to music and spend time with the family