The Institute for Apprenticeships has defended the rise in management apprenticeships, amid stark warnings about the fate of those at level two from the boss of the Association of Employment and Learning Providers.
"The number one reason for our lower productivity has been analysed as leadership and management," said Dame Fiona Kendrick, an IfA board member, during the morning panel session of the University Vocational Awards Council conference in Birmingham on Tuesday (November 21).
"And that's why some of the things we're talking about today, particularly talking about the degree apprenticeship and investing in people in terms of the right management is so important, not just for individuals, not just for the company, but for the economy at large."
However, AELP's Mark Dawe (pictured above) disagreed, calling for a debate on how they are funded, particularly in light of the ongoing government commitment to social mobility.
"Someone having access to level two and moving on to a level three, that to me is what social mobility is about," he said.
"When we're talking about restricted resources we have to decide what the government pays for, what the employer pays for, what the individual pays for. There will have to be a debate, because there's not enough money to cover all of this."
Without changes, he warned, "you can say bye bye to level two".
But, speaking to FE Week following the panel, Dame Fiona said that while there was a "very clear" shift to higher-level apprenticeships, it wasn't "at this moment in time to the detriment of the level ones and twos".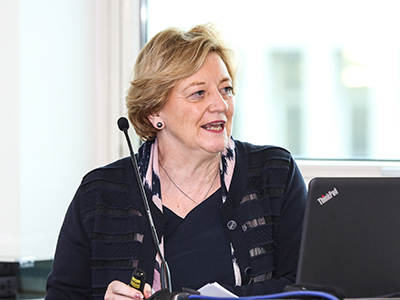 She insisted that the move towards them would "drive both productivity and social mobility".
A focus on management apprenticeships "at least in the short- to middle-term" has "got to be good for the overall country", she said, "but we need to make sure that that is managed in a fair and well-distributed way".
The panel session, which also included Adrian Anderson, UVAC's chief executive, and Nicola Turner, head of skills at the Higher Education Funding Council for England, focused on the future of degree apprenticeships.
The programmes, at levels six and seven, are very new, with the majority having only started this September.
But the most popular higher- or degree-level standards in 2016/17 were both in management: the level five operations/departmental manager, and the level six chartered manager degree apprenticeship.
The management framework soared in popularity over the same time period, to become the second most popular.
And levy-funded apprenticeships at higher or degree level jumped by a massive 424 per cent in September on the previous month, according to experimental Department for Education statistics, although it's not clear which standards or frameworks these relate to.
Dame Fiona said the IfA wanted to "shift the apprenticeships up from levels one and two much more into the four, five and upwards", and that degree apprenticeships were "absolutely key to this".
Mr Dawe called degree apprenticeships "a game-changer" that had given apprenticeships a "brand" that "will lift us up".
"There will be some very sharp-elbowed middle class parents knocking everyone else out of the way to get their kids into a non-debt apprenticeship with a degree and a salary," he cautioned. "Why wouldn't you do that?"
IfA: "A broad spectrum of apprenticeships"
The Institute for Apprenticeships' strategic guidance sets out its commitment to boosting social mobility.
But will it take action if the inexorable rise in management apprenticeships gets in the way of this commitment, by edging out those at level two?
Dame Fiona Kendrick insisted that opening up "the whole apprenticeships brand across the spectrum" was the key to boosting both social mobility and productivity.
"At this moment we have got a broad spectrum of apprenticeships coming through, and it's very clear there is a shift more to the higher levels, but we're certainly not seeing that to the detriment of the level ones and twos," she said.
The question of whether there can be too many management degree apprenticeships is "a tough one to answer".
"What we do know is that we have to seriously upgrade our management capability," she said, but any growth in this area should be "managed in a fair and well-distributed way".
Nor does she think that apprenticeships would replace all management training.
"Every employer is quite clearly different, and every employer will have their own strategies on how they're going to develop and train their managers. In certain cases, employers will continue to put funds in to do that."
Higher education: Different sector, same issues
While apprenticeships are a new field for the HE sector, many of the issues raised during the UVAC conference were far from new.
Nicola Turner, head of skills at the Higher Education Funding Council for England, said one of her biggest concerns is qualifications being taken out of degree apprenticeships.
"It's not what employers want, it's not what apprentices want," she said.
Ongoing delays to the non-levy procurement were described as a "complete nightmare" by at least one delegate. The issue particularly affects universities as many of them don't have an existing contract for delivering to smaller employers.
And Chris Cherry, a senior associate at the Strategic Development Network, said that the 20-per-cent off-the-job training rule was causing a particular challenge at higher levels.
A number of delegates discussed the difficulty of managing employer expectations amid ongoing delays to standards being approved for delivery.
However, one HE-specific issue was raised throughout the day: the difficulty of getting other university colleagues on side, and to adapt their usual systems and ways of working to meet the demands of employers.
For this, Neeta Barot, the business development manager at London South Bank University recommended getting someone higher up at the institution – such as a vice chancellor – to act as an advocate.