The Learning and Work Institute has announced the 35 award winners and highly commended nominees for the 2018 Festival of Learning.
The winners and nominees have been selected in a wide variety of categories recognising, among other things, social impact, learning for health, tutors, employers and innovative projects.
The awards were handed out at a special ceremony in central London today.
They include the 'employer award', which went to McVitie's, which in partnership with the College of North West London was praised for "using its apprenticeship levy to deliver advanced team member training at its Harlesden factory – the largest biscuit factory in Europe".
The programme is open to employees who work on the biscuit production lines, who can "access higher-level engineering than would be the case in their everyday jobs". Many from the first cohort "have gone on to take promoted posts or additional responsibilities".
The prestigious 'learning and work award' went to Tracey Everitt.
The judges recognised how she had left school "without any qualifications and her confidence was low", but she didn't lose sight of her goal was to become a registered childminder, and signed up for courses including basic food hygiene and introduction to working in care at Islington council's adult and community learning service.
Tracey is now running her own Ofsted-approved childminding business and has "inspired her sister and daughter to start their own learning journeys".
"I've got more confidence, I'm active and focused, and I'm offering a professional service to local families. I love my job of providing good-quality care," she said.
Derwentside College learner Casey Bougourd took home the 'young adult learner award' after breaking down gender barriers in her drive to embark on a career in construction.
"I've achieved my goal of gaining an apprenticeship, as well as making a little history and creating a path for other women to follow," she said.
Other award-winners included University of Suffolk student Terrie Cornwell-Dunnett [pictured above left], who received this year's 'patron's award'.
The award is given each year to someone who has made a particularly special commitment to learning, chosen by LWI patron Princess Anne from a shortlist of award nominees.
Ms Cornwell-Dunnett is currently studying a degree in special educational needs and disability studies, but began her learning journey with a BTEC diploma in social care at college.
"She is a remarkable young woman who has used learning to not only successfully change her and her family's lives, but also to improve the lives of people like her with physical disabilities," the Princess said.
Coventry Adult Education Service learner Frank McCann [pictured above right] was presented with the 'learning for health award' for his drive to relearn skills he'd lost in the wake of a severe brain injury and heart attack.
"My learning has made a huge difference to my life skills and continues to do so," he said.
In addition to the 13 award-winners, a further 22 individuals, tutors, employers and projects were highly commended.
These included Chesterfield College learner Joyce Abumujor [pictured above middle], who was highly commended for the 'outstanding individual award'.
"The Festival of Learning is all about inspirational people who show that anyone can benefit from learning. Lifelong learning is vital for all of us as jobs and society change around us," said Stephen Evans, LWI's chief executive.
"We encourage everyone to give learning a try, and there's hundreds of free activities to pick from during June on our 'have-a-go month' calendar. Learning can help us at work and at home, and to build a fair and inclusive society."
See below for a full list of the winners: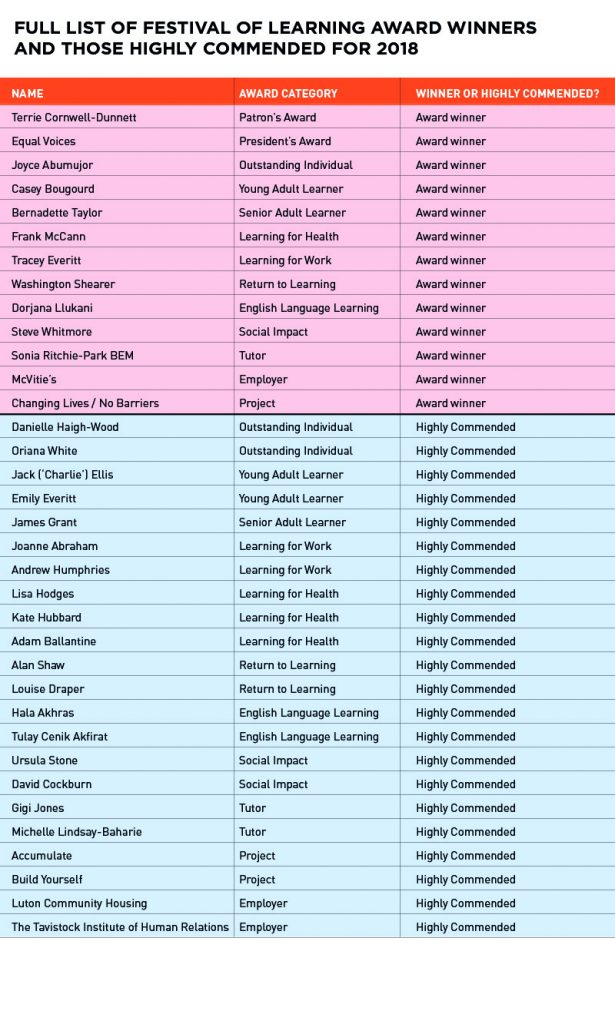 Photo caption: [l-r] Terrie Cornwell-Dunnett, Joyce Abumujor and Frank McCann