The flagging traineeships programme was given a new lease of life by the government this week with a major funding boost to help combat youth unemployment post-Covid-19.
But what exactly are traineeships and how are they run? FE Week has spoken with providers, employers and a former skills minister to find out…
Chancellor Rishi Sunak announced in his summer statement on Wednesday a £1,000 employer bonus for each traineeship learner they take on, funded from an injection of £111 million.
The plan, which allows incentives to be paid for up to a maximum of ten trainees per company, is to triple the number of traineeships to over 30,000.
Introduced as a flagship pre-employability programme in 2013, traineeships had been created for 16-to 24-year-olds (and 25-yearolds, if they have an education health and care plan) who are qualified below level 3. However, the government is now expanding eligibility to those with A-level-equivalent qualifications.
Once on the course, the trainee will take part in work placements with an employer on the programme which can last from six weeks to six months.
This cannot be a churn of young people
Trainees will also receive work preparation training and English and maths training if lacking a level 2 qualification.
The training is funded by the Education and Skills Funding Agency, but unlike apprenticeships, trainees are not paid for the work they do. However, they are guaranteed an interview for an apprenticeship or job at the employer at the end of the traineeship, if one is available.
Traineeships are, says Tony Holloway, operations director for provider Qube Learning, what amounts to a "paid induction" for a job with an employer.
Qube trains around 40 to 50 trainees a month in retail and the services sector and Holloway says around 76 per cent of their trainees end up in full-time employment and around 60 per cent of them go into apprenticeships.
Holloway thinks the £1,000 incentives will "give employers reassurance they can carry on investing in young people and in future talent".
"So this is going to create many more opportunities for young people," he adds.
But what the sector has to be careful of, he warns, is "those opportunities are not exploited by either providers or employers. This cannot be a churn of young people – it has to be longlasting jobs."
It needs to be understood by the parents of people who need traineeships
It is a point also raised by Janet Holland, chief executive of Derwent Stepping Stones, a childcare charity based in Derby. "There is a real risk of young people being exploited through the programme. Employers could see the opportunity of getting some free labour."
Holland says those in the childcare sector "are on our knees", so she is looking to use this scheme to start trainees in September and see if their usage levels go up. If they do, there will be an apprenticeship for them."
Derwent Stepping Stones takes on a couple of trainees each term for eight to 12 weeks and over 20 of Janet's 60 staff have come up through the traineeship route, she says.
The main benefit to them as an employer, and for the learners, is the chance to "try before you buy", and because their traineeship programme is "very structured", by the time the trainees move into an apprenticeship, they have been signed off on many basic skills for the job.
Holland briefed early years managers in Derby about traineeships earlier this year and said many had "never heard of them", but there was "a lot of interest, particularly about 'try before you buy'."
Employers could see the opportunity of some free labour
Despite the advantages of the programme, traineeships have not had much love up until now: in terms of starts, there were just 14,900 last year, down from 24,100 in 2015-16.
The slump in delivery levels previously led the Department for Education to decide to cut the traineeship budget from £20 million to £8.5 million, as revealed by FE Week in February.
This came after then-skills minister Anne Milton hailed the success of traineeships in June 2019 once research showed 75 per cent of learners move on to work or further study within a year of completing their programme.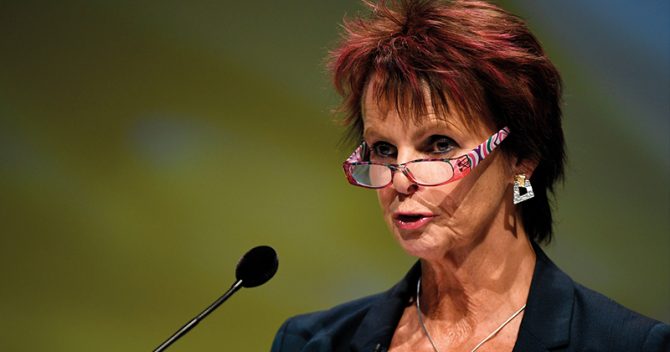 Speaking to FE Week ahead of the chancellor's announcement, Milton (pictured) said that despite the cuts, ministers involved in the programme were "well aware of the benefits" of traineeships but that the programme has not had "very much attention" and was "poorly understood" outside the sector.
"It was the last area when I was a minister that I felt really needed grabbing hold of," she said.
"It needs to be understood by the parents of people who need traineeships," she argued, but there also needs to be a "clear pathway" from a traineeship to a job with progression opportunities. "Without a doubt we probably need incentives for employers."
Yet despite the public's lack of awareness of the programme, it can be popular among certain employers.
Phil Eves, employment and skills coordinator for BAM Construction Midlands, which works with around a dozen trainees every year, is another advocate of the programme: "We're trying to work smarter, faster, safer and through traineeships and the work [training provider] JTL does, that gives us the right sort of candidates."
"With schemes like this, I can talk to our supply chain and say we need to give people the opportunity to get on site."
Employer support is crucial to the success of traineeships, as Smart Training and Recruitment data, quality and compliance director Rich Ashton knows from his provider's work with the British Heart Foundation.
Smart takes on about 100 trainees a year and has seen "fantastic success", with some, for example, progressing up to level 4, according to Ashton. And while most traineeships are unpaid, small fees to cover costs, such as travel, can be introduced.
As an inducement, and also to help trainees pay for costs, for every week a participant attends their placement, Smart pays them £40.
Ashton says: "It just seemed fair. There were odd queries about bus fare, so as long as they attend their work placement and are doing their work hours, we will pay them £40.
"One of the first barriers we found was, while they were eager to take the opportunity, they literally had no money to get to the location. We looked into different schemes, refunding bus fares and obtaining tickets, but sometimes we found we were having to subsidise them before, because they had no money."
Ashton said the scheme, which has been running for three years has: "Worked quite well for us. While we know it's not a requirement, we want to put something in their pockets so they're covered for their outgoings while attending their work placement."
Now, everyone is talking about the scheme
Without BHF's partnership, he adds, "we would have struggled for employers who were willing to participate because it wasn't something they were aware of and even when we talked about the benefits of traineeships, it was apprenticeships they were primarily concerned with".
He feels the new incentive is "good news" as the scheme has, in the past, not been promoted among school leavers and employers, but now "everyone is talking about it".
Smart, until the Covid-19 pandemic, delivered teaching and learning on site of the trainee's work placement, but has had to adapt to remote delivery.
The provider "pushes for as many hours as possible" on the work placement and plans courses to include 240 hours in total.
A lot of their participants opt for a digital skills course to add on to their traineeship as, Rich says it's a "good fit in the modern world" and the provider does not want it to be a "generic, off-the-shelf course".