Advanced learner loan applications are continuing to fall, according to new government statistics.
Applications so far for 2017/18 are down 11,100 – or 17 per cent – on the same time last year.
FE Week reported last month that final 2016/17 loan applications dropped across all age groups to which they were available in previous years.
This morning's statistics show there have been 54,900 loan applications for the year to date, down from 66,000 last year.
Applications from those aged 24 to 30 have shown the biggest drop, down 20 per cent 19,630 this time last year to 15,650 this year.
Apart from A-level applications – numbers of which remain very small – other level three courses have taken the biggest hit.
Just 33,860 applications were for certificate, diploma or vocational courses at this level so far in 2017/18 – down 21 per cent.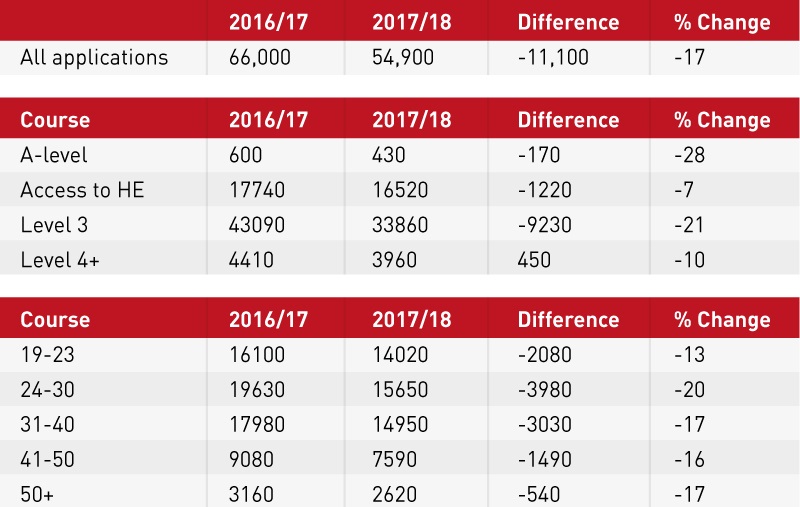 Gordon Marsden, the shadow skills minister, branded the latest figures "awful", and another "example of a department that is increasingly accident prone and self-combusting".
"The government has consistently, ever since advanced learner loans came in, just gone hell for leather to expand loans and scrap grants without waiting to see the impact on particular groups," he said.
Mark Dawe, the chief executive of the Association of Employment and Learning Providers, called the statistics "disappointing" – particularly as they are "an important part of the skills offer" discussed at the government's Skills Summit on the same day.
"The frustrations are that some independent training providers could deliver more loans-funded learning if growth wasn't capped and that the door is currently closed to new providers," he said.
And Stephen Evans, chief executive of the Learning and Work Institute, called for "urgent action" to reverse the downward trend.
"This includes testing new approaches through new career learning pilots and reforms to the system, including greater flexibility to fund modules that adults and employers often want," he said.
FE loans, originally known as 24+ loans, were introduced in 2013/14 for learners studying courses at levels three or four and aged 24 and older.
Their introduction corresponded with a fall in adults studying at levels three and four+, from 273,400 in 2012/13 to 195,200 in 2013/14, according to the DfE's own statistics.
That number had fallen further still, to 169,400 by 2015/16.
Yet loan eligibility was expanded in 2016/17 to include 19- to 23-year-olds, and courses at levels five and six.
This expansion led to an increased in overall application numbers in 2016/17 – but this masked drops of between eight and 12 per cent from those age groups that were previously eligible for the loans.
FE Week revealed in September, through a Freedom of Information request, that a massive 58 per cent of FE loans funding – amounting to almost £1 billion – had not been spent since 2013.
The Student Loans Company, which processes advanced learner loans for the government, revealed that only £652 million in loan-funded provision had actually been delivered since 2013, compared with £1.56 billion in allocations.
Former Education and Skills Funding Agency and Institute for Apprenticeships chief executive Peter Lauener took over as leader of the SLC this week, following the dismissal of its previous boss Steve Lamey.
A DfE spokesperson said: "We will continue to work with colleges and training providers to raise the profile of advanced learner loans."