Labour is planning to use National Apprenticeships Week to attack the government on their commitment to their own public sector apprenticeship recruitment target.
Over the last week multiple MPs from the party have submitted a series of questions to ministers asking for the number of apprentices working in their department.
The questions have all been asked in the run-up to National Apprenticeship Week in March and Labour has told FE Week its intention is to put a spotlight on the government's shortcomings in the area.
Since April 2017, all public sector organisations with 250 or more employees – including the civil service – have been told to make sure that new apprentices make up at least 2.3 per cent of their overall workforce numbers on average over the next four years.
FE Week revealed in November that only 1.3 per cent of the government workforce was made up of apprentices in 2017-18 – the first year of the policy.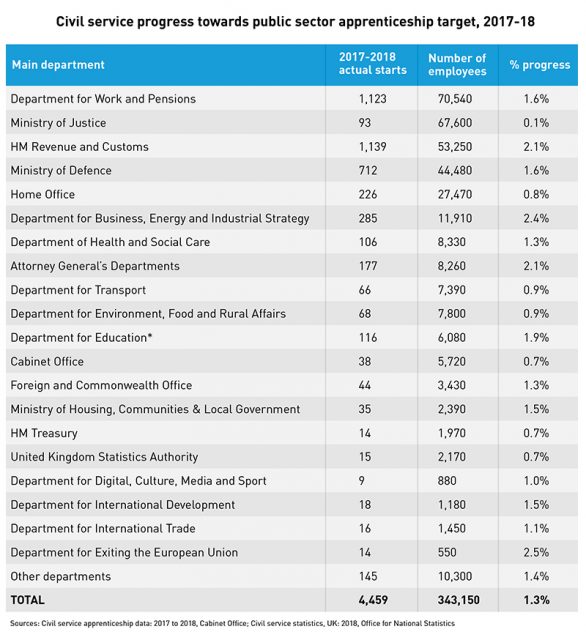 FE Week has asked Labour how many apprentices it employs itself, but the party did not respond at the time of going to press.
This week, the Ministry of Defence replied to a question from shadow skills minister Gordon Marsden and said that 1,280 of its civilian personnel were currently on an apprenticeship scheme, which represents some 2.3 per cent of its civilian workforce.
It did not state, however, how many of these were new starters, and neither did any of the other government departments that responded.
Marsden also asked the Ministry of Justice, which said it has 587 members of staff on an apprenticeship, one per cent of its workforce.
The Department for Education also told the shadow skills minister that it has 209 apprentices, making up 3.2 per cent of the 6,427-strong workforce.
And three per cent of the staff at the Department for Work & Pensions are on apprentices, it told Marsden.
The Home Office told shadow education secretary Angela Rayner it  has 335 apprentices, which also equates to one per cent of its workforce.
Rayner also found that the Ministry for Housing has 68 apprentices, but did not say how much of the workforce is made up by apprentices.
Rayner also found the Cabinet Office has 90 apprentices, eight of which work for the Government in Parliament Group, which covers the Leader of the Commons' office.
The Department for Business, Energy and Industrial Strategy employs 80 apprentices, according to an answer it gave to shadow minister Emma Lewell-Buck.
Fellow shadow minister Mike Kane learned from the Department for International Trade that around 1.8 per cent of the department and UK Export Finance were apprentices, and 1.41 per cent of the Department for Transport's workforce is made up of apprentices.
Kane also asked the Department for Health and Social Care, which said it employs 1,585 civil servants, of whom 48 are undertaking an apprenticeship, which equates to three per cent.
As for the Treasury, 1.7 per cent of its staff were apprentices as of January 2019, according to an answer it gave to shadow minister Tracy Brabin.
Minister Robert Jenrick added: "We expect an additional 15 new apprentices to start this financial year, meaning 2.5 per cent of our staff will be new apprentices over the period 1 April 2018 – 31 March 2019."
Apprenticeships in the civil service haven't been plain sailing. FE Week reported in November that a cabinet office approved apprenticeship provider to government departments had its levy funding terminated after a damning Ofsted report found it was 'insufficient' across the board.
Nearly 700 apprentices were affected.