The hospitality industry doesn't seem like the most likely place to find a qualified chartered accountant who has sailed around the world and partied with Duran Duran, but it's a sector which has always been close to Jill Whittaker's heart.
The managing director and co-founder of Sussex-based HIT Training first joined HCTP in 1998, but says her career trajectory up until that point was more than a little unconventional.
It included a long period spent darting between high-octane jobs in the financial sector and "sharing costs on someone else's round-the-world dream".
As a non-graduate who went to work for her first accountancy firm after a foundation degree course at a local polytechnic, Whittaker's different approach to life was clear at an early age.
"I wasn't focused on university at all, it wasn't my scene," says the mother-of-one when we sit down at HIT's compact offices next to the airport at Shoreham-by-Sea, West Sussex.
All we have got is ourselves, our skillsets and our ability to transform somebody's life into something fantastic
"I was one of these kids that the minister is always talking about, which is work-focused. Because I was — that was my whole thing. I wanted to get out and earn some money, but I also wanted to get a profession, and that was the quickest and most straightforward route that I could see to getting a profession and having that behind me. I was qualified as a chartered accountant when I was 23."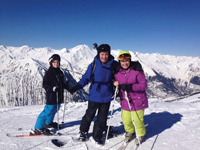 But her success early on was by no way the product of good advice at school, where she took an aptitude test and wasn't taken beyond the three As — architect, actuary or accountant — that the adviser came up with.
But Whittaker, now 50, says: "The advice I got that was really very helpful was from one of my maths teachers who used to teach us mechanics. He took me to one side one day and said 'look, I can't believe that you are not going to go to university, however — if this is what you are absolutely focused on, here are some accountancy firms who I think you should speak to and this is a really good one in Birmingham'.
"And that's how I got [Birmingham-based firm] Farmiloes. So it was thanks to him, the maths teacher who was desperately upset with me that I wasn't going to go to university. He saw that I was a bit of a character, I think I wasn't a traditional [girl]. It was around the time of punk, so I had weird hair and funny clothes and lots of piercings, I was into that entire scene.
"As we got towards that sort of age, the New Romantic stuff was out and about as well. I had all sorts of funny haircuts — I used to model for a hairdressing salon in Birmingham, and we used to do lots of shows — and that's how I got to know a girl who was the girlfriend of one of the members of Duran Duran at the time, so we used to go to their parties and get invited to all sorts of launches and that sort of thing — but it was a small scene, so everybody knew each other."
Whittaker admits she went to her first interview with hair like Phil Oakey from the Human League, and was told she could have the job, "but the hair had to go".
After moving on to Ernst and Whinney [now part of Ernst and Young] and working for an international auditing firm, wanderlust kicked in, and Whittaker escaped to Bermuda, working in insurance and indulging her love for sailing for two years. But home was not the first port of call once her time in the British overseas territory was up.
She says: "I delivered one of the Newport-Bermuda ocean yacht racing boats, back with the family that owned it and spent six months travelling around the States, backpacking, having a good old look around really. Delivering cars for people, doing all sorts of stuff."
I wasn't focused on university at all, it wasn't my scene, I was one of these kids that the minister is always talking about, which is work-focused
Over the next few years, Whittaker continued to switch between finance jobs in the UK and hospitality jobs abroad.
She swapped a job she "hated" at TSB bank for a ski season. "Skiing every day, cooking every day — it was great," she says. "I got quite into that."
Returning briefly to cover for the RAC's finance director in Birmingham, it wasn't long before itchy feet took her back to Europe to run a bar in France and work in a Belgian hotel, along with another ski season.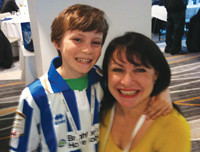 Another job at the RAC and some bar work later, she was back on the water for two years, on a journey which saw her meet her husband, Jonathan Chrisp. Their son, Joe, is now 12 years old.
"The boat went through the French canals and I spent my summer in the Med, and he was on the boat," she says.
"I joined them in the Canaries, and we sailed across the Atlantic, through the Caribbean, through the Panama canal, across the Pacific and on to Australia. We got on another boat, a Tasmanian boat, sailed back and then delivered a racing yacht back to Melbourne and went fruit picking for a month.
"That wasn't really work, it was sharing costs on somebody else's round-the-world dream. I'm a yacht master, and my husband is as well, so Dave — who had the boat — basically had some good crew along. We all did nightwatch on our own, four hours on, four hours off at night — but with three of you, it means you get a decent night's sleep as well, so it's a really good way of doing it. And sharing costs, it's dead cheap. We were living off, I don't know, probably £30 a-week."
Returning to the UK at the age of 32 in the mid-1990s, Whittaker worked for Parker Pens, Daewoo and ran a gay B&B in Brighton with her husband, before an unexpected call from a recruitment firm which had had her CV "forever" linked her with HCTP, where she became financial controller and then finance director.
HIT Training was founded in 2006 after a five-year competition clause related to the sale of HCTP to Hospitality Plus was out of the way.
Whittaker, who still owns 11 per cent of the business with her husband, speaks with great pride about what she helped to create — a profitable business which has so far supported more than 40,000 learners with more than 7,000 employers and received two grade two Ofsted ratings.
"It's the best job in the world," she says.
"I love the hospitality industry — as you know we do care as well — but the hospitality industry for me has always been a passion. I've always worked in it in some way, or shape, and so have most of my family.
"Catherine, my sister, is actually a qualified chef and Susan used to do pub work as well, and my mum used to do waitressing – so we have always done a little bit of that and I absolutely love it. And it's a business where you've got people.
"We're not producing widgets, we don't build anything. All we have got is ourselves, our skillsets and our ability to transform somebody's life into something fantastic — so why wouldn't anyone love doing that?"
—————————————————————————————————
It's a personal thing
What's your favourite book?
The Electric Michelangelo by Sarah Hall — it's a gutsy life story that goes from Morecambe Bay to Coney Island, written in beautifully prosaic language
What did you want to be when you grew up?
When I was a kid I always wanted to be a dentist. I can't think why. I'm not sure what I want to do when I grow up now
If you could have anyone to a dinner party, living or dead, who would it be?
Elvis Presley, Emily Davison [women's suffrage activist who stepped in front of a horse at Epsom Derby in 1913 and later died of her injuries], Dame Edna Everage, Ted Ligety [US alpine ski racer], Barbe-Nicole Cliquot (she can bring the drinks) and Albert Einstein
What's your pet hate?
Bad grammar, particularly the misuse of the apostrophe
What do you do to switch off from work?
I ski when I can, but anything where I experience 'flow' helps me to switch off — being fully immersed and involved in any activity feels fabulous, whether it's carving turns through powder snow or painting the bathroom