The principal of the first college to be rated "outstanding" under Ofsted's new framework has warned that "you can't hide anything" if you want to achieve the top grade.
Karen Dobson was celebrating last week after the publication of Newcastle and Stafford Colleges Group's glowing grade one report.
The feat was all the more impressive considering the group was formed through a merger in 2017, when Newcastle College was rated "good" but Stafford College was "inadequate".
Speaking to FE Week at the Association of Colleges conference this week, Dobson explained how the inspection regime has changed and what it takes be rated "outstanding" by Ofsted.
"There were quite a few differences, some expected and some perhaps not quite so obvious"
"There were quite a few differences, some expected and some perhaps not quite so obvious," she said before describing the inspection as "intense".
The watchdog's focus has shifted from outcomes and achievement rate data to the "quality of education" and what is being called the three Is: intent, implementation and impact.
Dobson said it was "not quite true" that data had been completely forgotten, as she spent some time with the team of 13 inspectors over the course of four days looking at "historic data" that informed their investigation for the rest of the week.
She said the biggest change, which "played to our strengths", was the amount of time that inspectors spent speaking to people around the college's campuses.
"As the principal you have an opportunity to say what you think the position of the college is and what your priorities are. There is then so much time spent talking to teachers, talking to middle managers, talking to students about impact," Dobson told FE Week.
She said inspectors got "out and about" from 11am on the first day of inspection (Tuesday, 22 October) and they were still talking to staff and students on the Friday. This part of the inspection would have been "all done and dusted" by Thursday morning under the old regime.
Dobson said this, and the fact that Ofsted had inspectors at both of their campuses in Newcastle and Stafford, was "really helpful".
"So, for example, they looked at health and social care at Newcastle, crawled all over that. Then they went to Stafford and they found the same quality and teaching."
The principal puts her college's success down to their attention to the student experience.
"We have spent a lot of time, going back to the last academic year, talking about why they are doing what they are, why are they choosing these courses, choosing these option units, the order they are doing them, and getting our teachers to think about the curriculum more."
Dobson said there was "little wriggle room" for colleges if they cannot show the intent and impact of their offer, as inspectors get "under the skin of everything", including the subcontractors they work with.
"We don't do a massive amount of subcontracting but they [Ofsted] did spend quite a bit of time both visiting and looking at the detail and talking to staff in those particular companies.
"That featured a bit more than I had previously experienced in any inspection framework. You can't hide anything."
Asked what she believes sets Newcastle and Stafford Colleges Group apart from a grade-two college, Dobson said: "I think consistency in terms of the way that we operate.
"There is very little difference between our two campuses, certainly in terms of curriculum approach, and I think we have done a good job of bringing staff and teams together.
"Particularly in parts of the geography where we operate, we have to be ambitious for our students. When they come to us, their aspirations sometimes aren't that high and we have got to say, 'Look,  you are here, the world's your oyster, widen your horizons'."
Asked for her top tip to other colleges hoping for a grade one, Dobson said: "The intent features largely in the new inspection framework and I think you can't do that in two weeks.
"So, whenever your next inspection may be due, I think you need to start today in terms of the work you do with your key talent, your teachers and your middle managers. That would be my advice."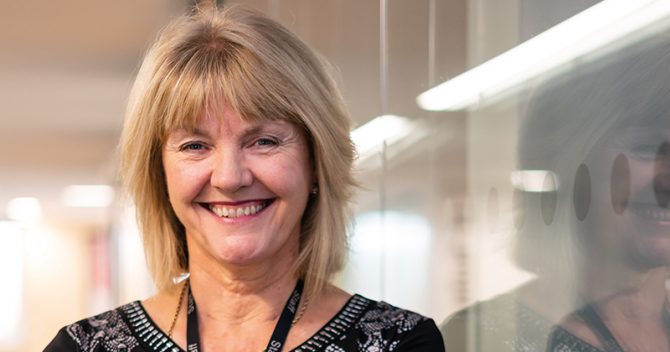 The principal admitted that there had been a "great big long list" of issues that needed to be addressed at the point of merger with Stafford College in November 2016.
For the 12 months before the merger it had nine "key" posts filled by interims, including the principal and finance director.
"We turned up at the beginning of September and there were no managers," Dobson explained.
"Stafford had a period of problems: the investment hadn't been made in terms of training for staff, resources for staff, resources for students – and I think the focus on making sure Stafford was a great place to work and study had been lost somewhere."
But Stafford did have "very good teachers" who were able to thrive once Newcastle College's management took over.
"The nice thing about the inspection outcome is that Stafford staff as well as Newcastle are very much part of that end result. There isn't a difference in the performance of the two sides."
One notable aspect of the new Ofsted reports is that they only grade and discuss the whole college group, rather than commenting specifically on individual campuses.
Newcastle and Stafford Colleges Group's report, for example, mentioned nothing about Stafford College's previous grade four.
Recognising this issue, particularly for the largest college groups with wide geographical spreads, the watchdog is looking to introduce campus-level grading next year, as FE Week revealed last week. But Dobson doesn't see what benefit this bring to her college.
"I personally wouldn't welcome that, but I'm sure people would say, 'Well, she would say that wouldn't she?'," Dobson said.
The Ofsted grade one was not Newcastle and Stafford Colleges Group's only celebration this week. It also came second in this year's NICDEX.