There's been a lot of talk of degree apprenticeships as a great alternative to university. Just this morning, education secretary Damian Hinds tweeted that there is a "huge range of opportunity" for students collecting results today, "whether it's university, college, starting an apprenticeship or entering the world of work".
With degree apprenticeships typically paying salaries of £15,000 – £20,000, compared to annual tuition fees of £9,000, the finances make sense. Plus, you get to work in your chosen field for three to five years, become proficient on the job, receive time off for training and study and still come out with a degree.
So what opportunities are there for A-level students looking for degree apprenticeships today?
Disguised as 18-year-olds (or parents of the same…) FE Week did some mystery shopping, and here's what we found.
1/ There are virtually no degree apprenticeships available
On A-level results day, are only 117 places currently being advertised for degree apprenticeships across the whole of England, compared to over 30,000 university courses with places still available this morning, according to UCAS (after 411,860 places were accepted).
In fact, degree apprenticeships at level 6 (equivalent to a standard university undergraduate degree) make up only 0.3 per cent of all apprenticeship adverts on the government's Find an Apprenticeship service.
Level 4-7 apprenticeships make up just 1.8 per cent of the total (359 adverts), with level 2 and 3 occupying a whopping 98.2 per cent (19,677 adverts).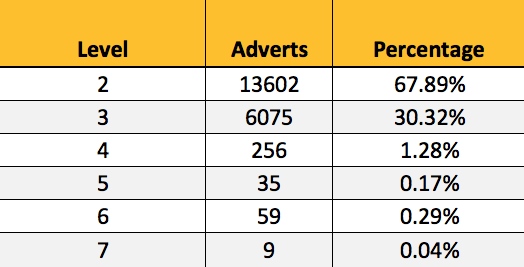 FE Week found only five civil engineer degree apprenticeship positions listed for England: three in London, and one in each of Norwich and St Ives. The civil engineer degree apprenticeship is a five-year course, with a typical annual salary of  around £15,000, with entry requirements ranging from 'BBC' to three 'A' grades at A-level.
There were no results for professions such as solicitor or architect.
Eight positions are listed for the three-year level 5 laboratory scientist apprenticeship starting this autumn, in various locations from Scunthorpe to Slough. The standard requirement is 80 UCAS points (BB or CDD at A-level) including A-level biology, although some employers state they are more flexible, allowing A-level equivalents such as BTEC. There is just one five-year level 6 laboratory scientist apprentice opening.
Other degree apprenticeships that are likely to see more opportunities in the near future include manufacturing engineer, digital and technology solutions professional or chartered surveyor.
2/ The National Careers Service doesn't offer additional advice
The government is pushing the National Careers Service as the place to look for careers advice, but they don't offer any additional advice on where to find degree apprenticeships.
The NCS website pushes users towards the Find an Apprenticeship service, and when FE Week asked a helpline advisor about degree apprenticeships, we were told again, to check the Find an Apprenticeship website, the UCAS website or the Institute for Apprenticeships website (which again, redirects to Find an Apprenticeship).
UCAS is currently advertising just 121 higher and degree (level 4-6) apprenticeships across England.
The NCS helpline advisor also told us that employers sometimes advertise independently, and that more degree apprenticeships will be available soon.
3/ There are no nursing degree apprenticeship vacancies
Aspiring nurses will have to apply via the university route, which costs £9000, or wait until the January intake, when more nursing degree apprenticeship opportunities will become available, said Lucy Hunte, National Programme Manager for Apprenticeships at Health Education England. She added that Imperial College in London will advertise about 50 nurse apprenticeship openings "in the next few days".
There are several reasons for the lack of nurse apprenticeship positions. One is that the first wave of apprentice nurses have all been existing healthcare assistants within the NHS. "We did have a lot of healthcare assistants that aspire to be nurses but with the removal of the bursary they couldn't resign from their jobs and go down that route," Hunte told FE Week.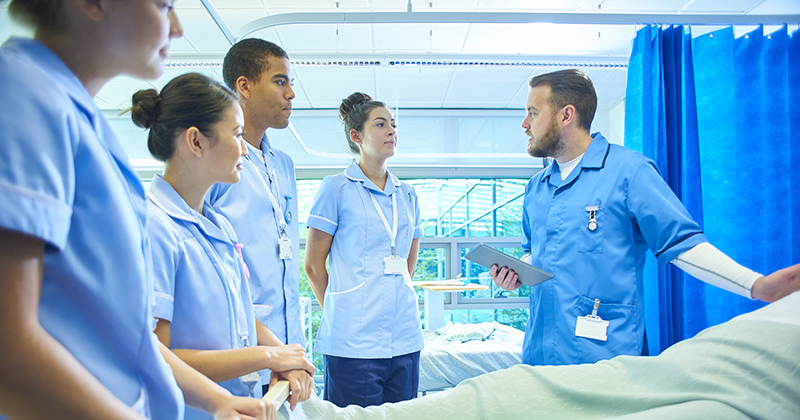 Another is that it has been "a huge battle" to get universities to adapt their programmes to the new apprenticeship standard, she added. The Nursing & Midwifery Council then has to approve each university apprenticeship provider, which is adding to the backlog.
This is despite there being around 40,000 nursing vacancies across the country.
4/ Many degree apprenticeships are still under development
Degree apprenticeships are new, so the available places are currently low. The number of people starting apprenticeships at all levels has been dropping since the government reformed the system, despite their intention for an increase in apprenticeship places.
But the good news is that more degree apprenticeship standards are being developed, and as more employers and universities develop their courses, the number of opportunities is likely to grow rapidly over the next few years.

Over 90 per cent of universities have joined the government's register of apprenticeship training providers, which suggests that they are intending to provide them at some juncture.
What seems to be missing, however, is for more employers to sign up to provide them – as FE Week recently found out. A university is unable to run a degree apprenticeship without an employer willing to take on the apprentice (and pay their wage!).
So, what should A-level students looking for degree apprenticeships do?
Keep an eye on the Find an Apprenticeship service. New opportunities are appearing all the time.
If you know which industry you want to go into, why not approach an employer directly? If they're not sure how to go about taking on an apprentice, you can point them to the government's Hire an apprentice website.  
And if you want to be really proactive, you can check out the Institute for Apprenticeships website to see which new apprenticeship standards have been approved, and point your potential employer in the right direction!
The IfA's list of approved degree-level apprenticeships includes professions such as: Digital and technology solutions professional, Aerospace engineer, Nuclear scientist and nuclear engineer, Clinical trials specialist, Geospatial mapping and science, Paramedic, Podiatrist, Police constable and Professional economist.