The Institute for Apprenticeships will charge apprenticeship assessment organisations for external quality assurance of new standards – despite Ofqual keeping the service free.
Speaking during a webinar on Monday (January 6), Peter Lauener, shadow chief executive of the IfA, said that it was acceptable for the Institute to charge for the service because "the principle of a regulator charging bodies in the industry for regulation is not uncommon at all".
Currently, when employer Trailblazer groups submit their assessment plans for new apprenticeship standards, they must choose one external quality assurance organisation out of four options: Ofqual; the Quality Assurance Agency, which generally deals with higher education qualifications; a professional or sector body, which the Trailblazer group can create themselves if desired; or the Institute for Apprenticeships itself (see slide below).
Mr Lauener confirmed that if the Institute was chosen by employers to provide this service it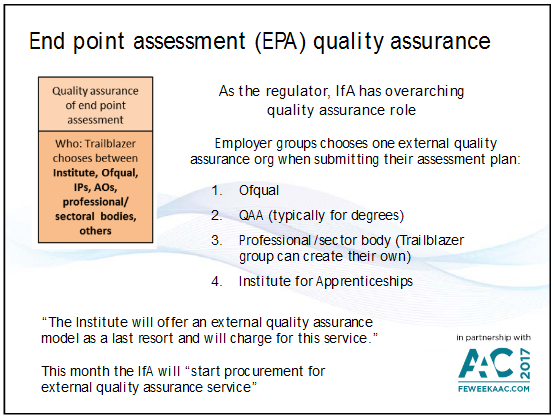 would charge, but "any end point assessment the Institute provides itself would be provision of last resort".
"I think we're much more likely to seek to find someone to do that through procurement than we are to do it ourselves, because we need to be providing the quality," he said.
FE Week understands the IfA will start procurement for external quality assurance services this month.
Mr Lauener added: "We've not got the resource to do the quality assurance role directly.
"It's open to charge for the service – we want to hear views on this."
Feedback on quality assurance and other functions of the IfA can be submitted via the Department for Education consultation on the draft operational plan for the IfA, which closes on February 27.
In contrast to the IfA's approach to external quality assurance, a spokesperson for Ofqual, the government's qualifications watchdog, told FE Week: "We don't charge and do not intend to introduce charges for our external quality assurance role."
So far Ofqual is the only organisation among the four options for external quality assurance to confirm that it definitely will not charge for this service.
FE Week spoke to People 1st, an employment and learning consultancy organisation which will manage external quality assurance for apprenticeship end point assessment in the retail, hospitality and travel industries.
In delivering this responsibility it will be accountable to employer boards for each of the three industries.
A spokesperson for People 1st said: "The retail, hospitality and travel industries have elected to use an employer process for external quality assurance of apprenticeship end point assessment.
"The cost of external quality assurance is currently being finalised, but we have advised organisations that are on, or aspiring to be on, the Register of Apprenticeship Assessment Organisations, that we do not envisage the price exceeding £40 per apprentice at end point assessment."
Stephen Wright, chief executive of the Federation of Awarding Bodies, told FE Week the challenges of running "an effective and efficient external quality assurance system" are often "underestimated".
"We are hearing reports that some of these "employer groups" are controlled by other groups who see external quality assurance as a revenue stream and an opportunity to position themselves as a gatekeeper to the system," he warned.
"This creates perverse results with over engineered audits, exaggerated fees and preferred providers."
He added: "Ofqual are certainly not perfect, however they are 100 per cent focused on regulating high stakes assessment, have been doing the job for seven years with an annual budget of between £16 and £20 million per year.
"What resources, systems and experienced staff do employer groups and professional bodies possess? My concern is that these groups will "give it a go" and fail, bringing the whole apprenticeship system into disrepute."
Mr Lauener, who is also chief executive of the Skills Funding Agency and Education Funding Agency, also said during the webinar that he had not ruled out the SFA charging for certificating standards in future.
The webinar was hosted by Nick Linford and outlined the key features from the IfA strategic and operational plans. 
It was sponsored by the FE Week Annual Apprenticeship Conference.