The boss of the Association of Colleges has told his members Ofsted is "quite right", after the inspectorate found some colleges risk giving students "false hope" by putting them on courses where there are slim job prospects.
Amanda Spielman, the chief inspector, drew gasps from delegates at the AoC conference this week when she questioned whether some colleges are chasing income over students' best interests.
She was referring to the inspectorate's new report on level-two qualifications which found some subjects, namely arts and media, "stand out" as areas where there is a "mismatch between the numbers of students taking courses and their future employment in the industry".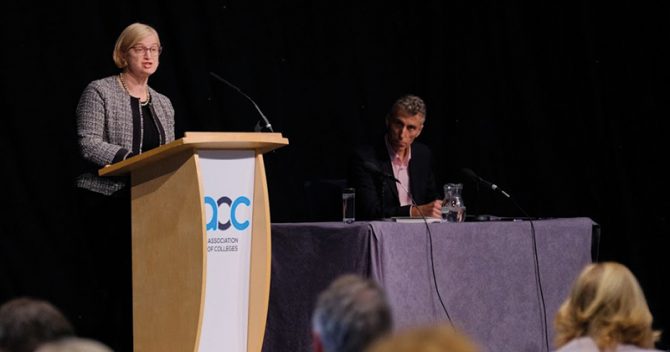 "Some students get a bit deflated and lose that momentum they built when they discover it is an impossible dream for most of them," she said.
There was push back from the audience during a question-and-answer session, in which Grimsby Institute principal Debra Gray pointed out that the arts and creative industries contribute "£92 billion to the UK economy, two million people work directly in creative industries and three million work in allied professions where people are creative in non-creative businesses".
"That doesn't sound like an impossible dream to me, and it isn't one that we sell to our students," she told the chief inspector, before receiving a round of applause from the audience.
AoC chief executive David Hughes stepped in on the debate and said that colleges need to "face up to the fact".
"I think the report is very helpful. I had the immediate defensive reaction to it and it's very easy to get into that," he said.
"I think the response from Ofsted is proportionate and quite right. We need to face up to the fact that sometimes we're not challenging learners enough to make sure they are understanding the courses they go in because it does happen in some places, not everywhere.
"The problem whenever you say that is that two thirds of the room will say 'well we don't do that' and that's true, but it does happen and we just need to face up to it."
He continued: "As a sector we need to face up to what I call the dispassionate evidence that gets presented to us and come back and show actually what we are doing and how we can up our game. It's an interesting case study for us."
We need to face up to the fact that sometimes we're not challenging learners enough
Clarifying her point again during the question-and-answer session, Ms Spielman said: "This isn't a report which says everyone should be marching towards a job that has been designated for the same sector, but the college sector does perform that role of creating some level of match between supply and demand, and where that goes a long way adrift we're not necessarily doing the best thing for students.
"This is absolutely not to say these are bad courses in themselves, just that when so many people opt for them with little or no prospect there is a risk of setting up problems."
Ms Gray wasn't alone in feeling aggrieved by the chief inspector's comments.
Tim Chaundy, curriculum leader in performing arts at City and Islington College, part of the Capital City College Group, told FE Week: "To assume that a level-two arts course must translate into a job in an arts field misses the fundamental reason why many learners opt for a level-two arts subject.
"In our experience, level-two arts subjects are seldom a direct route into work in their own right, but are a stepping stone into a level-three course for those who, for whatever reason, didn't achieve the GCSE grades they needed. Indeed, almost all our learners who do a level-two arts course also do English and maths GCSE resits."
He continued: "For many of our level-two students therefore, college represents a second chance at education. And doing an arts course alongside their GCSE resits develops students' life skills and massively improves their confidence and prepares them for further study."