The government had to promise a last-minute gift of £4.55 million to avoid a National College being unable to sign off last year's accounts.
The unplanned bailout to the National College for High Speed Rail came on top of an additional in-year £3.6 million working capital loan from the DfE.
Accountants forecast a £7.5 million shortfall over the next seven years, and stated that the extra funding needed to be confirmed "before the end of January 2019 in order to support the going concern statement", according to minutes from a December meeting.
Just this week, the college announced plans to ditch "high speed" from their name as part of a plan to offer a broader range of transport and infrastructure-related courses.
"It plans to ditch 'high speed' from its name"
The college's 2017-18 accounts state that the extra cash would be received in three instalments, £2 million in 2018-19, £1.75 million in 2019-20 and £800,000 in 2020-21.
The college has confirmed it will not need to pay this back to the government.
FE Week understands that the shortfall had in part been caused by the funding band for the level 4 high-speed rail and infrastructure standard being set at £21,000, rather than £27,000, as had been forecast by the college.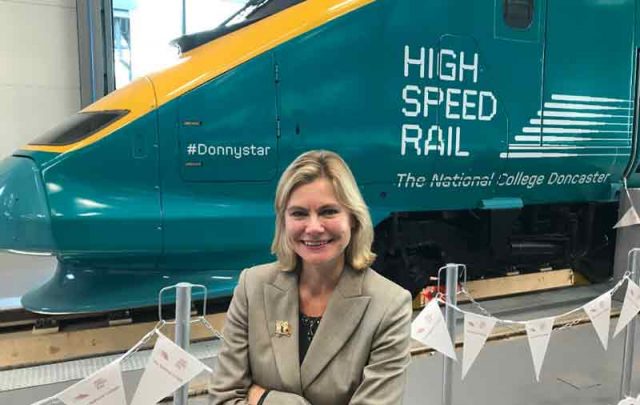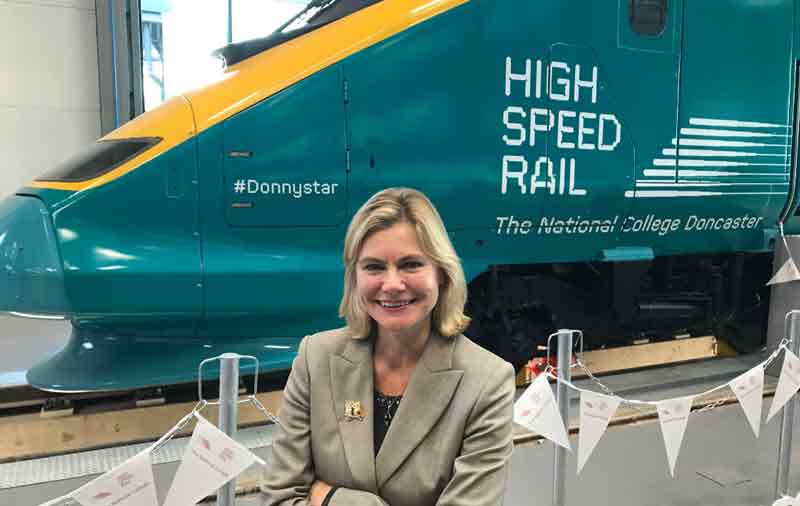 At the time, the DfE, the Department for Transport and HS2 Ltd (a quango with ties to NCHSR) met to discuss financial aid for the college and it was made clear that "the departments will not let the college fail", according to minutes from a December 2017 meeting of the college's board.
Total income for the NCHSR from apprenticeships last year was just £154,000.
The NCHSR's 2017-18 accounts also show it received a working capital loan of £8.3 million – which it received in two tranches: £4.7m in April 2017 and £3.6m in January 2018 – "to help with start-up costs that have been incurred in establishing the college," according to a spokesperson.
This needs to be paid back by 2030.
The college, which was opened in October 2017 by then education secretary Justine Greening and has campuses in Birmingham and Doncaster, opened in 2017 and had already received £40 million in capital funding from the Education and Skills Funding Agency to construct buildings and purchase equipment.
A further £12 million was provided by the Sheffield City Region combined authority, and the Greater Birmingham & Solihull Local Enterprise Partnership.
HS2 Ltd also loaned NCHSR £2,906,000 in 2018 and £2,804,000 in 2017.
The college signed up just 96 students when it first opened, even though it aims to be taking on 1,200 a year by 2022. Its recruitment problems have improved this year (see panel
below).
Dame Cheryl Gillan, Conservative MP for Chesham and Amersham, has submitted several written questions to the DfE about the college, and on seeing FE Week's findings said it
"clearly calls into question whether this is value for taxpayers' money".
NCHSR's commercial financial director Martin Owen said: "Our first full-year of operation produced a strong set of accounts, and while we have been reliant on grant funding
for the college's first phase of delivery, we're managing our finances carefully to ensure the college is moving into a strong, financially sustainable position."
"Just 96 students signed up when NCHSR first opened"
NCHSR is one of four national colleges to have opened since they were announced in 2015, while another one, the National College for Onshore Oil and Gas, has been delayed.
A DfE spokesperson said the national colleges had faced challenges initially, but the department had "confidence in the contribution they will make to Britain's workforce".
The financial assistance, the spokesperson added, was provided "where appropriate, as the colleges establish themselves and work towards financial stability".
There are uncertainties around the future of High-Speed Rail 2 (HS2), with which the college has close ties: the chair of its board, Alison Munro, was chief executive of HS2 Ltd, the company responsible for developing the rail line, and NCHSR chief executive Clair Mowbray started work at HS2 Ltd in 2014 to lead on the development of the college.
Last month, the government postponed HS2 Ltd's "authority to proceed" with signing construction contracts for HS2 by six months, which would time it close to the likely date of
the Budget.
Chief Secretary to the Treasury Elizabeth Truss has confirmed HS2 will feature in the Treasury's upcoming Spending Review, which could lead to the £56 billion project being axed, according to reports.
After seeing FE Week's analysis of NCHSR, the Conservative MP for North West Leicestershire, and longstanding HS2 critic, Andrew Bridgen stated his belief that the rail link is a "white elephant" and said the college could be described in the same manner.
---
National College looks to rename in a move that would railroad the rocketeers
The National College for High Speed Rail has opened a consultation on changing its name to the National College for Advanced Transport and Infrastructure and is looking at expanding into other areas of transport, such as light rail, metro and freight, highways and airports.
But, if the college is allowed to change its name to the National College for Advanced Transport and Infrastructure by the education secretary, it intends to go by the acronym ATI.
This, however, could land it in trouble with the Aerospace Technology Institute.
Asked whether it would be objecting to this, a spokesperson for the Aerospace Technology Institute said it would be "reviewing" the proposal and responding to the consultation
"where appropriate".
NCHSR's consultation on changing its name is running until 29 May.
---
Event space income exceeded funding for training last year
The National College for High Speed Rail made more money from catering and events in 2017-18 than it received from the Education and Skills Funding Agency for training apprentices.
According to its accounts for that year, it made £216,000 from catering and events and received £154,000 from the agency for apprenticeships.
The college's website has a page set aside for catering and events, boasting of "state-of-theart facilities," which it claims could "help take your event to the next level".
There are also two separate events coordinators for the two campuses, who help coordinate external events for NCHSR, which has previously included the Skills Show.
In addition to the rent money, the college's 2017-18 accounts also show it made £253,000 from "miscellaneous income".
So, the college's real income was just £623,000.
The rest was made up of £4,610,000 from the fair value of donated assets, and £6,492,000 from the release of government capital grants.
While making a not inconsiderable sum from catering and events, the college failed to reach its target of 639 learners for this September, which was mentioned in minutes from a board meeting in May.
Instead, 336 learners were enrolled in 2018-19.
The college said it revised its learner target to 396 for this year, which the college is "on track to meet".
The 639 target caused a team from the ESFA to remark "they had never seen such growth," after the college had just 93 students enrolled in its first year.
Those 93 were less than half the 226 learners the college had forecast to have on roll, as it acknowledged in its 2016-17 accounts.