The national college for HS2 is on the hunt for a provider to partner with following a grade four Ofsted report and warnings from the FE Commissioner it was facing "potential insolvency".
The National College for Advanced Transport and Infrastructure (NCATI) told FE Week it was "working through a shortlisting process for a new partner" after it was late submitting financial statements for 2018-19.
A spokesperson said a new partner would "help us deliver the NCATI vision and improve quality", and following the shortlisting process, NCATI plans to "embark on an open public consultation".
He said they "remain confident" they will be able to "fulfil our ambition to train and upskill a broad and inclusive generation of talent from across the country".
NCATI refused to go into more detail about what the partnership would mean for the future of the college, or who the potential partners are.
This isn't the first time a troubled national college has had to partner with other providers. The National College Creative Industries (NCCI) partnered up with two local providers and then dissolved itself earlier this year, having swallowed a £600,000 bailout from the Department for Education to make it through 2017-18 as a "going concern".
Access Creative College took over NCCI's apprenticeships provision and South Essex College took over its classroom provision while NCCI restarted as a limited company.
NCATI, then known as the National College for High Speed Rail (NCHSR), took £4.55 million from the DfE to sign off its 2017-18 accounts.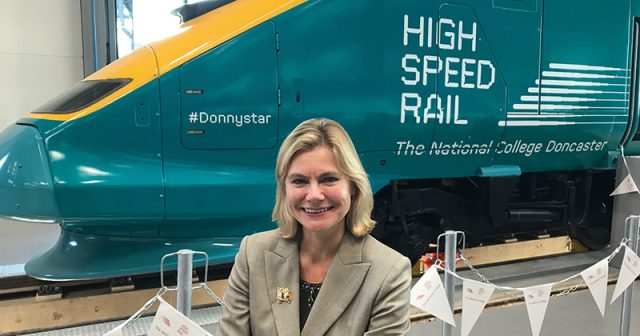 NCHSR was opened in 2017 by then-education secretary Justine Greening with £40 million in capital funding from the Education and Skills Funding Agency to purchase equipment and construct facilities.
It became the National College for Advanced Transport and Infrastructure last October.
The college was engulfed in controversy at the start of 2020 when FE Week broke the news it had hired lawyers to stop a grade 4 Ofsted report from November being published, through a judicial review in the High Court.
NCATI eventually dropped its legal challenge at a cost of £73,000 and the report was released last February, revealing that employers were having to teach apprentices skills that were not covered by the college.
The FE Commissioner Richard Atkins intervened in the college in December, finding it would not be able to sign off its 2018-19 accounts as a going concern "without a commitment of 12 months of continued emergency funding". He had instructed the board on how to operate while facing "potential insolvency".
Atkins found NCATI had also based its 2019-20 budget on having 761 apprentices and 263 full-time learners, whereas in December 2019 it only had 216 apprentices and 94 other full-time students.
NCATI was placed in supervised status and since then has been undertaking a structure and prospects appraisal (SPA) with the commissioner.
To ensure this SPA process "is thorough and comprehensive", NCATI agreed with ESFA to not file completed financial statements for 2018-19 until the culmination of the SPA, the spokesperson said.
A DfE-commissioned report published in February criticised how the national colleges were set up as standalone institutions, saying: "More detailed consideration could have been given to other models such as evolving new institutions from existing education and training providers".
The report found NCATI had struggled with learner numbers due to delays in announcing HS2 contractors, which meant employers were unable to commit to the apprentice volumes they had originally anticipated.