The top ten highest college salaries have dropped by an average of more than £50,000 after six of the principals left, an FE Week investigation has found.
The single biggest cut totalled £136,000 – from £294,000 to £158,000 – after a change in leadership at North Hertfordshire College.
Of the four colleges where the principal or chief executive remained unchanged, two bosses increased their salary, one reduced but has since retired and the fourth declined to comment.
After being shown the findings, Association of Colleges (AoC) chief executive David Hughes said the Department for Education has "sent a clear message to college governing bodies that decisions on senior staff pay needs to be evidence-based, proportionate and [offer] value for money".
"I know that governing bodies have heard the message, and I'm confident that the top job in a college remains an attractive and rewarding one," he added.
FE Week carried out the analysis by looking at the ten highest paid college leaders in the latest available Department for Education accounts spreadsheet (2017/18), and then asking each college for their 2018/19 or current pay.
If there were multiple principals in one year, we have used the most relevant salary in a single year for either the former or new highest paid leader (see table).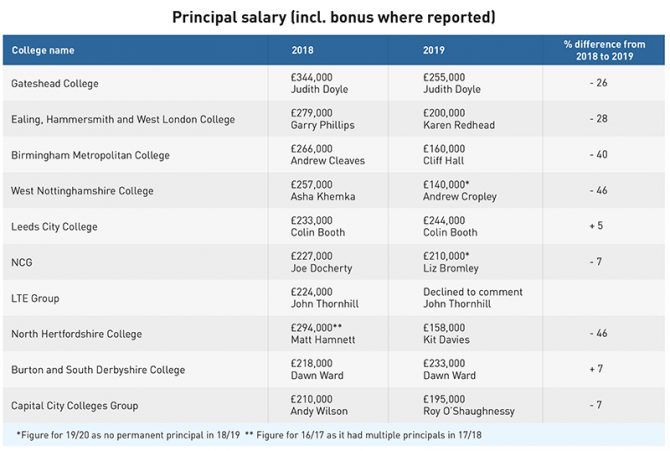 The average for the top ten in 2017/18 has fallen from £255,000 to £202,000 – a 21 per cent drop (though this calculation assumes that the salary for the college that refused to comment remained the same).
When looking at the national picture of principal salaries, the average in 2017/18 sat at just £136,000 for 257 colleges in England, according to the latest available data published by the DfE.
The figures are in stark contrast to university vice-chancellor pay. They averaged take-home pay of more than £250,000 each in the same year.
Of the ten highest basic salaries paid to university bosses in 2017/18, the average was £395,000.
And the average for the ten highest paid chief executives in multi-academy trusts in that year was £270,000.
The majority of the colleges in FE Week's analysis which reduced their leaders' salary did so after changing their top boss.
Five of them have either been handed a financial notice of concern or been placed in FE Commissioner intervention in recent years.
The largest fall was seen at North Hertfordshire College. Over the course of 2017/18 it had two principals after Matt Hamnett resigned mid-way through the academic year.
His salary reached £294,000 in 2016/17, and their new permanent boss, Kit Davies, earned £158,000 in 2018/19. Davies was on a basic salary of £140,000 plus a payment of £17,958 towards the removal of a long-term incentive plan associated with a previous role.
Cash-strapped Birmingham Metropolitan College (BMet) had the second biggest difference. Its principal in 2017/18, Andrew Cleaves, was paid £266,000, but new boss Cliff Hall takes home £160,000.
"The job of running a college has become incredibly difficult"
A spokesperson for BMet said the college "undertook a benchmarking exercise prior to the current principal's appointment", because both the board and the incoming principal were "keen to ensure that the new chief executive's salary was in line with sector norms".
They added that "it was an important signal to the staff of the college."
A similar situation occurred at West Nottinghamshire College (WNC). Its previous principal, Dame Asha Khemka, earned £257,000 in 2017/18 before resigning at the start of 2018/19.
The new permanent principal is Andrew Cropley, who has a salary of £140,000.
A spokesperson for WNC said: "In recognition of the fact that the college's turnover has reduced from £51 million to £31 million, the new board of governors, formed in late 2018, made the decision to align the principal's remuneration in-line with sector benchmarks for a college of this size."
Meanwhile, Ealing, Hammersmith and West London College paid its new boss, Karen Redhead, £200,000 in 2018/19. Former principal Garry Phillips earned £279,000 the year previous.
NCG, one of the largest college groups in the country, has also seen its chief executive leave in recent years to be replaced by someone on a lower wage.
Joe Docherty was paid £227,000 in 2017/18 before quitting in October 2018. An interim boss was in place for the remainder of that academic year, and Liz Bromley has since become the permanent chief executive on £210,000 a year.
And Capital City College Group has reduced its top leader's salary from £210,000 to £195,000.
The highest paid principal in England in 2017/18 was Judith Doyle at Gateshead College, who retired with immediate effect on December 31 following the launch of an independent investigation into an unexplained £6 million deficit.
She was paid £344,000 in that year, a sum which took into account an "accrual for a remuneration scheme payable in respect of a three-year period". In 2018/19, Doyle took home £255,000.
The two colleges to see their highest paid officer's salary increase were Leeds City College (now known as the Luminate Education Group) and Burton and South Derbyshire College. Both of their leaders, Colin Booth and Dawn Ward, respectively, have been in post for a number of years.
While the DfE has clamped down on chief executive pay in multi-academy trusts and vice-chancellor wages in universities, including writing to demand a justification of salaries of over £150,000, no such action has been taken against colleges.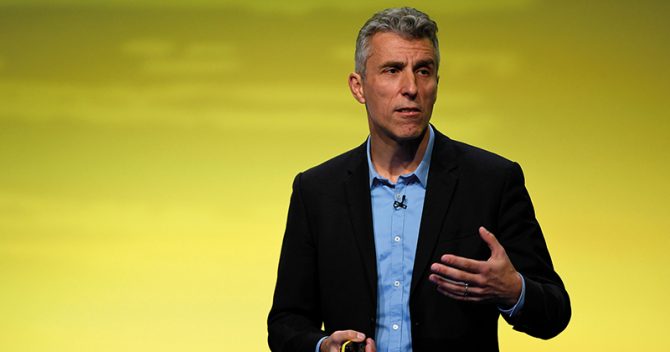 The AoC's David Hughes said: "The job of running a college has become incredibly difficult – partly because of the complex and unpredictable systems that DfE itself oversees."
The AoC developed its own pay code in 2018. It includes guidance such as not allowing seniors to get a pay rise unless all staff do, and ensuring that the top boss cannot be involved in deciding their own pay.
Whilst principals' pay hasn't hit the heights of vice-chancellors', college bosses still come in for criticism for their top salaries, especially when teaching staff are refused pay rises.
In 2016/17 the University and College Union (UCU) lambasted principals as "greedy and hopelessly out of touch", and in recent years have held numerous substantial strikes across the country.
After being shown FE Week's analysis, UCU head of further education Andrew Harden said: "Staff have been told time and again that there is no money for pay, but the same restraint has not always been applied to those at the top.
"It is time for colleges to make good their commitment to spend extra funds on dealing with the pay crisis in our colleges and working to close the gap between college and school teachers."