Former skills minister Robert Halfon has been handing out flyers to MPs, illustrated with his favourite ladder of opportunity, as he bids to chair the House of Commons Select Committee for education.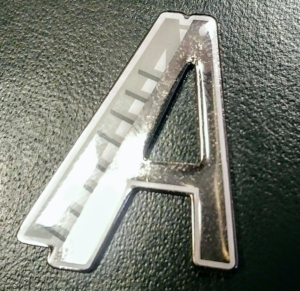 The Harlow MP sacked in June as minister for apprenticeships and skills, used the metaphor on numerous occasions during his short time in the post – including during his speech at the Association of Colleges annual conference in November – to explain how FE boosts learners' life chances.
He even had special ladder badges made up for apprenticeships.
FE Week showed his successor Anne Milton taking down a ladder poster off the ministerial offices's wall in an affectionate farewell cartoon published last month, three weeks before we exclusively revealed that  he was standing for election as chair the House of Commons Select Committee for education.
And Paul Waugh, Executive Editor, Politics, HuffPost UK, tweeted today: "@halfon4harlowMP is handing out his own flyers in Members' lobby.  It works when he does it outside Lidl in Harlow  he says."
It comes after Mr Halfon recently criticised his party's general election campaign and argued the Tory tree symbol should be replaced by a ladder to suggest self-improvement.
Mr Halfon was re-elected an MP in June's general election, but was forcibly returned to the backbenches during a reshuffle just days later, after less than a year as minister for apprenticeships and skills.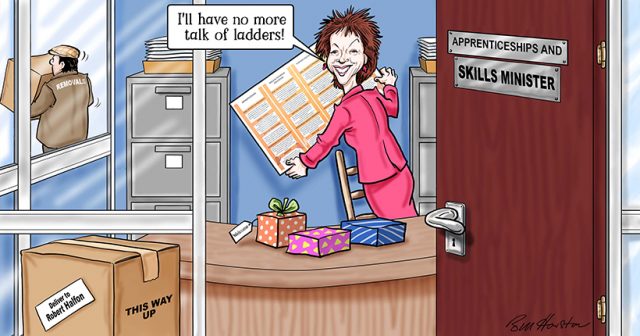 He subsequently denied to FE Week that he was seeking vengeance, and insisted to FE Week that he had "massive respect" for his former boss, education secretary Justine Greening.
"I think she's a really good minister. She's passionate about education, passionate about FE," he said.
"I'm doing it because I want a role in education and I think I can – with the committee members – do some good for our country, and in terms of scrutiny," he added.
But he did say he would be keeping a close eye on Ms Milton.  "The whole job of the committee is the scrutiny, that's the whole purpose of it – that'll be my job," he said.
Nominations for chair of the committee, which scrutinises the Department for Education's policy, administration and spending, officially opened on July 5, with elections taking place on Wednesday (July 12).
Another former skills minister, Nick Boles, is reportedly standing, along with Dr Dan Poulter, the MP for Central Suffolk and Ipswich, Rehman Chishti, the MP for Gillingham and Rainham, Tim Loughton, the MP for East Worthing and Shoreham, and Stephen Metcalfe, the MP for South Basildon and East Thurrock.
.@halfon4harlowMP is handing out his own flyers in Members' lobby. It works when he does it outside Lidl in Harlow he says. pic.twitter.com/hjm6ghVeHw

— Paul Waugh (@paulwaugh) 10 July 2017