Leaders of a college that sold its main campus to make way for housing ahead of a planned merger have been shouted down and slow-clapped at a heated public meeting.
The site on Wornington Road, one of Kensington and Chelsea College's two main campuses, was sold for £25.3 million to the Royal Borough of Kensington and Chelsea last year under a lease-back deal.
The local authority has outlined controversial proposals to demolish the building for housing, in a deal which would at best result in greatly reduced teaching space for the college. But this has become controversial since the fire at nearby Grenfell Tower in June, which killed at least 80 people.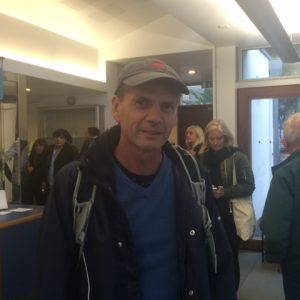 Huge numbers of campaigners including Edward Daffarn, who escaped the blaze, college staff and students, and residents packed out a public meeting attended by FE Week this evening at Bevington School, in West London.
The college's chair of governors, Mary Curnock Cook, also a former UCAS boss, and the new principal, Dr Elaine McMahon, were repeatedly shouted down and slow-clapped when they tried to speak.
One woman shouted: "Do you have no aspirations for the people here? Do you think our children have no IQ?"
Ms Curnock Cook replied that she thought the "absolute purpose" of FE was to help people who needed it, and that "no decisions" had been made about the fate of the campus.
Addressing related concerns about the college's plans to merge with with Ealing, Hammersmith and West London College, she added: "When I took on this role [in May] it was made absolutely clear to me that this college could not thrive and probably no even even survive without merging".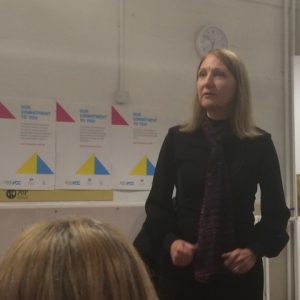 This provoked shouts of "lies" led by Mr Daffarn, who claimed during his own speech that KCC had been run down for years to clear the way for "asset stripping".
The meeting had to be postponed beyond its planned 6.30pm start time because so many people were queuing outside, and those seated were asked to shuffle their chairs forward to allow more people to squeeze in at the back.
It was held by the college to address concerns that the loss of the Wornington campus would effectively spell the end of adult education for the poorer people in the area, many of whom had lived in Grenfell tower, and who it was claimed were being driven out of the area by "social cleansing".
As tempers flared, another angry resident questioned the motives behind the sale of the campus and why the college had not asked for more than £25.3 million, which she said was a serious bargain judging by today's property prices.
Dr McMahon told the crowd: "During my time here so far, I have seen that local people really want the college to remain here and so do we."
The college leaders were unable to appease the angry room, and at one point a man shouted "enough" and stormed to the front telling Ms Curnock Cook to sit down, which she did.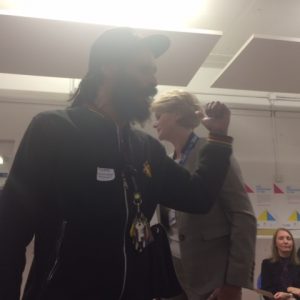 He then urged everyone in the room to stand for a minute's silence for those who died in the Grenfell fire, which was respected.
FE Week reported last week that campaigners had met privately with Dr McMahon and Ms Curnock Cook, to raise concerns both about Wornington's future and the planned merger.
KCC subsequently refused to confirm what was said in the meeting, but Mr Daffarn, speaking on behalf of the Grenfell Action Group, said at the time that campaigners had been told the college had "pushed back" its final decision on whether to assent to plans to redevelop the site from the end of this month until December 30.
It was announced at tonight's meeting that any decision on redevelopment was now likely to be pushed back even further.