The government has said that it will address recommendations made by a parliamentary committee that found evidence of "unacceptable" bullying of transgender adult learners.
The House of Commons Women and Equalities Committee's Transgender Equality report, published on Thursday (January 14), called on the government to take action in a number of areas, including post-school education, to ensure equality for transgender people.
Education Secretary and Women and Equalities Minister Nicky Morgan (pictured above) said: "Transgender people often face huge challenges, from appalling harassment and abuse to obstacles in accessing public services.
"We will now review the committee's report, and work with other government departments to look at the recommendations."
At the time of going to press, a spokesperson for BIS had not been able to confirm to FE Week what action the department would be taking.
During its inquiry into transgender issues, the committee, chaired by MP Maria Miller, found evidence of what it called "unacceptable levels" of bullying and harassment of transgender people in the FE sector.
Key findings in the area of post-school education, which covered both FE and higher education, included one third of trans-students having been bullied or harassed on campus, and trans-students being more likely to leave their courses as a result of this harassment.
"The levels of bullying and harassment experienced by trans-students in further and higher education are unacceptable," the report said.
The inquiry had "heard evidence that in FE the learning environment for LGBT [lesbian, gay, bisexual, and transgender] learners might be more hostile than that in higher education," it said.
Evidence to the inquiry had been submitted by the National Union of Students (NUS), the Government Equalities Office and Skills Minister Nick Boles, among others.
The report's authors said they "welcomed" Mr Boles' offer, given during the inquiry's evidence session on October 28, to raise the issue with universities.
"We recommend that the government hold similar conversations with FE providers," they reported.
The report also called on the government "take steps" to ensure that all FE staff received training in gender identity awareness.
Charley Hasted, aged 29, who is studying for a BTec in applied science at Lambeth College, was assigned female at birth, but identifies as neither male nor female.
"I know who I am, but I still hear comments, homophobic, biphobic language, get thrown around," they said.
"I'm in a position to challenge that when I hear it from other students but I think I'm very lucky. I'm also the LGBT officer at the college, so I know I've got staff members who'll back me up if I do challenge it whereas I think a lot of students wouldn't have the assurance that they know the staff are there to back them up if they do challenge.
"There are two trans people at Lambeth — me and one other — and neither of us are out to our classmates. We've both mature students, but neither of us feel comfortable being out to our classmates — which I think tells you a lot."
Joyce Black, assistant director for research and development at the Learning and Work Institute, said: "We know from our work as a member of the Forum for Sexual Orientation and Gender Identity that transgender equality remains a stubborn taboo in the sector.
"We should all take the time to digest what the report has to say and recognise our responsibilities to end bullying and discrimination in our institutions."
Leora Cruddas, director of policy at the Association of School and College Leaders (ASCL) said the ASCL was "strongly committed" to promoting transgender equality, and would be considering "what further action we can take as a leadership association."
Fran Cowling and Robbiie Young, NUS LGBT+ officers, said that the report showed there was "much more to do" to ensure that "trans students can equally participate" in FE.
Helen Carr, head of equality at the University and College Union (UCU), said she hoped the sector would "respond positively" to the recommendations.
Unison general secretary Dave Prentis said: "The government must now invest properly in services for transgender people for the report's recommendations to mean anything."
---
'Telling principal of change to full-time role as a female was daunting'
"It makes me feel very disappointed and quite saddened," says Natalie Roberts (pictured below), who works for Bishop Auckland College and who transitioned from male to female in 2014, when asked how she feels about transgender people being bullied and harassed in FE.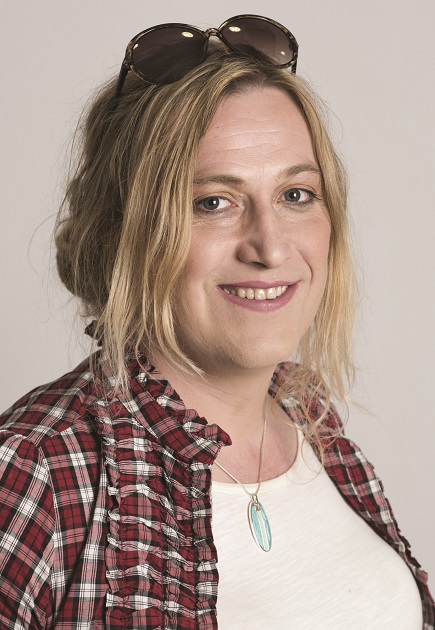 "It is sad that these opinions and behaviours exist in general society, but in the education sector especially it is simply unacceptable," added Natalie.
Unlike many of the people whose experiences fed into the Women and Equalities Committee's Transgender Equality report, Natalie said her college had been "very supportive" of her change — although she described discussing the move to a "full-time role as a female" with the HR director and principal as "quite a daunting thing".
After her transition, which happened over the summer break, Natalie said she had just "one or two initial problems around certain staff members who weren't able to get used to me but that's passed".
Some of the students, Natalie says, "because of their ages they're a little bit giggly at first but when you talk to them they're fine."
Since her transition Natalie has moved to a new role within the employment services team at the college, as trainer/assessor for management and social media marketing. The college has involved her in drafting a transgender workers' policy, and she's been supporting LGBT students at the college.
Kirsty Walker is achievement coach at City of Liverpool College and works with transgender people. She set up a trans mentoring service "to signpost students to external agencies and also to deal with the college's systems and make sure they weren't disadvantaged".
She also trains staff and students in trans issues, and supports trans students if they choose to come out to their class.
"When I've spoken to people at other colleges they've been very impressed by what we do, but I find that worrying. I think we do a good job – it's our responsibility to do that. Just making sure that there are no barriers to students is a very simple job."