The government has today launched a consultation on insolvency arrangements for general FE and sixth form colleges — which includes plans for a special administration regime (SAR) that would help protect the interests of learners.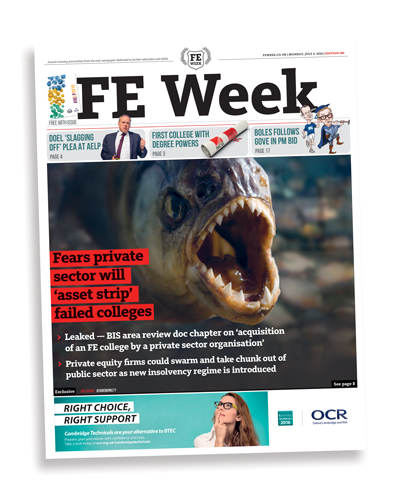 The document containing nine questions geared at FE and sixth form colleges, their staff and students — as well as college creditors — has just been published by the Department for Business, Innovation and Skills (BIS) online.
It comes just a few days after FE Week exclusively revealed that the government is looking at allowing struggling colleges to be sold-off to the private sector, as revealed through a leaked government report looking ahead to how providers will operate after all post-16 area reviews have completed.
A key proposal set out in the consultation document is for the launch of the SAR, which would "be triggered where a college becomes insolvent and the Secretary of State deems it appropriate to apply for a SAR to protect learner provision".
However, it added, a college or its creditors could also lodge a court petition for another "type of insolvency order under the Insolvency Act 1986".
The idea of the SAR, as opposed to other possible processes for administration, would be to ensure "the interests of learners are given priority and the administrator is able to act accordingly".
There would be no time limit to SAR regimes, it added.
While ordinary administrations typically take around 12 months, the document said "SARs may need longer due to the fact that they relate to continuity of public services and so have a special objective to be fulfilled. They can also be extended if required."
The document stressed the overriding aim of the new insolvency regime would be to deliver "options for the rehabilitation of a college where possible and if not, to promote an orderly winding up with protections for learners and creditors".
It will require new government legislation to come into force.
The report added the proposed regime would also include, where appropriate, "compulsory liquidation".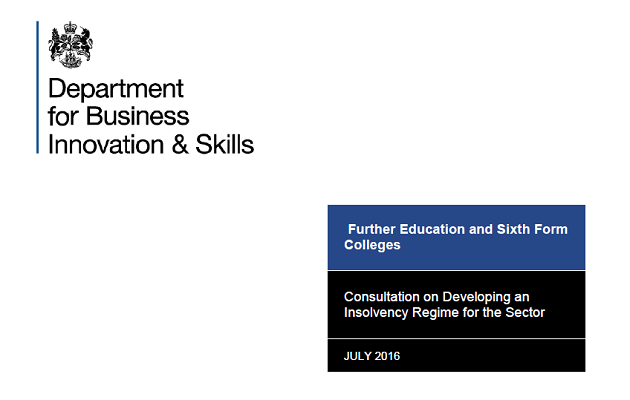 Skills Minister Nick Boles said in the introduction: "Currently, the legal regime for colleges does not make clear how insolvent institutions should be dealt with.
"This anomaly cannot continue indefinitely. After the [post-16] area reviews, colleges will need a legal framework within which to manage their finances independently and flexibly, with opportunities to restructure and protections for learners.
"Any framework will need to make provision for corporations to exit the market when appropriate and without undue detriment to learners, creditors and taxpayers."
Julian Gravatt, Assistant Chief Executive of the Association of Colleges (AoC), said: "It will be helpful to have more legal certainty in case of any further education and sixth form colleges becoming insolvent.
"The Special Administration Regime proposed will help to protect college students by safeguarding the continuity of services run by organisations that are independent of the Government.
"These plans won't be realised for at least two years and reassurances will need to be sought through the consultation over the extent of protection for students and other potential technical issues."
BIS first revealed that the government was planning to introduce an insolvency regime for colleges through guidance published in March.
It said that, following the area reviews, the government would no longer plan to bail out colleges in financial trouble, but instead allow them to go bust.
The consultation launch comes a week after FE Week reported on how a leaked government document, seen by the paper, had indicated that they
could be sold off to the private sector.
The draft report, called 'Framework for due diligence in the FE sector following area reviews', looks ahead to a post-area review world for colleges.
The most worrying section was titled 'Acquisition of an FE college by a private sector organisation'.
It reads: "Private sector organisations such as private training providers may be interested in the acquisition of FE colleges.
"They may have different benchmarks and parameters as to what is acceptable in terms of both curriculum and financial performance of the college involved."
The consultation and possibility of colleges being sold off will be discussed tomorrow at FE Week area review summit, an event in partnership with BIS held at the Festival of Skills.